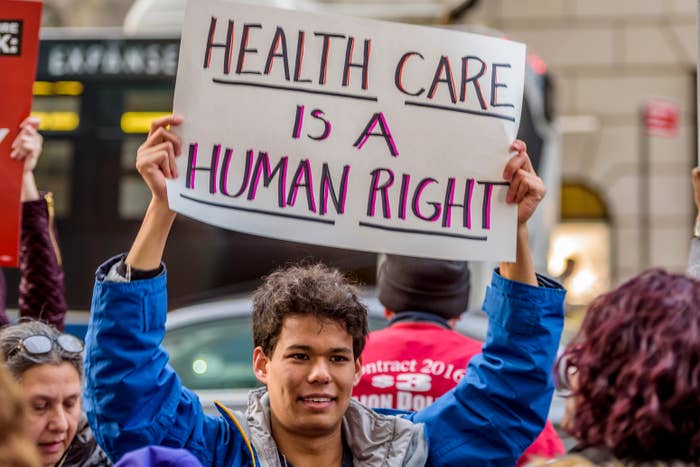 Today—January 31—is the last day to sign up for health insurance under the Affordable Care Act. 
The ACA was nicknamed "Obamacare" by Republicans and lobbyists (and some suspect an insidious plot from Fox News, according to the Atlantic) to bastardize a nonpartisan human right into a partisan battleground. Which, by the way, worked. Remember those viral clips of people who didn't know Obamacare and the Affordable Care Act are the same thing?
Cancer survivor who says Obamacare saved his life on Congress taking the first step to repeal the act: "I'm sad"

https://t.co/w9Y0sEEi2b
Before the ACA, health insurance was unaffordable and unavailable for many. But with Obamacare, if you meet certain qualifications, the government will help pay for your monthly premiums and out-of-pocket cost, according to ObamacarePlans. ​Additionally, anyone with preexisting medical conditions cannot be denied coverage under Obamacare.
But President Donald Trump and Republicans in Congress are working to dismantle the health care law, which currently insures roughly 20 million people. Earlier this month, members of the House and Senate took the first steps to repeal the ACA, and then Trump issued an executive order asking agency heads to ease the law's "burdens" on companies, insurers, and individuals, according to NPR. And although Republicans have spent the last few months talking about repealing Obamacare, details of a new plan have not been presented.
May each one of these men experience the anxiety that I as a cancer patient feel right now, knowing I'll die if care becomes unavailable

https://t.co/ZaOpZI6VKA
In recent weeks, polls have shown that more people view Obamacare favorably since it has been threatened. It's estimated that 18 million people would lose insurance if Obamacare is repealed. Today's deadline could be the last ever enrollment day for Obamacare, which should keep you insured for one more year no matter what happens to the ACA. 
Here's how you can sign up before midnight tonight:
Create your account at Healthcare.Gov providing some basic information
Complete the online application, providing information about you and your family including income, household size, current health coverage information, and more
Compare your options
Enroll in your plan of choice
Call Paul Ryan at 202-225-3500 to tell him your opinion on the ACA! All you have to do is push buttons! No talking required!

pic.twitter.com/WI8dUAaj7n