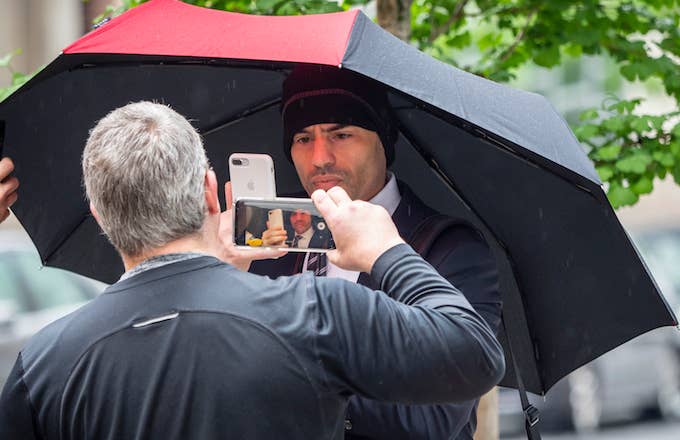 According to ABC 7, racist New York City attorney Aaron Schlossberg has officially been kicked out of his office space and mocked on social media following a series of aggressive confrontations surfacing online in which he threatened Spanish-speaking employees with deportation and called another person "an ugly fucking foreigner." New York Congressman Adriano Espaillat has also filed a formal complaint against Schlossberg with the state's Unified Court System for his behavior.
In case you missed it, the ball began rolling on Wednesday when journalist Shaun King posted footage of Schlossberg threatening employees at a Fresh Kitchen in Manhattan with a call to Immigration and Customs Enforcement (ICE), simply for speaking Spanish. "My guess is they're not documented," he said. "So my next call is to ICE to have them kicked out of my country. I pay for their welfare. I pay for their ability to be here." 
Unfortunately for Schlossberg, there seems to be a groundswell of formal backlash against him and his behavior, resulting in the following complaint.
A few days ago, all we knew was that this was a bigoted white man, but we now have far more interesting information than that. Schlossberg is apparently a fluent Spanish-speaker himself—even touting the skill on his professional website—and has a law partner who's an immigrant. It doesn't get any weirder than this, folks.
This wasn't the first time Schlossberg was recorded threatening strangers, either. A newly surfaced video from YouTuber Willie Morris depicts the attorney claiming Morris intentionally bumped into him, and threatening him with deportation once again. "What country are you from? Who are you? I'm gonna call the police," he said. "You don't run into people. I'm a citizen here. You're not. You're an ugly fucking foreigner."
He was also spotted at various far-right demonstrations, such as the 2017 protest against activist Linda Sarsour which simultaneously advocated anti-Palestinian sentiments.
The backlash online has sparked massive negative Yelp engagement with Schlossberg's law office, and journalists hounding the attorney on the street. Apparently, the racist aggressor can dish it out, but is too afraid to take it himself. 
Once in a blue moon, ugly, violent racists get what's coming to them. It's a rarity, but when it happens, righteousness and justice seem reaffirmed, and the universe gives us just a little bit of relief so that we don't feel like all hope is lost entirely. As for Schlossberg, he made his own karmically toxic bed and is going to have to lie in it. Now enjoy the twitterstorm raining down upon this sad, misguided man and his despicable actions.