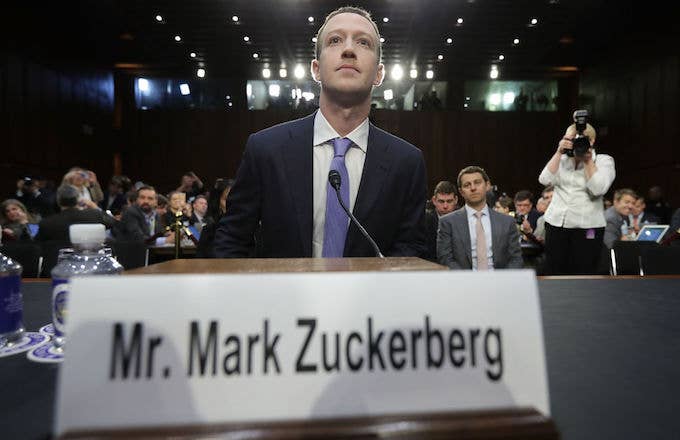 Three weeks ago, news broke that Cambridge Analytica, a data firm with ties to Donald Trump's deeply flawed presidential campaign, reportedly accessed information from Facebook users without their knowledge. While it was initially thought that the hack had affected about 50 million people, Facebook has since said Cambridge Analytica could have accessed the data of as many as 87 million people.
Tuesday, Facebook CEO Mark Zuckerberg spoke before Congress about the breach: what has gone wrong under his nose, and what he and his employees plan to do to make Facebook a safe space for users. Here's what you need to know.
Mark Zuckerberg is hella sorry
In a prepared statement that he read before being questioned, Zuckerberg addressed Facebook's shortcomings.
"It's clear now that we didn't do enough to prevent these tools from being used as harm," he said. "That goes for fake news, for interference in elections. We didn't take a broad enough view of our responsibility and that was a big mistake and it was my mistake and I'm sorry. I started Facebook, I run it and I'm responsible for what happens here." 
Facebook will remain a free service
When asked whether Facebook is considering forcing users to pay to block unwanted advertisements, Zuckerberg said no. 
"To be clear, we don't offer an option today for people to pay not to show ads," Zuckerberg said. "We think offering an ad-supported service is most aligned with our mission of trying to connect everyone in the world because we want to offer a free service that everyone can afford."
Facebook employees have been questioned about Russia
During questioning, Zuckerberg confirmed that special counsel Robert Mueller's team has interviewed members of the Facebook staff about Russia's involvement in the 2016 election.
"There are people in Russia whose job it is is to try to exploit our systems and other internet systems," he said. "So this is an arms race. They're going to keep getting better at this, and we need to invest in keeping on getting better at this, too."
While Zuckerberg said his employees have spoken to the Mueller team, he has not personally been interviewed. "I want to clarify, I'm not sure we have subpoenas," he said. "I know we're working with them."
Trump's campaign was directly supported by Facebook
When asked whether Facebook employees worked with Cambridge Analytica, which supported Trump, during the 2016 presidential campaign, Zuckerberg said he didn't know—but they did "help out" the campaign in some way.
"I know we did help out the Trump campaign overall in sales support in the same way that we help with all other campaigns," he said.
Is Facebook a monopoly?
Sen. Lindsey Graham asked Mark Zuckerberg if he thought Facebook was a monopoly. 
After some hemming and hawing, Zuckerberg finally said, "It certainly doesn't feel like that to me," prompting light laughter from those in attendance.
Graham: Who's your biggest competitor?

#Zuckerberg

: We have a lot

Graham: who's your biggest?

Zuck:

Graham: What's the equivalent product? Is there real competition you face?

Zuck:

Graham: You don't think you have a monopoly?

Zuck: Doesn't feel like that
Zuckerberg fully supports the Honest Ads Act
When asked about his support for the Senate's Honest Ads Act—legislation that would disclose political advertisements—Zuckerberg said he was all for it.
Specifically, the bipartisan legislation would introduce new disclosure requirements on political ads in an effort to combat the kind of meddling that Russia took part in during the 2016 election campaign. Twitter is also supporting the act.
Twitter is pleased to support the Honest Ads Act. Back in the fall we indicated we supported proposals to increase transparency in political ads.
Facebook is a "neutral public forum"—sort of
Sen. Ted Cruz questioned Zuckerberg on whether Facebook is neutral or expresses political views, citing allegations of censorship and political suppression on the site. "We consider ourselves to be a platform for all ideas," Zuckerberg responded. "Our goal is certainly not to engage in political speech." But that answer came with an asterisk, as Zuck finished by saying there are "a number of things that we would all agree are clearly bad," which should be removed from the platform.