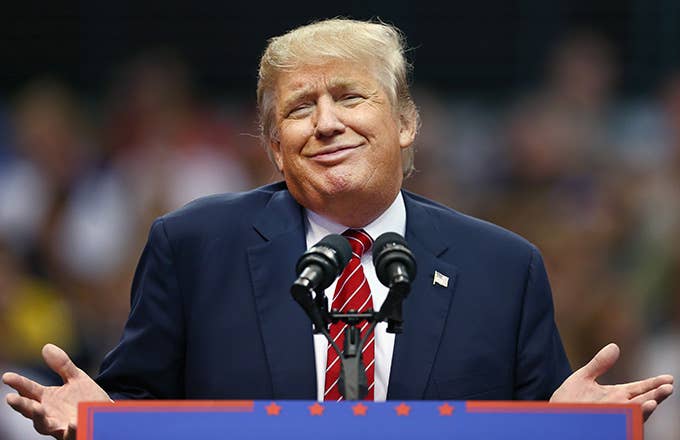 Donald Trump spent New Year's Eve at what he calls the "Winter White House," i.e. Mar-a-Lago. Ugh, no. Anyway, the resort hosts an annual New Year's Eve ball for billionaires and jet-setty types… you know, the exact opposite of the kind people he vowed to represent. And in keeping with tradition, Trump took the stage to commemorate the passing year.
So what did 45 have to say? Naturally, Trump bragged about his so-called accomplishments. "The country by the way, is doing great. We just got our taxes cut. We have jobs pouring into the country. Europe isn't too happy with us because a lot of people are moving back into the united States. A lot of money is coming. You know, we have four trillion dollars that's coming back, and we're doing it the way it should be. And I'll tell you this more to come. I won't give any more information that," he said via CNN. Ok, dude.
He did thank and acknowledge his wife, thank God. That woman puts up with more than we could ever know. He also thanked Jared and his kids, but not Vladimir Putin. Hmmm…
Trump also promised a "great 2018," so get fucking ready, folks. If you thought 2017 was a political dumpster fire, now is not the time to be naive about brighter days ahead. "[2018 is] going to be something very, very special. It's all kicking in," Trump said. "We have some pretty good enemies out there, but step by step they're being defeated. They're some bad people. Bad people. But that's ok. Someday maybe they'll love us. I don't know."
The event is just one night out of Trump's 10-night stay at his Palm Beach Resort. I guess he's feeling not too pressed about the country he has to run (if you could call it that). Tickets reportedly went for upwards of $750.
Trump rubbed elbows with his deep-pocketed guests, including casino magnate Steve Wynn, Fox Business host Lou Dobbs, and Australian billionaire Anthony Pratt. At one point during the night, Trump was said to have danced to a band's rendition of Gloria Gaynor's "I Will Survive." For shame! Gaynor is rolling like Tina down the river in her grave right now.