Instagram Model Goes Viral After Revealing Her 38J Breast Implant Popped
Thirty-year-old model Mary Magdalene crowned herself the "Uniboob Queen" after her implant exploded. She said she is now going back to the "natural" look.
An Instagram model crowned herself the "Uniboob Queen" after her 38J breast implant exploded.
The 30-year-old model, who goes by Mary Magdalene online, revealed her lopsided chest on social media this week, saying it wasn't the first time she's dealt with a busted implant.
"Hey guys, so this is my boob now … Basically, my breast implant popped, again. And I am having surgery to take them out next week. I am going to go back natural—not just my boobs, but other parts of my body," she said, before turning to the side. "Or should I just keep it like this?"
Mary sparked concern just several days later, when she shared a series of Instagram posts that read: "Embracing my uniboob" and "uniboob queen." Many followers were convinced that the social media star was considering keeping her body as is, and living with a single 11-pound breast implant.
Mary immediately addressed the speculation, insisting she was having both implants removed and returning to the "natural" look.
"You guys, I *am" removing them and going back natural. That's why I am in Europe right now in a hotel room …" she wrote in an Instagram story. "My surgeries are in a few days … I am not actually just going to leave it like that, but that wud deff be a moment."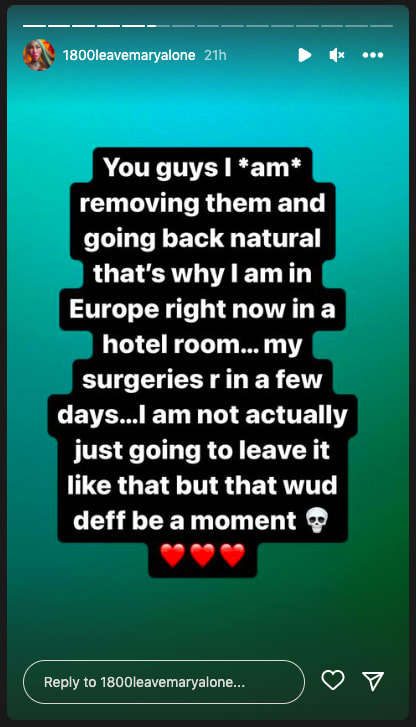 She has not revealed how her implant ruptured, but told fans it wasn't painful.
Mary made headlines in summer 2022 when she was reportedly kicked off a flight from Canada to Dallas. According to TMZ, she claimed the airline gave her the boot because she was ignoring a flight attendant's instructions; however, she wasn't buying the explanation, and said she was kicked off because of her physical appearance.