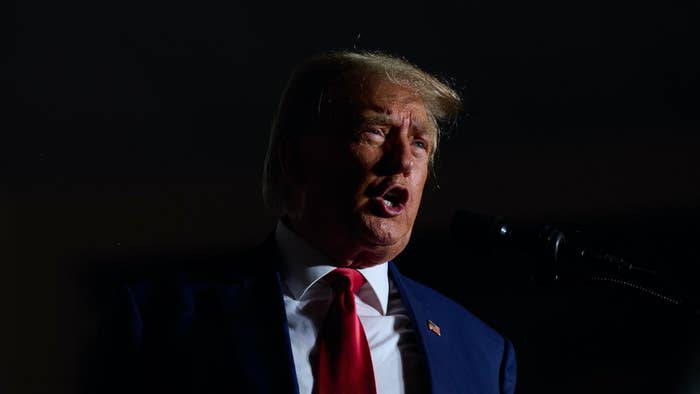 As expected, former president Donald Trump pleaded not guilty to Jan. 6-related charges.
The 77-year-old criminal defendant made the plea in federal court on Thursday, just days after he was formally charged with trying to overturn the results of his 2020 presidential election loss. Jack Smith, the special counsel who also indicted Trump in the classified documents case, announced Tuesday that Trump was facing four counts: conspiracy to defraud the United States, conspiracy to obstruct an official proceeding, obstruction of and attempt to obstruct an official proceeding, and conspiracy against rights.
The indictment lays out a series of baseless claims Trump made about the presidential race, which ended in a Joe Biden victory. Prosecutors say the former POTUS was so "determined to remain in power" that he and six co-conspirators (none of whom were indicted) came up with a scheme to overturn the election results.
"The purpose of the conspiracy was to overturn the legitimate results of the 2020 presidential election by using knowingly false claims of election fraud to obstruct the federal government function by which those results are collected, counted, and certified," the indictment read.
Trump arrived at the Washington, D.C. federal courthouse around 3:15 p.m. on Thursday, alongside his attorneys John Lauro and Todd Blanche. The defense lawyers insist the charges are an attack on political free speech, saying Trump truly believed the election was stolen from him. Prosecutors say there is evidence that Trump knew the results were legitimate, but chose to propagate unproven claims of election fraud. Many have pointed to Trump's Jan. 6, 2021 speech in D.C. where he urged his supporters to march on the Capitol and challenge the certification of Biden's victory. The protest quickly evolved into a deadly riot.
Thursday's arraignment hearing marked a historic moment in U.S. politics, as Trump became the first former president to face federal criminal charges. In addition to the aforementioned classified documents case, Trump was previously indicted for falsifying business records to conceal a hush-money payment to Stormy Daniels, an adult film actor who allegedly had an affair with Trump years before he took office.
According to CBS News, the former president left the courthouse just minutes after his plea and was given the conditions of his release: Judge Moxila Upadhyaya informed Trump is not allowed to communicate with witnesses in the case without the presence of counsel, must sign an appearance bond, and must not violate any federal or state laws.
Donald Trump's next court hearing is scheduled for Aug. 28.
"This is a very sad day for America, and it was also very sad driving through Washington, D.C. seeing the filth and the decay and all of the broken buildings and walls and the graffiti," he told reporters Thursday at Ronald Reagan Washington National Airport. "This is not the place that I left. It's a very sad thing to see it. When you look at what's happening, this is a persecution of a political opponent. This was never supposed to happen in America. This is the persecution of the person that's leading by very, very substantial numbers in the Republican primary, and leading Biden by a lot. So, you can't beat it, you persecute 'em or you prosecute 'em. We can't let this happen in America."