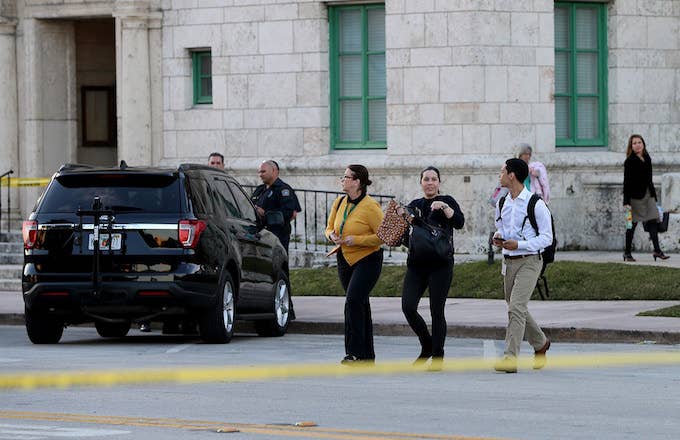 The Miami Heraldreports that four people were killed in a dramatic series of events that started in one city in Florida and ended in another.
At 4:17 p.m. Thursday in Coral Gables, at least two people tried robbing Regent Jeweler's. Authorities were notified of the incident by a silent alarm. During the robbery attempt, a female employee was struck in the forehead by a bullet that ricocheted off the floor after it was fired off by one of the robbers. Another bullet went through the window of a nearby office that missed a clerk by "about two or three feet."
Then, the robbers carjacked a UPS truck. "The individuals abducted the driver of the truck as well as the truck itself," Coral Gables Chief Edward Hudak said. When the police were able to locate the truck, the chase began on the Florida Turnpike before winding up on Interstate 75 and ending in a chase through the streets off Pembroke Pines.
By the time authorities were finally able to approach the cornered robbers who were stuck in a traffic gridlock, 11 officers opened fire after the suspects "started firing first," according to the account provided by the head of Miami-Dade's police union.  "It's unfortunate that the bystanders were killed, but the bad guys put all this in motion," Steadman Stahl, president of the Miami-Dade Police Benevolent Association, said. "Our thoughts and prayers are with the families of the two innocent bystanders."
In the end, the two suspects, and the UPS driver who was taken hostage were killed. Another person who was sitting inside a nearby parked car was also killed. At least one person was airlifted to a neaby trauma center. 
The FBI are investigating the matter while state prosecutors are looking into whether the officers involved broke any laws by using deadly force.