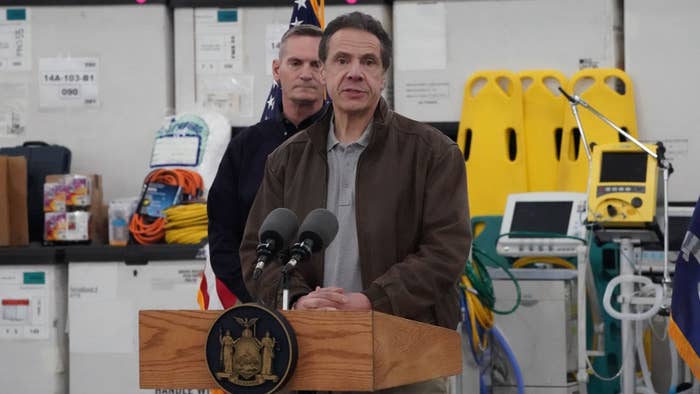 New York Governor Andrew Cuomo told reporters on Tuesday that coronavirus cases in the state are now doubling about every three days. "We haven't flattened the curve, and the curve is actually increasing," Cuomo said at Tuesday's press conference inside Manhattan's Jacob Javits Convention Center, which has been converted into a field hospital that will be used to help treat the expected influx of COVID-19 patients. 
"Those are troubling and astronomical numbers," Cuomo explained. "New York is the canary in the coal mine. New York is going first. We have the highest and the faster rate of infection. What happens to New York is going to wind up happening to California and Washington state and Illinois. It's just a matter of time."
With over 25,000 coronavirus cases in New York as of today, Cuomo forecasts that the pandemic will reach its peak within the next two to three weeks. Given the exponential increase of cases, which he compared to "a bullet train," the demand for hospital beds and intensive care units has also risen. Cuomo projected on Monday that 110,000 hospital beds, and 3,000 ICU beds would be needed. That number has now grown to 140,000 hospital beds and 40,000 ICU beds. He also stressed the need for far more ventilators than the 400 promised by the federal government. 
Cuomo has tried to combat the spread of coronavirus by announcing that the state would be put "on pause." The order, which went into effect on Sunday, meant that all non-essential businesses would be closed, gatherings of individuals of any size had to be canceled or postponed, and people must practice social distancing by staying at least six feet away from one another.
If Cuomo's order doesn't work in flattening the curve, the change of season might also help. Early studies suggest that the spread of coronavirus may slow down in warmer, more humid climates, The Washington Postreports.
Analysis appears to show the tiny droplets that come out of the mouths of people infected with COVID-19 pick up moisture quicker from the surrounding air, and fall to the ground in warmer weather. When the weather is cold and dry, droplets can remain suspended in the air longer, heightening the risk of spreading the virus.