Southern Comfort Team Up With Artist John Culshaw To Bring Mardi Gras To The UK
Culshaw's attention-seizing combinations of stark grey figures set against vibrant, colourful backgrounds are an essential part of the Scouse skyline.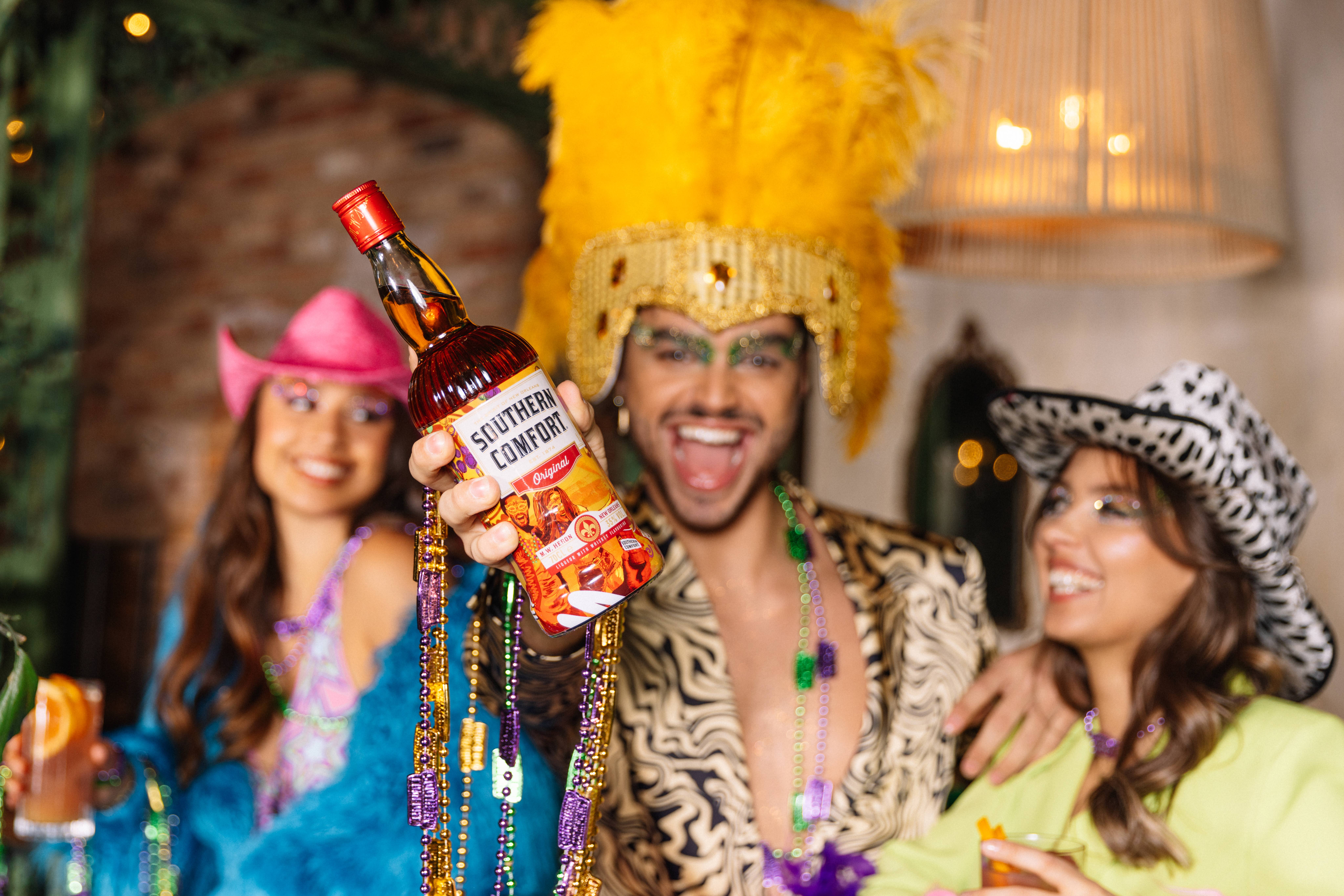 Publicist
For the last few years, Southern Comfort have been bringing the spirit of New Orleans Mardi Gras over to the UK for a series of celebrations built around the idea of recreating that vibrant energy right here in the UK. 
A centuries-old tradition, Mardi Gras was brought over to the southern United States by French Catholics around the turn of the 18th century. What started in the mid-19th century as a small parade to mark the last day of feasting and revelry before lent, has since grown into an enormous, world-famous celebration that attracts thousands of tourists every year. Since its inception in New Orleans, others have cropped up across Alabama, Mississippi, Florida and parts of Texas have their own Mardi Gras celebrations, but New Orleans will also remain the capital of Mardi Gras celebrations.
Keen to keep the party going, Southern Comfort are returning once more with another limited edition bottle to kick off their UK-wide Mardi Gras celebrations, as well as a huge Mardi Gras-inspired party at The Prince in London on February 18, soundtracked by their friends, Ibiza Rocks.
New Orleans artist Brandan 'BMike' Odums—who last year worked with South London artist Jade Pearl to create the previous bottle—has partnered with Liverpudlian mural artist John Culshaw to work on a bottle design that ties together the common threads that unite New Orleans and Liverpool. 
For those in the North West, Culshaw's attention-seizing combinations of stark grey figures set against vibrant, colourful backgrounds are an essential part of the Scouse skyline. He's become renowned for immortalising local heroes from the world of sport and music, making him the perfect figure to unite the two party cities.
As John's window into Mardi Gras, BMike gave him personal insight into what it means to the people of NOLA on a personal level as well as the significance of the fashion and cultural touchstones. Today, Mardi Gras is more than a French Catholic tradition, having soaked up elements from all the myriad cultures that have woven their way into New Orleans culture. 
As a meeting point for so many different cultures from just about every part of the world, Mardi Gras has become symbolic of togetherness. It's not so much a time to forget the differences between these backgrounds, but an opportunity to celebrate them. Through elaborate, eye-popping costumes to the Cajun and Creole food spots, the music, the floats, it's the time of year when everyone can share their own Mardi Gras traditions with the world.
The deeper you go between the two cities, the more you'll find they have in common. The first and perhaps most obvious is that they're both port cities, making them a nexus for countless different cultural influences from around the world. And with so many people coming together from so many different places, it's inevitable they'd both develop thriving music scenes across multiple generations. From rock & roll and northern soul to jazz and the blues, both cities haven't just cradled their own musical innovations, they've inspired countless others the world over.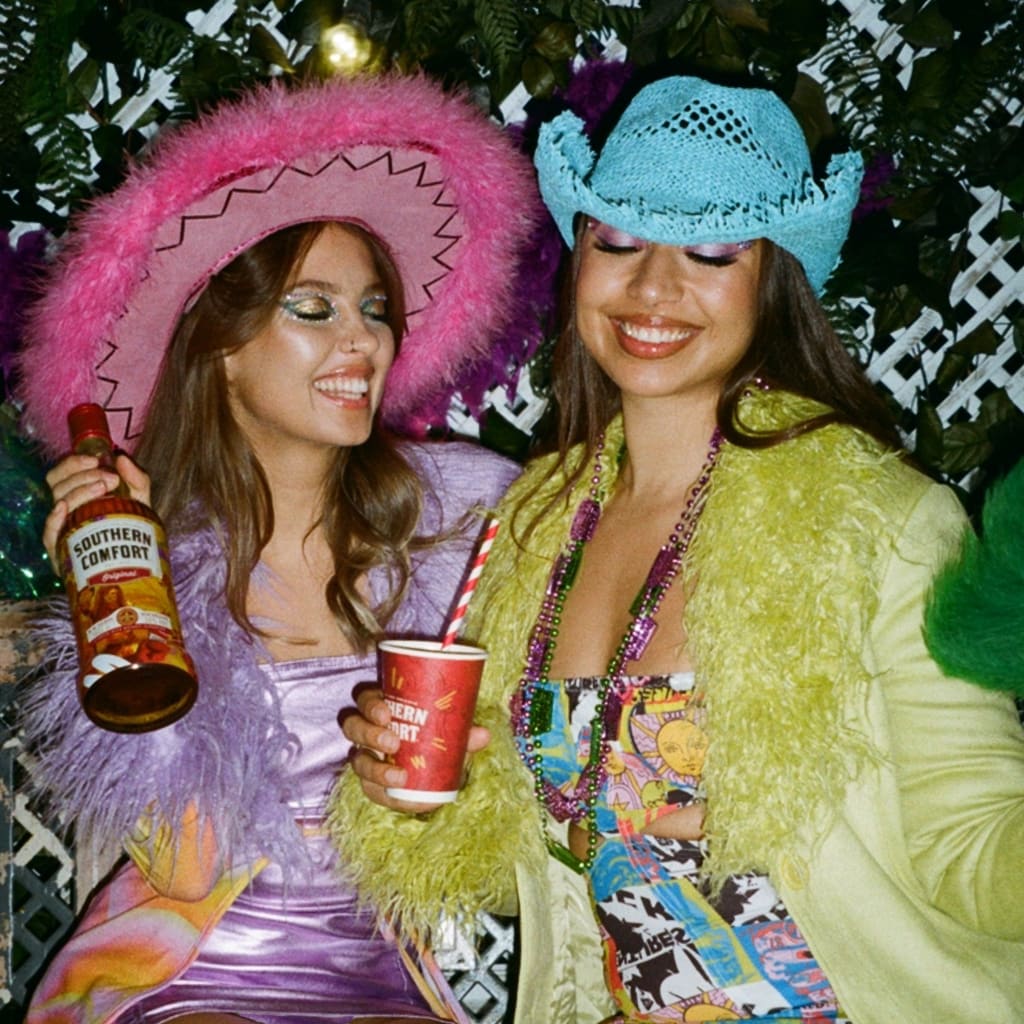 "I've definitely seen some parallels between New Orleans and Liverpool," he explains of the parallels between the two cities. "One that struck me was that Liverpool, as a city, stands out on its own. It's happy to be its own unique little place. I think that exactly the same way as New Orleans in America is its own place. It's got its own personality. It's got its own people. I think Liverpool, and New Orleans are really similar that way."
And with all that music bubbling up, it's hardly surprising that the two have become such party and nightlife hotspots. "I think the sense of Mardi Gras and Liverpool has always gone hand-in-hand as well," John adds. "One giant city and one big party."
"I like happy faces, I like smiles. I like dancing," he continues. "And I like to make everybody feel welcome in my art. I like to be  a nice sight for somebody who may just be walking down the street to see something that might brighten up their day."
All of that, John tells us, was integral to his design. Bringing to the energy and electricity of both cities was central to what John had in mind. "It's the vibrancy, the movements and the music that I wanted to get across in my art," he adds. "That's something that you can't ignore, so I wanted to get that across. That all the movements come from the music, from the vibrations."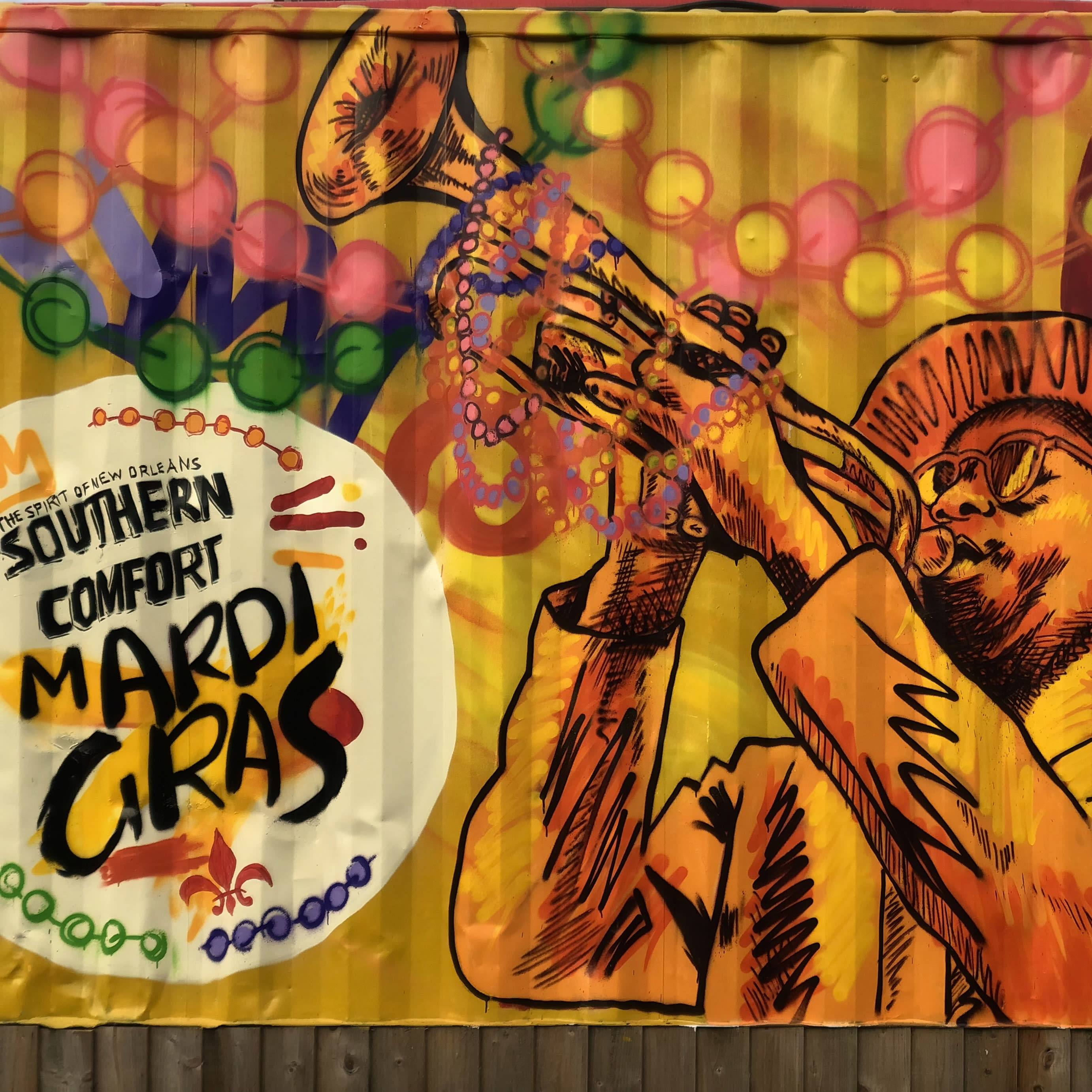 Mardi Gras is more than just a party and a celebration. It's as much about bringing people together and finding that hope and optimism that people from NOLA and Liverpool cherish so much. And when John talks about Liverpool, he could just as easily be describing New Orleans. "One thing everybody in the whole city feels is that we're all one group, and we're all happy for each other, whenever anyone does well. So the feeling I've always got through my art is the feeling of pride from not just my family, but from everybody around me. And it's something that really humbles me, and something that's always pushed me on to try and do more and more with my own work." 
Optimism, John tells us, is something that embodies both the entire spirit of Mardi Gras and the fundamental core of the Liverpudlian character. "Optimism is a massive part of any Scouser. Everybody's really wanting you to succeed, and you don't get people like that without optimism." That, he explains, is why he was keen to work with Southern Comfort in the first place. "Southern Comfort really puts across a feeling of togetherness and optimism. You know you're gonna be having a good time when you're with Southern Comfort."
The limited-edition bottle is available now across all UK supermarkets while stocks last. Customers can scan the bottle's QR code to be in with a chance of winning a trip to the home of Southern Comfort, New Orleans, for Mardi Gras 2024.
Join the Mardi Gras celebrations on February 18 at The Prince in London with Southern Comfort, soundtracked by their friends, Ibiza Rocks, with unmissable DJ talent. Tickets are available now.