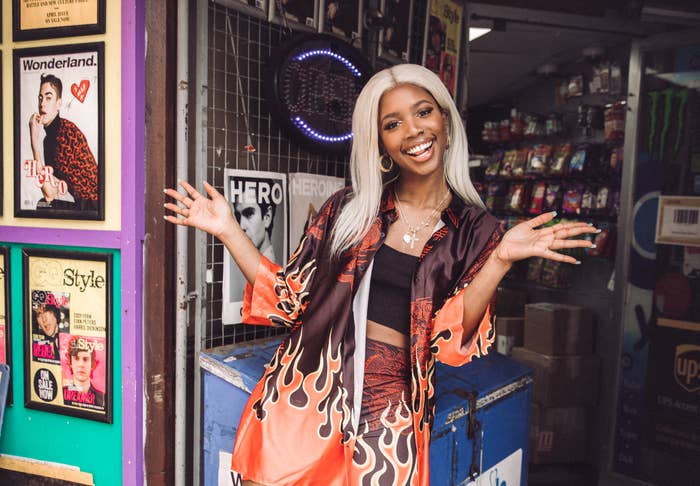 South London broadcaster Henrie Kwushue, best known for her work on Reprezent Radio as a regular drivetime presenter, has been a leading voice in London youth culture for a while now.
Letting her personality shine through the Brixton-based radio station, Kwushue has now gone on to start her very own production company, HTK Productions, and the first project released under it is a three-part documentary series called Is Your Area Changing?—which sees her delve into the evolution of some of London's most popular boroughs.
"I chose to do a docuseries on the changing areas in London because, I remember one day, maybe a year or so after graduating university, I was travelling through Peckham during the day and then again at night, and I realised how much of a contrast there was in the space of a couple of hours," Kwushue tells Complex.
"I realised pretty soon that the places people wouldn't dare to go at night were suddenly the hub of everything social. It was actually bewildering! So I decided to make a three-part documentary series—through my own production company, HTK Productions—focusing on Brixton, Peckham and Dalston, where, for me, a lot of changes have happened. In each episode, I juxtapose the day time and night time to see how different they really are and to get insights from both locals and party-goers alike. Even though there are some serious concerns explored, I try to highlight them in a lighthearted way just to reflect my personality." 
Brixton... Is Your Area Changing?
Brixton has been celebrated for its strong African and Caribbean culture for almost a century. From the Brixton Village Market to Morley's Chicken, this area of South London has seen it all. However, in recent times, it seems that Brixton has started to reinvent itself without that same cultural backbone. While many business owners and residents have been priced out of the area through higher rents, along with estate demolitions, Kwushue speaks to current residents and business owners as she discovers the answers behind why the area is now changing.
"Brixton is one of the biggest live music venues around, in London, and we still retain that," one resident says. "Brixton has got everything; it's an attraction for more people. But [what we want] is for people who've been here all the time to benefit from what's happening... We don't want new people just to come in and people who are here just to disappear."
Peckham... Is Your Area Changing?
Just around the corner, over in Peckham, the story is pretty much the same—the gentrification game. Kwushue shows us some iconic sites, while also paying homage to Peckham natives such as Rio Ferdinand, Ashley Walters and Giggs. African heritage is something that stands out in this one, with one interviewee stating, "Peckham is like feeling I'm in Africa," while another lets us know that "now, at night-time, you'd think you're in the West End."
Get to know the future TV and radio star's latest work above.