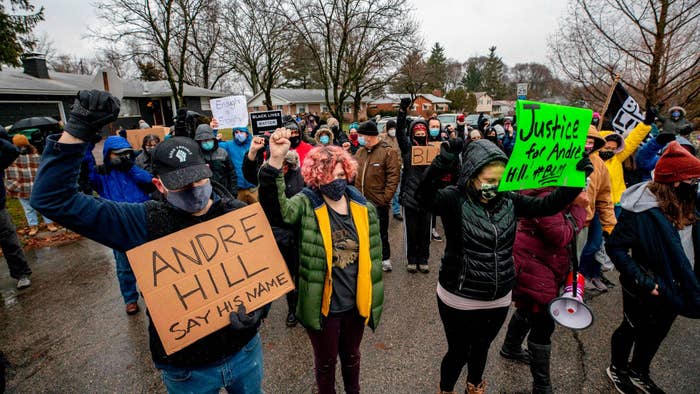 UPDATED 12/28, 9:00 p.m. ET: The recommendation to fire the officer involved, Adam Coy, was upheld by Columbus' safety officer on Monday, according to NBC News.
Previously, Columbus Police Chief Thomas Quinlan recommended that Coy's job be terminated because he failed to turn on his body camera prior to the shooting, and also because he failed to provide medical assistance. 
Following an administrative hearing held on Monday, Public Safety Director Ned Pettus, Jr. upheld that recommendation. 
"The actions of Adam Coy do not live up to the oath of a Columbus Police officer, or the standards we, and the community, demand of our officers," said Pettus. "The shooting of Andre Hill is a tragedy for all who loved him in addition to the community and our Division of Police."
Coy may still face criminal charges, with Ohio Attorney General Dave Yost being tabbed as the special prosecutor tasked with investigating the shooting. 
See original story below.
UPDATED 12/28, 3:15 p.m. ET: The Franklin County coroner's office has ruled that 47-year-old Andre Maurice Hill's death was a homicide and the preliminary cause of death was listed as "multiple gunshot wounds." A full coronary report is expected to be released in 12-14 weeks, a statement said. 
See original story below.
Following the fatal shooting of 47-year-old Andre Maurice Hill by Officer Adam Coy this past Tuesday, Columbus Police Chief Thomas Quinlan is recommending that the officer be fired for his actions.
In a video statement shared on Christmas Eve, Quinlan said that he believes Officer Coy demonstrated "critical misconduct" and should be terminated as a result.
"I witnessed his critical misconduct firsthand via his body-worn camera," Quinlan said in the statement. "I have seen everything I need to see to reach the conclusion that Officer Coy must be terminated, immediately. This violation cost an innocent man his life."
NBC News pointed out that Ned Pettus Jr., director of the state's department of public safety, will be making the final decision on Monday about whether the police chief's recommendation of termination will be enacted.
Hill was fatally shot on Tuesday night at approximately 1:30 a.m. while he was standing in an open garage at the home he was a guest at after Coy responded to a non-emergency disturbance call from a neighbor. Coy's body camera footage doesn't have audio until after the shots are fired, but beforehand Hill can be seen walking towards the officer with one hand holding his cell phone. Officer Coy let off several rounds on Hill before he fell to the ground. Hill later died in the hospital at around 2:30 a.m. 
Columbus Mayor Andrew Ginther called for Officer Coy to be fired on Thursday afternoon as well.
"After further review of the incident, today, I'm calling for the immediate termination of Coy ... who failed on two directives: not turning on his body-worn camera, and failure to offer aid after the shooting and not rendering aid," he said.