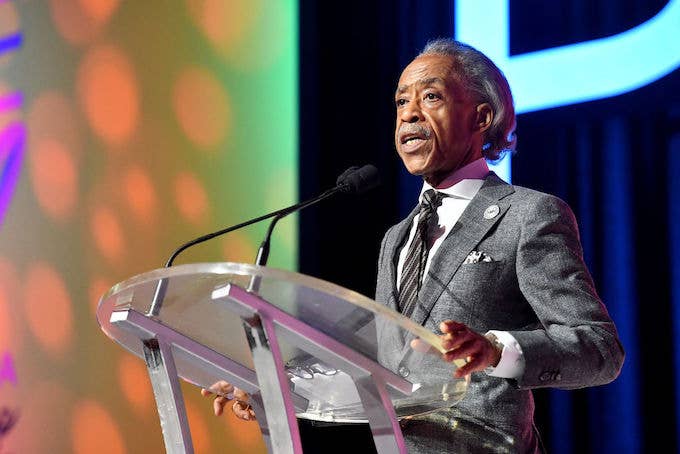 Over the weekend, Donald Trump continued his racist vilification of non-white opponents by unleashing a series of attacks against Representative Elijah E. Cummings, an African-American congressman, and his home city of Baltimore. On Monday morning, the President then took aim at Al Sharpton, who recently informed his supporters that he was en route to Baltimore, where he held a press conference "to address Trump's remarks & bi-partisan outrage in the black community." 
Ahead of Sharpton's conference in Charm City, the president accused the civil rights activist of being a "con man," and a "troublemaker," who "Hates Whites & Cops."
Mr. Sharpton responded shortly thereafter. "Trump says I'm a troublemaker & con man," he wrote. "I do make trouble for bigots. If he really thought I was a con man he would want me in his cabinet." 
During his press conference in Baltimore on Monday, the MSNBC host called Trump's attacks on Cummings and the city of Baltimore indicative of the President's "particular venom for blacks and people of color." 
"He attacks everybody. I know Donald Trump, he's not mature enough to take criticism, he's like a child," Sharpton said. "He attacks [Speaker] Nancy Pelosi, he attacks [Senate Democratic Leader] Chuck Schumer, he attacks other whites, but he never said that their districts or their states are places that no human beings want to live."
Sharpton was referencing the president's most recent racist attack against Cummings, in which he told the legislator to stop focusing on his administration's inhumane detention of migrant children at the border, and instead start by fixing his "disgusting, rat and rodent infested" district, adding "no human being would want to live there." He then accused the longtime lawmaker of doing "so little" for the residents he's representing. 
The remarks drew widespread criticism, and further highlighted the president's unrepentant racism.