Trump Names Mark Cuban, Dana White, Vince McMahon, and Others for Advisory Group to Re-Open Economy
Also including: Adam Silver, Jerry Jones, Roger Goodell, Rob Manfred, Tim Cook, and many more.
Getty
Image via Getty/Mandel Ngan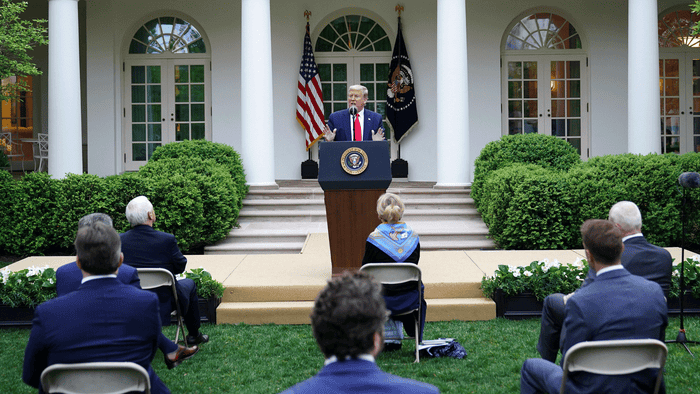 During his Tuesday press conference, Donald Trump announced that he would appoint the commissioners of several major sports leagues (and also some owners) to a group that would offer opinions on reopening the U.S. and getting the economy going again.
Trump also stressed the importance of getting sports back up. 
"We have to get sports back," he said from the Rose Garden. "I'm tired of watching baseball games that are 14 years old."
Some names that he mentioned for the panel include: Adam Silver, Roger Goodell, Patriots owner Robert Kraft, Mavs owner Mark Cuban, Cowboys owner Jerry Jones, Dana White, Vince McMahon, MLB commissioner Rob Manfred, and NHL commissioner Gary Bettman. Furthermore, top execs from the PGA, LPGA, MLS, and NASCAR are also being consulted. 
Some of these people will be contacted with a group call, while others will be spoken to one-on-one. 
It's not clear what their specific role(s) will be, or how the relationship will work between their leagues in tandem with any sort of overall government plan. 
Just a week-and-a-half ago, on April 4, leaders from a number of major leagues (including the NFL, NBA, MLB, and WWE, among others) were on a phone call with the president where he reportedly expressed gratitude for their response(s)/relief effort(s) in the wake of the coronavirus pandemic. 
At the moment, the NBA, NHL, and MLB seasons are supposed to be going on (according to old calendars) but remain indefinitely suspended. Pro baseball has floated a contingency plan that would see a season (of some sort) take place, in isolation, with every team in Arizona. The NHL has a similar plan for North Dakota. Also, Dana White is trying to get a private island for UFC fights. 
Trump didn't only appoint people from the sports world to the advisory group, which is being called the Great American Economic Revival Industry Groups. Figures from multiple sectors of the economy were also appointed, from Apple CEO Tim Cook to former Secretary of State Condoleezza Rice.
That announcement by the president came just hours after California's Governor, Gavin Newsom, declared it "unlikely" that fans could attend sporting events in the state through the summer.
Also at Tuesday's presser, Trump announced that the U.S. would be halting funding for the World Health Organization (WHO) until a review into that organization is completed. This review, according to the president, will look into WHO's "role in severely mismanaging and covering up the spread of coronavirus."
The U.S. gives the WHO between $400 to $500 million annually. 
"Had the WHO done its job to get medical experts into China to objectively assess the situation on the ground and to call out China's lack of transparency, the outbreak could have been contained at its source with very little death," said Trump, according to CNN. 
Proponents of the move believe that the organization did a poor job containing the outbreak and informing the rest of the world of the actual danger the virus represented. They also believe that the WHO weren't skeptical enough of Beijing's claims, and that it's been generally impotent when it comes to criticizing China's government.
In contrast, critics think this is an attempt by the president to find a scapegoat to pin the virus' spread on, and also that the time to pull funding for the World Health Organization isn't during a global pandemic.
Democratic Senator Chris Murphy (of Connecticut) said that the WHO and China both "made mistakes," but that this decision was an attempt by the administration to assign blame elsewhere. 
"Right now, there is a very coordinated effort amongst the White House and their allies to try to find scapegoats for the fatal mistakes that the President made during the early stages of this virus," the Senate Foreign Relations Committee member said, according to CNN.
To help make his point, Murphy pointed out that, back in January, Trump had praised China's president for his "transparency."
"It is just wildly ironic that the President and his allies are now criticizing China or the WHO for being soft on China when it was in fact the President who was the chief apologist for China during the early stages of this crisis," the senator added.