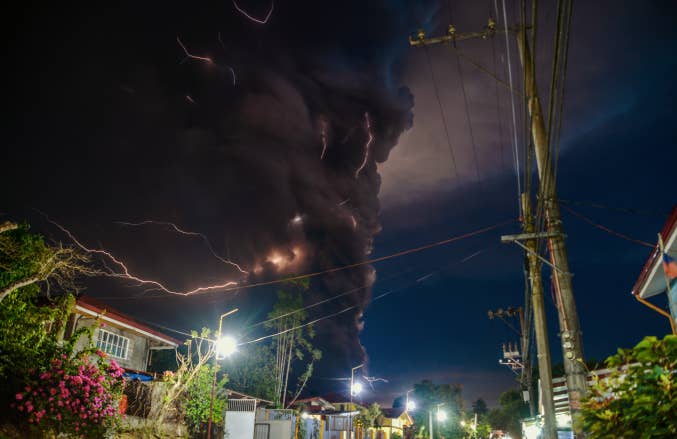 The Taal Volcano is located in the Batangas province about 37 miles south of Manila. Though the small volcano draws a lot of tourists because of its scenic location on a lake. Yet on Sunday, the volcano's sudden eruption expelled a massive plume of steam and ash into the air. Per the Philippine Institute of Volcanology and Seismology, the eruption caused the Taal Volcano to hurl rocks close to ten miles into the air. 
More than 6,000 villagers who live on the island with the Taal Volcano have evacuated their homes along with tens of thousands of people from nearby coastal towns. Heavy to light ashfall was reported in towns and cities miles away from the volcano. Citizens have been urged to wear goggles and masks if they leave the house to prevent any injuries and/or health hazards. The Civil Aviation Authority of the Philippines suspended all flights to and from the Manila International Airport and nearby air routes on Sunday "due to volcanic ash in the vicinity of the airport." Also, classes in the surrounded communities were canceled for Monday. 
The Taal eruption is the continuation of increased activity in the volcano that began last year. The small island where the volcano lies is a "permanent danger zone, and multiple earthquakes were recorded prior to the eruption. After Sunday, experts upgraded the danger level around Taal to a level four. Initially, it was sitting at a level one and it is now one notch below the highest danger level.