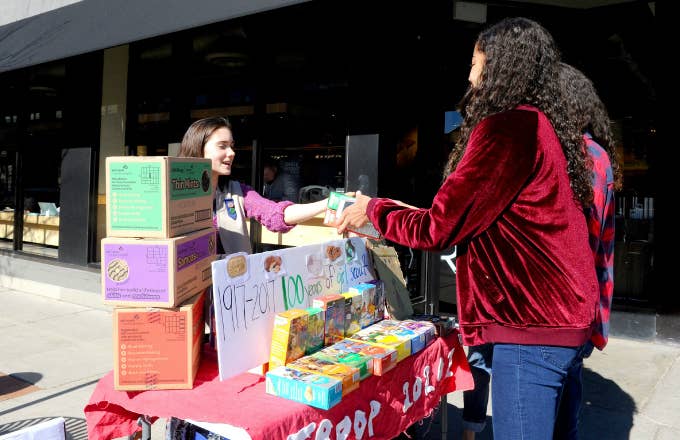 UPDATED 10:34 p.m. ET: Detric Lee McGowan, the man who went viral after he purchased $540 worth of girl scout cookies so that the kids could get out of the cold, was arrested on federal drug charges, Greenville Newsreports. McGowan was charged with conspiracy to distribute heroin, cocaine and fentanyl. In addition to that he's been hit with charges of racketeering and conspiracy to defraud the U.S.
Karen Kelly, the Vice President of Recruiting and Marketing for Girl Scouts of South Carolina - Mountains to Midlands released a statement on the news. "Nobody was hurt. Nobody was threatened. We had no reason to believe that this man was anything other than one of our valuable customers that is helping Girl Scouts power awesome experiences through the Girl Scout Cookie Program," Kelly wrote. "This is now in the hands of law enforcement and of course we will cooperate with authorities."
See original story below.
Standing in the cold for any reason is enough to make one reevaluate their dedication to the cause. But thanks to one generous man, a chilly night didn't go too badly for two Girl Scouts.
Emerson and Maya of Troop 1574 in Greenville, South Carolina were outside a store peddling cookies when a man came to their table and changed their night. After buying just seven packs of cookies, he returned to buy them out entirely, feeling bad the kids had to stand in the cold.
Although the mystery man's identity is unknown, troop cookie manager Kayla Dillard described to CNN how impactful the random act of kindness was for her and the girls. "What an amazing soul. It was about 34 degrees outside that night and we were there for about two hours already before he came," she explained. "We all were shocked. The girls were very excited and thankful."
Dillard took to Facebook to post a picture of the man and the Scouts with a caption that detailed the kind gesture. 
"This man purchased 7 packs of cookies. Gave the girls $40, told them to keep the change," Dillard's post read. "Then he came back to the table and said 'pack up all of your cookies. I'm taking them all so y'all can get out of this cold.' $540 he spent on cookies. What an amazing soul!!!!"