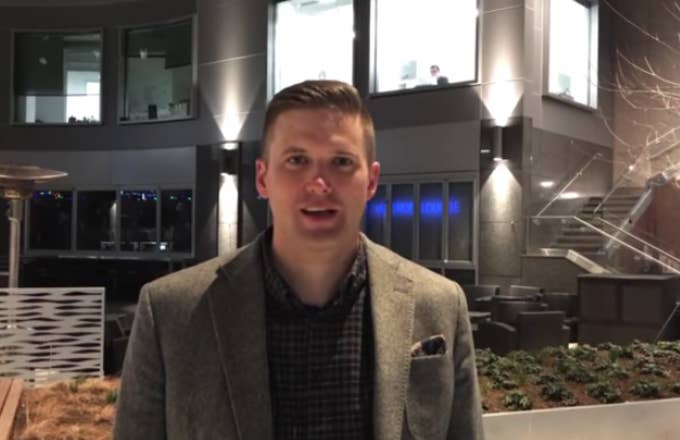 On Tuesday, Twitter rolled out expanded options for dealing with abuse and harassment on the site. Additionally, they busted out the ban hammer and got rid of a swath of alt-right accounts who have been repeat hate speech offenders on Twitter. This is a win for decency on the internet, but suffice it to say that some of the alt-righters who were given the boot are none too happy and pitching a good ol' fashioned fit.
One of the first alt-right offenders to get kicked out of Twitter was Richard Spencer, who runs the alt-right think tank, the National Policy Institute. The National Policy Institute is self-described as an organization "dedicated to the heritage, identity, and future of  people of European descent in the United States, and around the world," and promotes white nationalist ideas, such as "white erasure."
Spencer, whose verified Twitter account is no more, told the Daily Caller News Foundation, a right-wing website, that Twitter's decision to do away with alt-right hate speech accounts "is corporate Stalinism." Spencer added that he believes Twitter has an agenda against the alt-right: "Twitter is trying to airbrush the Alt Right out of existence. They're clearly afraid. They will fail!"
Spencer also uploaded a YouTube video Tuesday entitled, "The Knight of Long Knives" (a reference to the Night of Long Knives in 1934, when Adolf Hitler ordered the death of top SS officials and those he perceived to be opposed to the Nazi party). In the video, Spencer says that he is "alive physically, but digitally speaking, there has been execution squads across the alt-right. And it is something like the Night of Long Knives." "There is a great purge going on," Spencer added, "and they are purging people on the basis of their views."
Twitter also suspended the National Policy Institute's official twitter account, the account for its online magazine, and accounts for other prominent alt-right voices including Paul Town, Pax Dickinson, Ricky Vaughn, and John Rivers, according to USA Today. 
The Daily Caller notes that many alt-righters are making their way over to Twitter-like site Gab, which uses the face of a small green frog (think: Pepe) as their logo, and because of its loose free speech policies, is now a hot bed for right-wing hate speech.