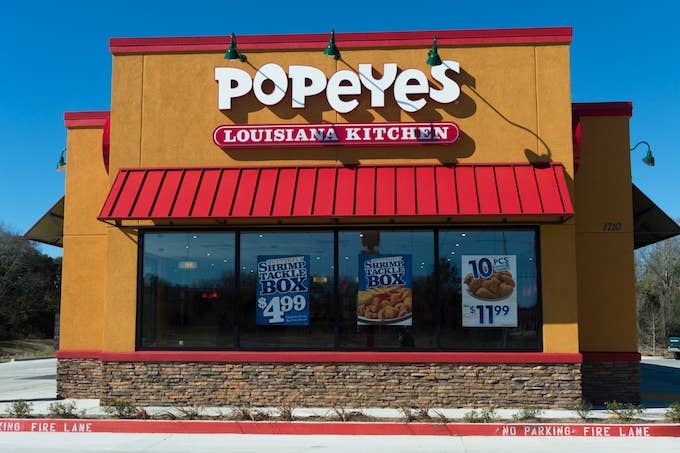 It looks like Popeyes' famous chicken sandwich will make its return.
The sandwich that damn near started a war has been on hiatus since August, when Popeyes officially announced it was "sold out (for now)." But recently, Popeyes has been sending out targeted Instagram ads that say, "The sandwich is coming soon," according to Foodbeast.
Thrillist also did some digging of its own this week and tried to nail down an exact timeframe for when the highly-anticipated sandwich would come back. The outlet called four different Popeyes locations in four cities to see if the employees had any information to share. A Brooklyn location said, "Hopefully this week," while a Southern California store said, "Probably Wednesday" (today). A Houston shop said, "Sometime next month," and a Chicago location said, "About two more weeks."
According to Bloomberg, Popeyes is preparing for the sandwich's big return by hiring an additional 400 staff members. The CEO of Sun Holdings Inc., which operates 150 Popeyes locations, told the outlet that each restaurant may have up to two employees strictly dedicated to making the coveted sandwich.
"The first time they weren't ready," Guillermo Perales said. 
While Thrillist wasn't able to pin down a definite date, it was able to identify a timeframe: from as early as Oct. 23 to sometime in November. In the meantime, the fast-food chain is pushing you to download their app, where you can be the first to know about the launch, per Foodbeast.
"We have been working diligently to bring the sandwich back to our restaurants soon as we know our guests are anxiously anticipating its return," a Popeyes spokesperson told Thrillist. "As soon as we're ready to announce a date, we will let you know!"
Regardless, the prospect of the sandwich's return has people on Twitter getting hype.
Just in case you're not over the Popeyes craze, you can now also purchase a "Sold Out Chicken Sandwich Costume."