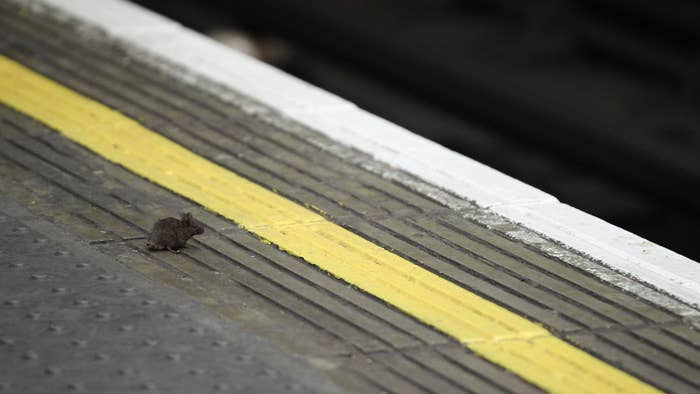 Mice scampering around a subway platform is a common and undesirable sight for most city-dwellers. However, a photographer is hoping to change that viewpoint.
Sam Rowley's photo, titled Station Squabble, has been selected from over 48,000 images for a wildlife photography award from London's Natural History Museum, CNN reports. The photo was picked by a public vote.
In the image, two mice are fighting over some crumbs on a subway station platform in London. "Everybody knows about the mice on the Underground but I don't think anyone's seen them in that light before," Rowley, who is also a researcher at the BBC, told CNN.
In order to get the shot, he had to lay on the floor of a few London stations. He conceded that he got some "strange looks" from travelers. "People were quite curious—they were quite chatty and nice about the whole thing."
Rowley was revealed as the winner of the  Wildlife Photographer of the Year LUMIX People's Choice Award on Feb. 12. His image was chosen from a shortlist of 25 photographs.
Four other shots were also loved by the public: a photo of an orangutan wearing boxing gloves in Bangkok, another of two jaguars sinking their teeth into an anaconda in Brazil, one of a rhino and a conservation ranger in Kenya, and the fourth, of a group of white arctic reindeer.
The 25-year-old semi-professional photographer got the idea from a friend, who took a video of two mice fighting. Rowley then spent a week in subway stations taking pictures.
"I was quite disappointed with what I managed to get at first," he said, saying that the picture "grew" on him. "With the majority of the world living in urban areas and cities now, you have to tell the story about how people relate to wildlife," he said. "Wildlife is fantastic and I think we need to appreciate the smaller and supposedly more difficult animals to live with."