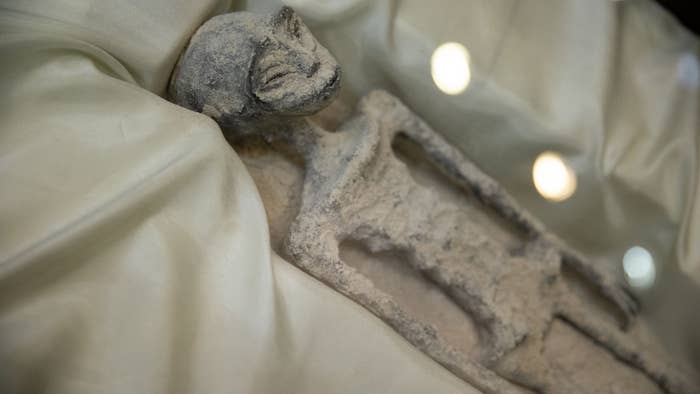 Recent news about alleged "non-human" bodies inspired one baker to make an extraordinary cake.
Ben Cullen, also known as The Bake King, shared an Instagram video on last week of his replication. "You won't believe this! The truth is out there," he captioned the clip, as he cut a slice out of the head of the alien cake. The video was also made into a fake news report, poking fun at the incident with the headline, "Suspected Alien corpse turns out to be a cake."
In mid-September, a previously debunked ufologist, Jaime Maussan testified under oath in Mexico's Congress about purported alien bodies. At the time, he said that "extraordinary conclusions" had been drawn from the two bodies, which were reportedly discovered in Peru in 2017. It was also shared that the bodies are allegedly 700 to 1,800 years old and only have three fingers on each hand. Maussan also said the bodies are "not part of our terrestrial evolution."
Ryan Graves, an executive director of Americans for Safe Aerospace and former F-18 pilot for the U.S. Navy attended the Mexico hearing. He later shared his experience, saying he was invited after participating in Unidentified Anomalous Phenomena: Implications on National Security, Public Safety, and Government Transparency hearing in front of a House Oversight subcommittee in July.
Graves said that he thinks the Mexico hearing was an "unsubstantiated stunt" that discredits the Unidentified Aerial Phenomena issue.