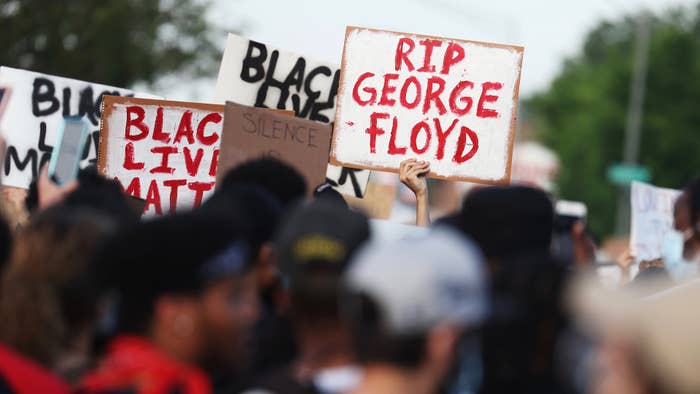 UPDATED 6/6, 2:29 p.m. ET: The two police officers who pushed over the 75-year-old protester Martin Gugino have been charged with second-degree assault. BuzzFeed News reports that 39-year-old Aaron Torgalski and 32-year-old Robert McCabe both pleaded not guilty and will remain suspended without pay. If convicted of the charges, they face up to seven years behind bars.
When the officers left the courthouse in Buffalo on Saturday morning, a small crowd of people in "blue lives matter" t-shirts cheered the men. The Eerie County District Attorney's office said in a press release that Gugino "remains hospitalized in critical condition." 
UPDATED 6/5, 3:02 p.m. ET: News 4 Buffalo's Dave Greber reports that members of the Buffalo Police Department's Emergency Response Team have resigned from their positions in the department in protest over the two police officers that shoved 75-year-old Martin Gugino getting suspended without pay. 57 officers in total are said to have resigned. They are still employed just not on the Emergency Response Team.
#BREAKING

: I'm told the entire

@BPDAlerts

Emergency Response Team has resigned from the team, a total of 57 officers, as a show of support for the officers who are suspended without pay after shoving Martin Gugino, 75. They are still employed, but no longer on ERT.

@news4buffalo
See original story below.
A 75-year-old protester in Buffalo, New York, was hospitalized Thursday night after two officers were filmed shoving him at Niagara Square.
The incident reportedly occurred at around 8 p.m., shortly after the citywide curfew went into effect. NPR member station WBFO shared footage of encounter on social media, showing the elderly man being pushed as officers tried to clear the area in front of City Hall. Seconds after the officers make contact, the man falls backwards onto the pavement and appears to start bleeding from his head while seemingly unconscious. 
"He's bleeding out of his ears!" a bystander is heard shouting, as officers walk past the injured man.
According to WBFO, two medics treated the unidentified man at the scene before placing him in an ambulance. Erie County Executive Mark Poloncarz tweeted the man is in stable condition at Erie County Medical Center.
At around 8:50 p.m., a spokesperson for the Buffalo PD addressed the incident in a statement, suggesting it was an accident: "During that skirmish involving protestors, one person was injured when he tripped & fell."
The department officials told WBFO that Internal Affairs division has launched a full investigation, and that the two officers involved have been suspended without pay.
Buffalo Mayor Byron Brown said he was "deeply disturbed by the video" in a statement posted to social media. "After days of peaceful protests and several meetings between myself, police leadership and members of the community, tonight's event is disheartening," Brown continued. "I hope to continue to build on the progress we have achieved as we work together to address racial injustice and inequity in the City of Buffalo. My thoughts are with the victim tonight."
In a subsequent statement to the press, Mayor Brown made an apparent attempt to justify police's actions against Martin Gugino, as he described him as an "agitator" who was "trying to spark up the crowd of people."
"He was in the area after the curfew. One of the things that happened before was conflict among protesters and there was a danger of fights breaking out, and police felt it was important to clear that scene for the safety of protesters," Brown said, as reported by the New York Post.
New York Gov. Andrew Cuomo responded to the incident via Twitter, calling it "wholly unjustified and utterly disgraceful."
The New York City Liberties Union also released a statement from Buffalo Chapter Director John Curr. 
"The casual cruelty demonstrated by Buffalo police officers tonight is gut-wrenching and unacceptable. Suspensions and an investigation are already in order, but there is little more we have to see to know what took place," he said. "Police officers cannot continue to hide behind the lie that they are protecting and serving. City leaders need to take this as a wake-up call and seriously address the police violence during this week's protest and the culture of impunity that led to this incident ... We are in solidarity with Buffalo's protestors and demand that demonstrators can protest without the threat of police brutality on the streets tomorrow."
The 75-year-old man who was shoved by two officers has been identified as local activist Martin Gugino by People United for Sustainable Housing Buffalo.
Buffalo is one of the many U.S. cities were citizens have taken to the streets to protest against racism and police brutality. The demonstrations began a week ago, following the police killing of George Floyd. The four officers involved in Floyd's death have since been arrested and charged.