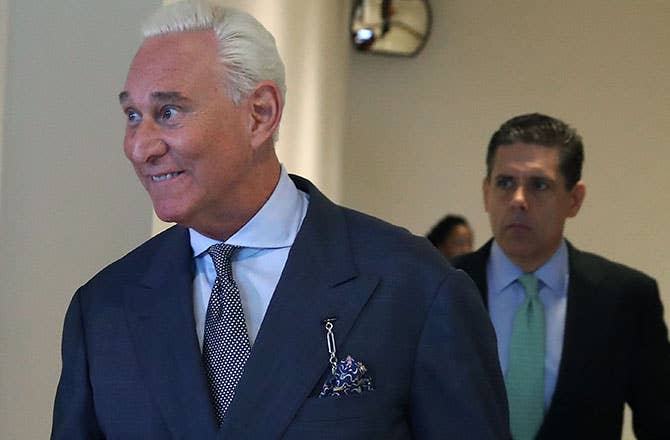 UPDATE 10/29/2017 2:00 p.m ET: After his Twitter account was suspended, Roger Stone, the former adviser to president Trump, wrote an email to Politico stating that he would be taking legal action in response to his ouster. The conservative political consultant had his account suspended after he fired off a series of offensive tweets, which you can peruse below. Since being kicked off Twitter, Stone thought it equally diplomatic to then publicly threaten to sue Twitter. To no one's surprise, Stone framed the suspension as one based in political bias. He wrote, "This is a strange way to do business and part and parcel of the systematic effort by the tech left to censor and silence conservative voices." 
He went on to add that he has been, "inundated on Twitter with death threats, threats to kill my wife, my family, my children and even my dogs yet Twitter seems unconcerned with these bloggers." Although it is not yet clear what the legal basis of his suit will be, Stone noted in the email that he has been in contact with several "prominent telecommunication attorneys." 
Read the original story below.
On Friday night, CNN reported FBI special counsel Robert Mueller had secured the first grand-jury indictments in his Russia-Trump collusion investigation. And, unsurprisingly, the news caused Roger Stone to freak the fuck out.
Following the then-exclusive report, the former adviser to Donald Trump attacked CNN anchors and pundits in a series of obscene tweets, which included vague threats, homophobic slurs, and, of course, accusations of "fake news." Twitter apparently wasn't having it, and decided to suspend Stone's account shortly after the tirade.