As the coronavirus continues to spread, health officials around the world have called on the public to practice social distancing. Schools have closed, major events have been canceled, and employees have been encouraged, or forced, to work from home. For some, these disruptions to daily life have resulted in a lot of stress and additional free time, which has apparently boosted Pornhub views. No surprise there.
On Thursday, the popular adult site released some statistics that shed more light on the pandemic's effect on its web traffic.
"As the coronavirus spread around the world, Pornhub's traffic did grow, but perhaps more interesting, we found that people were choosing to visit Pornhub at different times," the report read. "On March 11, Pornhub's worldwide traffic 5.7 percent higher than usual for a Wednesday."
The platform's statisticians found that 2 a.m. traffic on March 11 was 11 percent higher than usual, while the 8 a.m. traffic took a 9 percent lower than the average. Pornhub suspects these changes were due to the surge of remote work, as "people who did not need to commute to work the next day stayed up later and slept in longer than they normally would."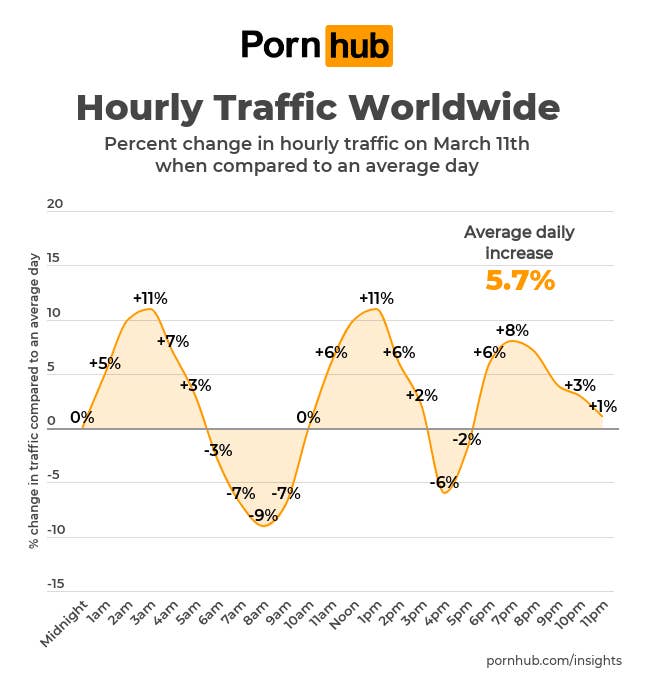 According to the data, average traffic increased across 30 countries on March 11. There was a 2.5 percent spike in the U.S. and Canada, 5.9 percent in Spain, 8.2 percent in the United Kingdom, and 10. 9 percent in the Netherlands. The biggest surge, however, was the 13.8 percent surge in Italy, which was placed under a national quarantine on March 9.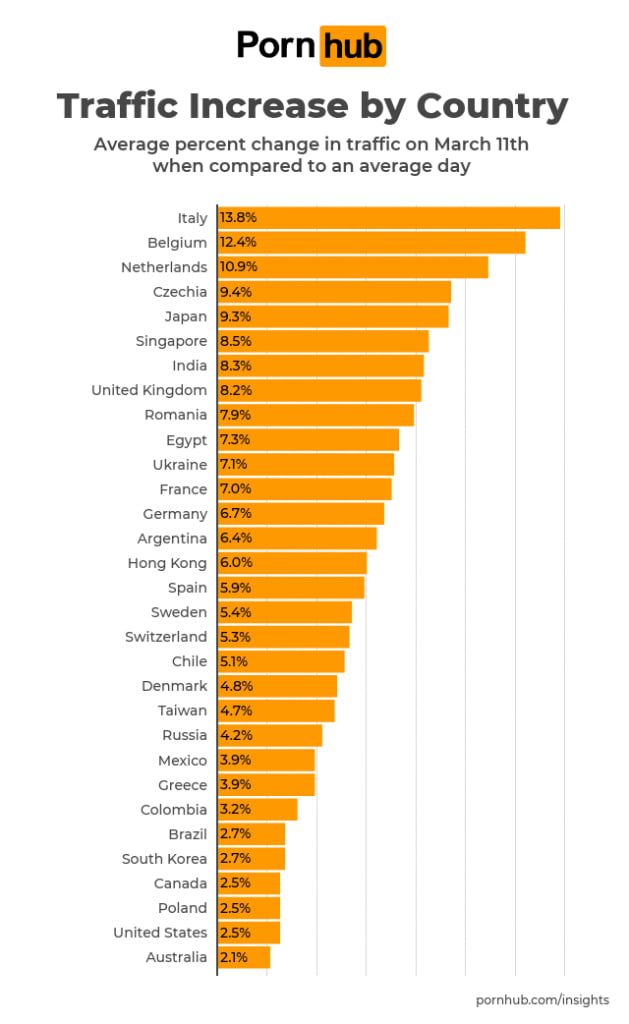 In wake of Italy's lockdown, Pornhub announced it was giving Italians free premium subscriptions throughout the month of March: "Pornhub has decided to donate its Modelhub March revenue to help Italy overcome the emergency," a message reads on the site in Italy. "To keep you company at home during these weeks, you'll be able to access Pornhub Premium for free for the whole month, with no need for a credit card."
Pornhub also notes that there have been nearly seven million coronavirus-related searches on its site since late January. These types of searches reportedly peaked on March 5, with 1.5 million entries around the world.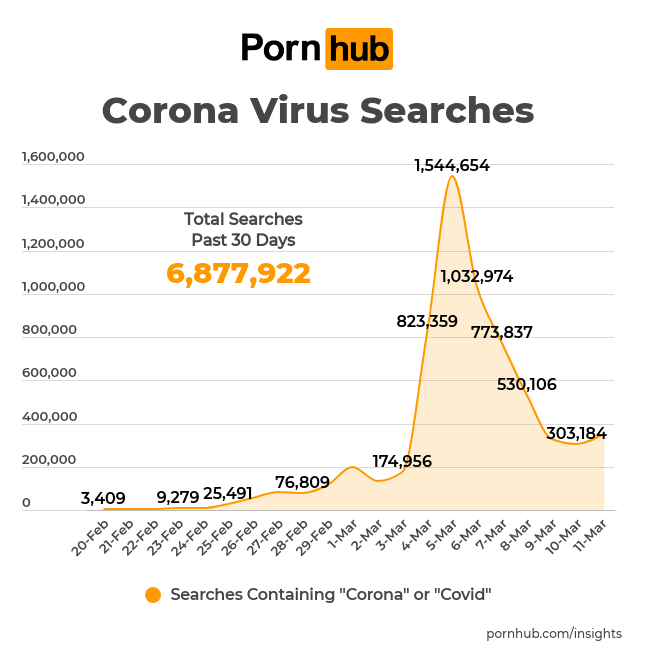 "In the United States, it's visitors from Washington, D.C. who are the most likely to search for coronavirus on Pornhub. In fact, D.C. visitors are proportionately 33 percent more likely to search," the report states. "Visitors from New York are 24 percent more likely to search, 22 percent in Washington state and 18 percent more in West Virginia. Folks from North Dakota are the least likely to search by -43 percent when compared to the rest of the country."