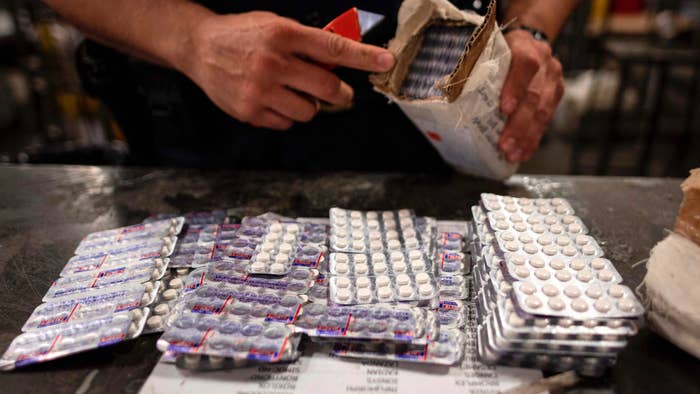 Two Columbus police officers are now behind bars for their alleged involvement in a drug-trafficking scheme.
According to the U.S. Attorney's Office of the Southern District of Ohio, narcotics officers John J. Kotchkoski, 33, and Marco Merino, 44 have been accused of helping sale and distribute 7.5 kilograms of fentanyl. Federal investigators say Merino had tried to recruit an informant to participate in the illegal activity, and even went so far as to offer him protection from other law enforcement agencies that could've intervened. 
Merino is also accused of attempting to gain Mexican citizenship as part of a plan to launder drug proceeds. He reportedly traveled to the country back in July, and intended to buy Mexican properties and run them as Airbnbs. Furthermore, court documents state Merino had also accepted $44,000 in cash for protecting shipments of at least 27 kilograms of cocaine between March and September; however, the shipments didn't contain any drugs, and each transaction was controlled by federal agents.
Authorities say Kotchkoski made himself available by radio during the transportation of the purported drugs. He allegedly agreed "to make any calls that Merino might need, including to other law enforcement officials, to protect the safe transportation of the cocaine."
Kotchkoski is also accused of providing Merino with the aforementioned fentanyl in June and August of this year. It's estimated that Merino would make $60,000-$80,000 for the sale of the drug.
Columbus Division of Police Chief Elaine Bryant said both men have been relieved of their duties pending the outcome of their cases.
"These allegations are beyond disturbing. If proven, such actions would violate the oath our officers take, the standards we must hold ourselves to, and the trust of the public ..." Bryant said in a statement. "We have, and will continue to, work cooperatively with federal authorities. Because this is an ongoing investigation, I cannot comment further on these cases. This alleged conduct does not reflect the values of this division, or the excellent work being done by its employees. I will say it again: when my officers do what's right, I will always have their back. When they don't, they will be held accountable."