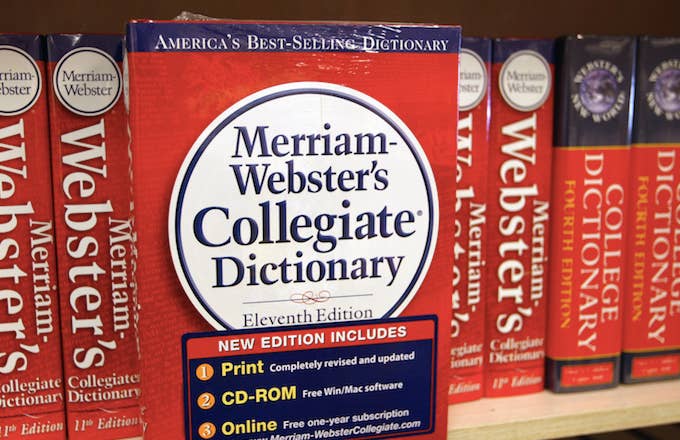 Merriam-Webster has just added "dumpster fire" to its 2018 edition. And the only way this could be more perfect is if Donald Trump's photo was included in the entry.
Though the informal term is a common synonym for the current administration, Merriam-Webster provided a less politically partisan definition: "Dumpster fire (noun, US informal): an utterly calamitous or mismanaged situation or occurrence: disaster."
Here's a couple "usage in a sentence" examples for those who are unfamiliar:
Reese and McAdoo take the fall for what has been a dumpster fire of a season, one which has them at 2-10 on the season, and in line for one of the top two picks in the 2018 NFL Draft. —James Kratch
So while 2017 has been, by many measures, a complete dumpster fire of a year, New Yorkers can at the very least take refuge in the fact that their city is becoming an even safer place to live. —Clayton Guse
"Dumpster Fire," which was also Mother Jones' 2016 Meme of the Year, was one of 850 additions to Merriam-Webster this week. Other new entries included words like "cryptocurrency," "glamping," "mansplain," "self-care," "hate-watch," and "welp."
Another notable addition is "embiggen," a made-up word that was first used in a 1996 episode of The Simpsons titled "Lisa the Iconoclast." The dictionary defines it as, "to make bigger or more expansive."
So, how did the Merriam-Webster team decide on these additions? According to the dictionary's editor-at-large, Peter Sokolowski, their decision was heavily based on each term's cultural relevance.
"If a word is frequently used enough by some people, it has to be placed into a reference for all people," he told NPR. "But we, as a dictionary, are not looking in real time. We are kind of a lag indicator, in financial terms. We are really interested in the terms that are here to stay, that we are very unlikely to ever take away from the dictionary."