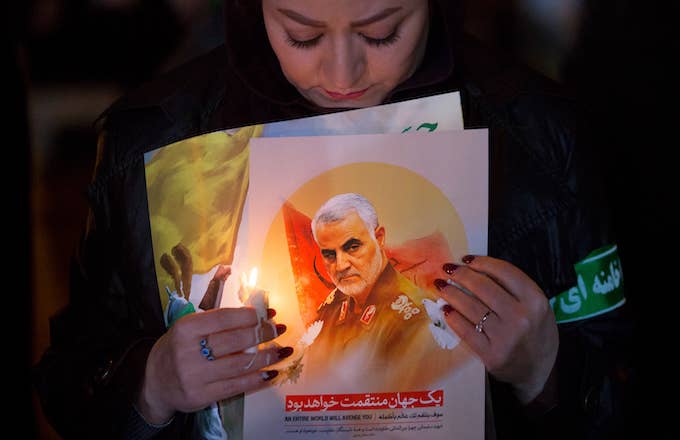 Tehran has fired "tens of ground-to-ground" missiles at Iraqi airbases that house U.S. troops, Iran state media reported Tuesday.
The attacks occurred just days after American forces carried out an airstrike that killed Iran's top military commander Qassem Soleimani. Shortly after the airstrike, Ayatollah Ali Khamenei vowed "forceful revenge" against the U.S. for Soleimani's death.
"This morning, courageous fighters of the IRGC's Air Force launched a successful operation called Operation Martyr Soleimani, with the code 'Oh Zahra' by firing tens of ground-to-ground missiles at the base of the terrorist and invasive US forces," the Islamic Revolutionary Guard Corps said in a statement reported by Iran's state-run news outlet. "We warn all allied countries of the U.S. that if attacks are launched from bases in their countries on Iran, they will be a target of military retaliation."
White House Press Secretary Stephanie Grisham said President Donald Trump was being briefed on the apparent attacks and is monitoring the situation with officials.
The Department of Defense confirmed the attacks on military facilities in Iraq, including Irbil and the Al Asad Air Base in the Anbar province. There is currently no information about possible casualties or the extent of damage. 
"At approximately 5:30 p.m. (EST) on January 7, Iran launched more than a dozen ballistic missiles against U.S. military and coalition forces in Iraq," the DoD wrote in a statement. "It is clear that these missiles were launched from Iran and targeted at least two Iraqi military bases hosting U.S. military and coalition personnel..."
Trump announced via Twitter that he will address the nation Wednesday morning. Until then, officials are continuing to assess the situation.
A U.S. military official told CNN that troops received warning of the missile attack and were able to take cover in time.
Iranian Foreign Minister Javad Zarif tweeted that the missile launches were an act of self-defense, and insisted Iran does "not seek escalation or war."
Following the U.S.'s targeted airstrike on Soleimani, President Trump said the move was intended to prevent an imminent attack. POTUS blamed the Iranian general for killing thousands of American citizens.
"He was planning a very big attack and a very bad attack, for us, and for other people, and we stopped him," Trump told reporters before reports of the Iran's missile attacks surfaced. "... He was a monster."
Trump had previously warned Iran not to target any Americans or American assets, as the U.S. was prepared to strike 52 Iranian sites, some of which were of cultural significance. The threats sparked outrage among political leaders, who pointed out that military attacks on cultural sites were considered war crimes under international law.
According to CNN, the IRGC has threatened to strike Dubai, United Arab Emirates, and Haifa, Israel, if the U.S. decides to retaliate for Tuesday's missile launch.
A number of political and government figures have taken to Twitter to respond to the attacks.
None of our daughters or sons in the military, nor the innocent Iraqi people, deserve more war and violence.

Congress must act now to stop this madness.

https://t.co/dltc9rERxa