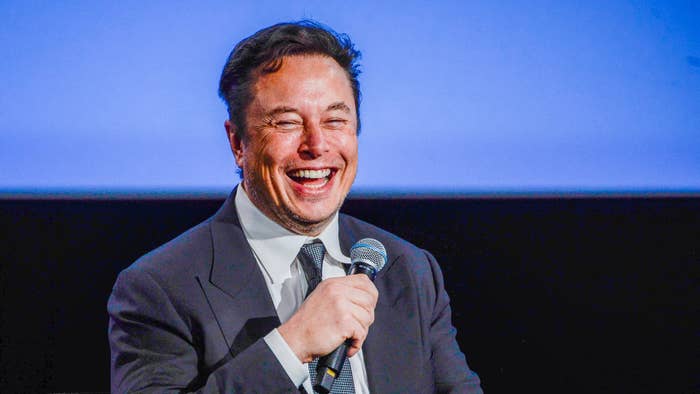 UPDATED 10/27, 10:33 a.m. ET: Elon Musk has shared an extended statement detailing his goals with Twitter, which he envisions as "a common digital town square" where a "wide range of beliefs" can be debated, albeit with some ground rules.
"There is currently great danger that social media will splinter into far right wing and far left wing echo chambers that generate more hate and divide our society," Musk said Thursday. "In the relentless pursuit of clicks, much of traditional media has fueled and catered to those polarized extremes, as they believe that is what brings in the money, but, in doing so, the opportunity for dialogue is lost."
Also in the message, Musk said that he "bought Twitter" though confirmation that the deal has closed has yet to be officially announced. 
Below, read Musk's full statement, which also sees the Tesla CEO speaking at length about his goals for advertising on the platform.
See original story below.
Elon Musk has crowned himself "Chief Twit."
The billionaire tech mogul made the declaration Wednesday in his updated Twitter bio, suggesting he'll take over the platform's top position once his acquisition deal is finalized. In early 2021, he made news for adding "Technoking of Tesla" to his CEO title.
Musk has had a rocky relationship with the platform's current CEO Parag Agrawal. As pointed out by Business Insider, text messages disclosed in court showed the men were on good terms until Musk began teasing his plans to buy Twitter.
Shortly after Musk's announcement, Agrawal confirmed Musk would not join Twitter's board as previously indicated. Three days later, it was reported that the Tesla CEO had offered to buy the social media giant for $44 billion. Twitter agreed to the deal at the end of April. However, in mid-May, Musk told his followers the acquisition deal was put on hold, as he and his team were trying to determine the number of fake Twitter profiles.
Musk went on to accuse the company of failing to provide adequate information regarding bot accounts, and said he would pull out of the deal if they did not share solid data. Twitter ultimately sued Musk, and the SpaceX boss fired back with a countersuit. Fast-forward to early October, when Musk announced he would follow through with the original agreement. A Delaware judge has given both parties until Friday to close the deal; if they fail to do so, the case will resume in court next month. 
Despite his back-and-forth with Twitter, Musk's recent online activity suggests he has every intention to acquire the platform by the end of the week. Hours before he updated his profile, he shared a video of himself entering the company's headquarters in San Francisco, using a sink as a prop for a pun. 
"Entering Twitter HQ—let that sink in!" he captioned the clip.
According to the Washington Post, Musk reportedly told investors he plans to cut Twitter's workforce by 75 percent—taking the company from 7,500 employees to just 2,000. Sources told the publication that Twitter had intended to reduce its staff by 25 percent, which would save the platform about $800 million by the end of next year. An insider told WaPo that the platform pumped the brakes on the cost-saving layoffs after Musk inked the acquisition agreement.