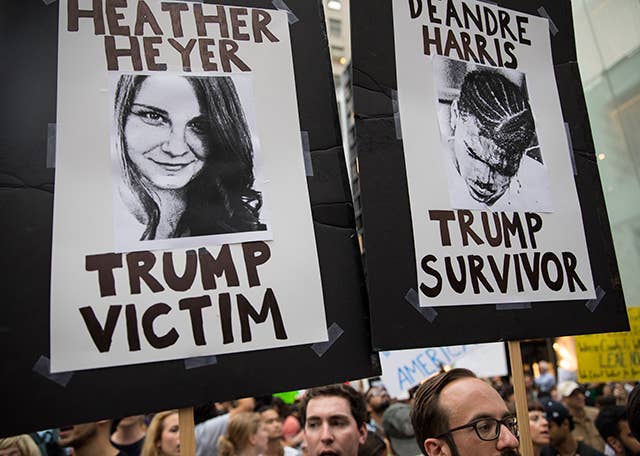 A Virginia magistrate has issued a warrant for Deandre Harris, a young black man who was brutally assaulted during the deadly white supremacist rally in Charlottesville.
According to Cincinnati's WCPO 9, 20-year-old Harris has been accused of first attacking one of the men in the group that brutally beat him. The victim reported the alleged attack to the magistrate office, which issued a warrant after detectives reviewed the evidence that was presented.
"The victim went to the Magistrate's office, presented the facts of what occurred and attempted to obtain the warrant," a Charlottesville Police Department press release stated. "The magistrate requested that a detective respond and verify these facts. A Charlottesville Police Department detective did respond, verified the facts and a warrant for Unlawful Wounding (Va Code 18.2-51) was issued."
Harris is wanted on charges of unlawful wounding in connection to the Aug. 12 incident.
Harris' attorney Lee Merritt said the charge was "clearly retaliatory," and told WCPO 9 his client would turn himself in within 24 hours.
Last month, two men were charged with malicious wounding in the attack against Harris, who was filmed being beaten by a group of men in the Market Street Parking Garage. 33-year-old Alex Michael Ramos and 18-year-old Daniel Patrick Borden were charged in the assault, which left Harris with a concussion, a broken ulna, and a scalp wound that required eight staples to close. 
"Me and about five of my friends were out protesting. We thought [the racists] left, but at one point they came back," Harris told The Root back in August. "Everyone was exchanging words with the group, but then the KKK and white supremacists just rushed us. They were beating me with poles. I have eight staples in my head, a broken wrist and a chipped tooth […] The beating happened right beside the Police Department, and no police were there to help me at all."
Stay tuned as more information becomes available.