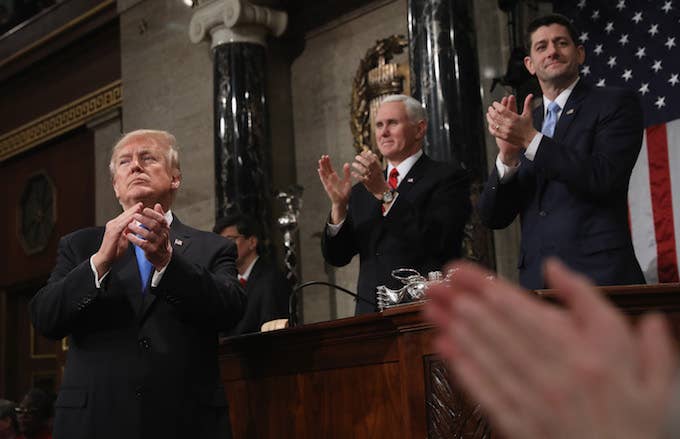 About midway through Tuesday's State of the Union address, President Donald Trump reiterated his antagonistic views on illegal immigration. This time he decided to use a grieving family to do so.
On Sept. 13, 2016, the bodies of Nisa Mickens, 15, and her best friend, Kayla Cuevas, 16, were found near an elementary school. Last March, Suffolk County Police charged four MS-13 gang members in connection to their deaths. Nisa and Kayla were two of the 17 victims who died in a 17-month span in a wave of violence connected to MS-13, a gang birthed in Los Angeles that has Salvadorian roots. 
The homicides gave Trump and Attorney General Jeff Sessions an excuse to defend their calls for stronger immigration enforcement, with the president tying illegal immigration to the gangs that "infiltrated our neighborhoods and recruited our vulnerable young people." Criminologists explained to Boston Globe that, of course, their claims are exaggerated; MS-13 make up a very small percentage of the nation's gang violence.
The parents of the slain teens—Nisa's Elizabeth Alvarado and Robert Mickens, and ​Kayla's Evelyn Rodriguez and Freddy Cuevas—were invited to attend Trump's State of the Union address. In his speech, Trump connected the visibly still grieving families' tragedies to a falsehood. The text, via Yahoo!, is below:
     Here tonight are two fathers and two mothers:  Evelyn Rodriguez, Freddy Cuevas, Elizabeth Alvarado, and Robert Mickens.  Their two teenage daughters — Kayla Cuevas and Nisa Mickens — were close friends on Long Island.  But in September 2016, on the eve of Nisa's 16th Birthday, neither of them came home.  These two precious girls were brutally murdered while walking together in their hometown.  Six members of the savage gang MS-13 have been charged with Kayla and Nisa's murders.  Many of these gang members took advantage of glaring loopholes in our laws to enter the country as unaccompanied alien minors ‑- and wound up in Kayla and Nisa's high school.
Rodriguez told the New York Times that she wasn't attending the address "for anybody's political gain," yet that's what Trump attempted to do using an aggressive untruth, linking the lives of millions to the violence of a few. 
Trump's exploitive claim falls in line with the xenophobic and racist views he's spouted in the past, including recently referring to Haiti, El Salvador, and African nations as "shithole countries." Members of the Congressional Black Caucus who were in attendance donned kente cloth to protest the remarks. Trump's State of the Union was also the third-longest speech (about an hour and 20 minutes) in the address' modern history and was good enough to appease noted racist David Duke.
Thank you President Trump. Americans are "Dreamers" too.