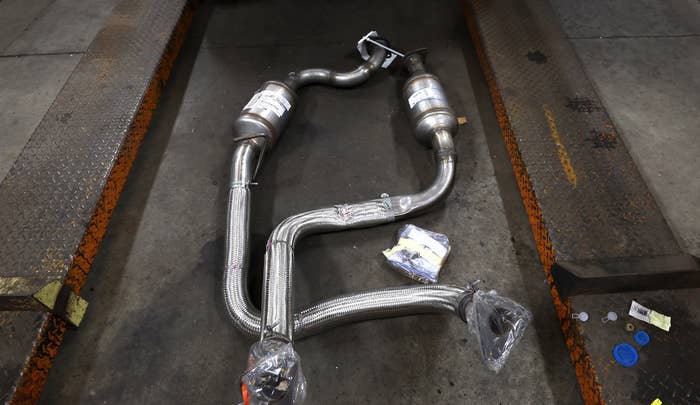 A Georgia man was killed while trying to steal a catalytic converter from a vehicle at a local auto shop.
CNN reports police found Matthew Eric Smith, 32, on Tuesday morning dead under a vehicle at South Bound Auto Sales, a car lot in Savannah, Georgia.
"Evidence at the scene indicates that the man was killed while he was illegally removing a catalytic converter from the vehicle, and the vehicle fell on top of him," the Chatham County Police Department said in a press release.
Autoshop owner Mike Abouharb told WTOC-TV that the "accidental death" was not worth the $100 Smith would've gained from the stolen part. However, others suggest a stolen catalytic converter can go for $1000 on the black market.
"I didn't even get close to him. I called the police right away," Abouharb said. "Is it worth it? To steal a catalytic converter to sell for $100. To lose your life? It's not."
Abouharb also noted the losses auto shops are forced to suffer each year due to theft.
"In any given year, you got between $30 to $50,000 lost in catalytic converters, radios, even tires!" he shared.
Meanwhile, Chatham County said 39 catalytic converters were stolen from vehicles at local auto shops last year.
"Some of these precious metals are more valuable per ounce than gold and their value has been increasing in recent years," the department said. "The black-market price for catalytic converters can be above $1,000 each, depending on the type of vehicle and what state it is from. They can be stolen in less than a minute."