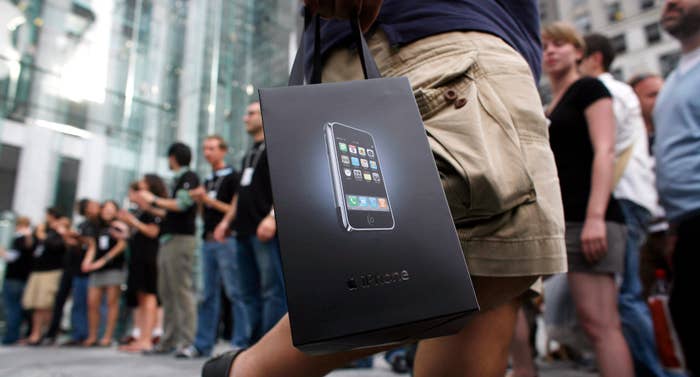 A first-generation iPhone from 2007 sold for nearly $40,000 at an auction.
A press release notes the pioneering smartphone, which would've cost $599 in 2007, was listed and sold at LCG Auctions for $39,339. Gizmodo notes that, going into Sunday, the top bid was merely $10,446, before a considerable climb for the highly regarded relic. 
"This factory sealed, first-release example is in exceptional condition," the statement continued. "Virtually flawless along the surface and edges, the factory seal is clean with correct seam details and tightness. Labels on the reverse are correctly pristine beneath the seal. All original—no aftermarket stickers or UPC labels on this one. Brand new, never activated." 
While the original iPhone came with 16 pre-installed apps, the App Store had not yet been developed, thus users' options were limited. The first-generation devices had either four or eight gigabytes of storage, a touchscreen, a 2-megapixel camera, and a web browser. 
"We expected the bidding for this item to be fervent and it did not disappoint as a handful of avid and sophisticated collectors drove the price from just over $10,000 on Sunday afternoon to this record-setting amount by Sunday night," LCG Auctions founder Mark Montero told CNBC. "We congratulate the winners, our consignors and all of the bidders for making this one of the most active auctions in our history."