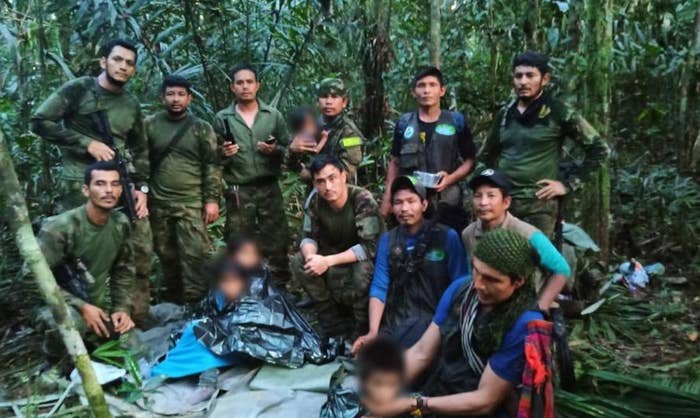 Four young children have been rescued after spending a month wandering the Amazon jungle following the crash of their small plane.
Colombian President Gustavo Petro confirmed the news at a press conference on Friday, ending an intense rescue mission by the military and local authorities. The children, who are members of the Uitoto Indigenous community, were discovered near the border between Colombia's Caqueta and Guaviare provinces, which is close to where their plane crashed on May 1.
Petro praised the military and rescue teams for their successful effort.
"The work between armed forces and Indigenous communities — who obviously know the jungle better than we do — that work was successful," he said. "Indigenous communities and the military found the children."
The children have been identified as Lesly Jacobombaire Mucutuy, 13; Soleiny Jacobombaire Mucutuy, 9; Tien Noriel Ronoque Mucutuy, 4; and Cristin Neriman Ranoque Mucutuy, 11 months.
The children's mother, Magdalena Mucutuy Valencia, was killed in the crash along with pilot Hernando Murcia Morales and Yarupari indigenous leader Herman Mendoza Hernández.
"They themselves are an example of survival that will go down in history," Petro told reporters on Friday. "Today, those children are the children of peace and the children of Colombia."
Petro continued by admitting that the survivors are just beginning their road to recovery.
"The most important thing now is what the doctors say," he said. "Their health condition must have been stressed. We need to check their mental state too."