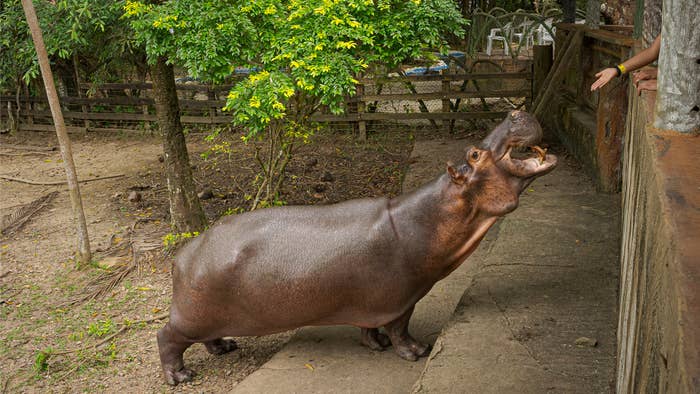 Colombian drug lord Pablo Escobar's infamous "cocaine hippos" have been legally recognized as people by the U.S. District Court for the Southern District of Ohio, Insider reports.
The hippos' origin story began when the notorious Colombian drug kingpin brought a number of exotic animals to Colombia for his own private zoo in the '80s, and among them, were at least four hippos. Following the drug trafficker's death in 1993, the majority of the animals were transported to zoos where they could be appropriately looked after. The four hippos, meanwhile, were too heavy to transport and later made the Magdalena River their home.
Ever since then, the hippos have grown to a population of 80, sparking concerns over potential environmental impact and human safety. There have even been reports of the hippos damaging the surrounding ecosystem and attacking locals.
As a result of an ongoing legal case surrounding the hippos, the population of hippos has now become the first non-humans to be legally considered people. The ruling was made on October 15, the same day that the Animal Legal Defense Fund filed an application in protest of Colombia's government killing the hippos. A "cull" of the population was first suggested publicly at the start of 2021.
"It's obvious that animals actually do have legal rights, for example, the right not to be cruelly abused or killed ... but a legal right is only as valuable as one's right to enforce that legal right," Animal Legal Defense Fund attorney Christopher Berry told Gizmodo. "The legal system doesn't ... have precedent for animals' interests directly appearing in court. There's no precedent for animals having a legal standing to enforce their own rights." 
Earlier this year, Newsweek reported a lawsuit was filed on behalf of the hippo population in Colombia by Luis Domingo Gómez Maldonado, who argued that the animals should be sterilized and not killed. This month, per Insider, the Colombian government revealed it had successfully sterilized 24 of the "cocaine hippos" with GonaCon, although the Animal Defense Fund argues a different contraceptive named PZP should be used instead.
National University of Colombia professor of biology Enrique Zerda Ordónez told the Guardian that the animals would continue to reproduce if actions weren't taken, because they're "in paradise." The professor added, "They'll always have water, all the plants they could ever want to eat, and they can pop out of the river and eat grass with the cows."
In a statement, ALDF executive director Stephen Wells praised the court's decision to recognize the hippos as plaintiffs.. "The court's order authorizing the hippos to exercise their legal right to obtain information in the United States is a critical milestone in the broader animal status fight to recognize that animals have enforceable rights," he said.