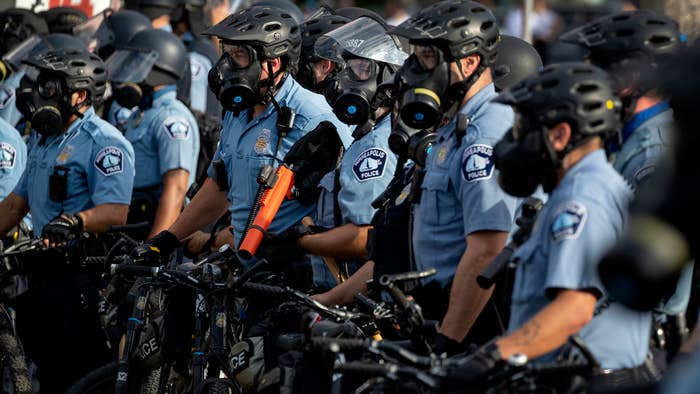 A report released on Wednesday by the Minnesota Department of Human Rights found that the Minneapolis police department routinely engaged in racial discrimination, the Associated Press reports.
The report comes after a two-year investigation that was launched after the killing of George Floyd by former officer Derek Chauvin. The investigation found that the MPD had engaged "in a pattern or practice of race discrimination in violation of the Minnesota Human Rights Act" for at least the past ten years.
The report indicated that officers from the department were found to stop and arrest Black individuals at a higher rate than white individuals, as well as using more force on people of color. The MPD's data "demonstrates significant racial disparities with respect to officers' use of force, traffic stops, searches, citations, and arrests," reads the report.
Officers have also been accused of using "covert social media to surveil Black individuals and Black organizations, unrelated to criminal activity, and maintain an organizational culture where some officers and supervisors use racist, misogynistic, and disrespectful language with impunity." 
According to Human Rights commissioner Rebecca Lucero, the report doesn't single out any specific officers because it's about the department and the city as a whole. Lucero added that the state hopes to utilize the results of the investigation to work towards systemic change, and negotiate a consent decree with Minneapolis. \
The report said that the MPD "do not need to wait to institute immediate changes to begin to address the causes of discrimination that weaken the City's public safety system and harm community members."
Over a decade worth of information was reviewed for the report, including information on traffic stops, arrests, and uses of force. Approximately 700 hours of body camera video footage, and 480,000 pages of documents were reviewed in total. 
It calls "race-based" policing "unlawful," adding that it "especially harms people of color and Indigenous individuals — sometimes costing community members their lives,"