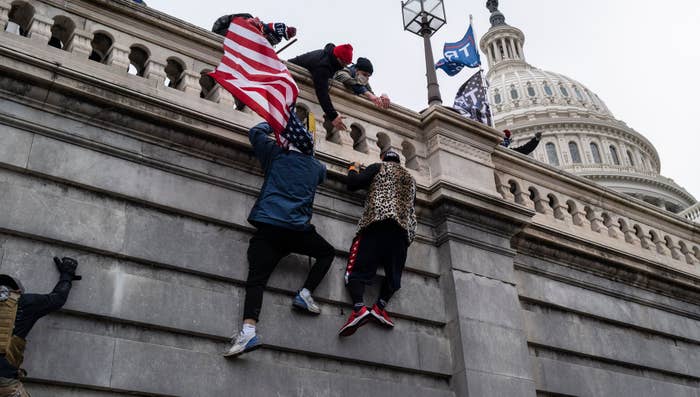 Henry "Enrique" Tarrio, the former Proud Boys chairman, and other Proud Boys affiliates have been charged with seditious conspiracy over the Capitol riot of Jan. 6, 2021. 
The Justice Department announced on Monday that Tarrio and four others have been hit with an indictment after already being charged with other conspiracy counts. Tarrio was arrested two days before the riot took place after he reportedly vandalized a Black Lives Matter banner at a Black church in December of 2020. He was then released from jail on Jan. 14, 2022 after getting a five-month prison sentence. 
Other members charged in the new indictment are Ethan Nordean, Joseph Biggs, Zachary Rehl, and Dominic Pezzola. Prosecutors are accusing them of playing a role in the orchestration of the events that took place on Jan. 6, 2021 following former President Donald Trump's election loss to Joe Biden. Charles Donohoe, who was also named, previously pleaded guilty to conspiracy charges in a plea deal. 
According to the Associated Press, Tarrio himself allegedly observed a document titled "1776 Returns" on Dec. 30, 2020, which pointed to plans for members to occupy government buildings on Jan. 6. The new charge is a heavy one too and is rarely brought upon anyone, as it accuses them of not only conspiring an attack, but doing so in an attempt to overthrow the government. These are the most serious charges filed so far in relation to the riot, which the former president has labeled as an "insurrection hoax" during a recent speech. 
"I felt that the crowd was going to be massive, everybody was saying they were going to be there," Trump said. "I believe it was the largest crowd I've ever spoken before. They never want to talk about that crowd. I have never spoken, in my opinion before a crowd that big and nobody wants to talk about it from the fake news media."