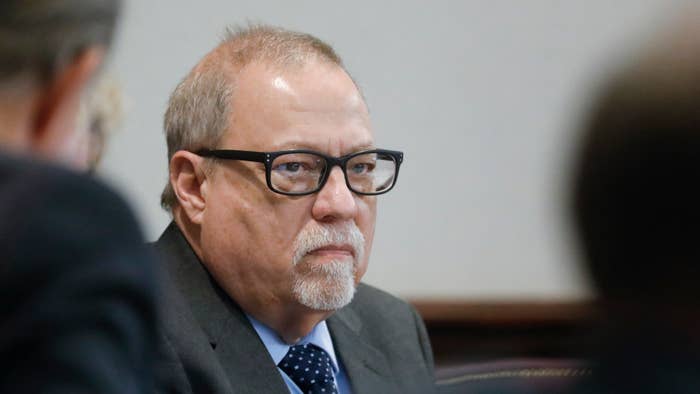 UPDATED 2/4, 10:45 p.m. ET: Gregory McMichael and his son Travis withdrew plans to plead guilty after a proposed agreement was rejected. They will now go to trial over their federal hate crime charges​​​​​​​, CBS News reports. The plea agreement would have given the McMichaels sentences of 30 years in a federal penitentiary in exchange for pleading guilty. The father and son have already been given life sentences in state court for the murder of Ahmaud Arbery. 
William "Roddie" Bryan will also be heading back to court.
The trial is set to begin next week on Monday, February 7 with jury selections. 
UPDATED 1/31, 4:14 p.m. ET: A federal judge rejected the terms of the plea agreement for Travis McMichael, who was previously convicted of murdering Ahmaud Arbery, during a Monday hearing in his current hate crimes case. 
The judge will summon potential jurors next week for the case and give McMichael the chance to rescind his guilty plea, per the Associated Press and WXIA-TV, after Arbery's family voiced disapproval with the proposed agreement.
See original story below.
Ahmaud Arbery's parents are voicing their concerns about Travis and Greg McMichael's recent plea agreement over their federal hate crime charges.
The father and son, who have been convicted of murdering 25-year-old Arbery on Feb. 23, 2020, reached a proposed plea agreement over the hate crime charges on Sunday, which could keep them out of trial. William "Roddie" Bryan, the third defendant, was not mentioned in the agreement. All three men were previously sentenced to life in prison on Jan. 7, and the deal does not impact their convictions in Arbery's killing.
Arbery's mother Wanda Cooper-Jones has since called the deal "disrespectful," per the Associated Press, and attorney Lee Merritt told reporters she is now dealing with feelings of "betrayal" and will ask the judge to reject the decision on Monday. Father Marcus Arbery said he's "mad as hell," given that the move would allow the men to spend 30 years of their sentences in federal prison, rather than state prison. Further details have not been disclosed about the plea deals. 
"Wanda Cooper Jones kept her promise to Ahmaud Arbery to get her son justice," Merritt wrote on Twitter. "Today the DOJ is attempting to 'snatch defeat from the jaws of victory'. We will not allow it. The Arbery family has worked too hard to see these men spend the rest of their lives in state custody. … Federal prison is a country club when compared to state prison. Federal prisons are less populated, better funded and generally more accommodating than state prisons. These men hurriedly entered this plea deal that would allow them to transfer out of custody from GA prison."
Merritt continued, adding that "admitting they were motivated by hate" allows Travis and Greg McMichael to "publicly brag about their hatred & then be rewarded by the federal government."
"The DOJ has gone behind my back to offer the men who murdered my son a deal to make their time in prison easier for them to serve," Cooper-Jones said in a statement shared by Merritt. "I have made it clear at every possible moment that I do not agree to offer these men a plea deal of any kind. I have been completely betrayed by the DOJ Lawyers."
Through these specific charges, the father and son are accused of violating Arbery's civil rights when they chased him through their Georgia neighborhood in a truck before shooting and killing him. Earlier this month, the McMichaels were sentenced to life in prison without parole over the murder, and Bryan was sentenced to life with the possibility of parole.