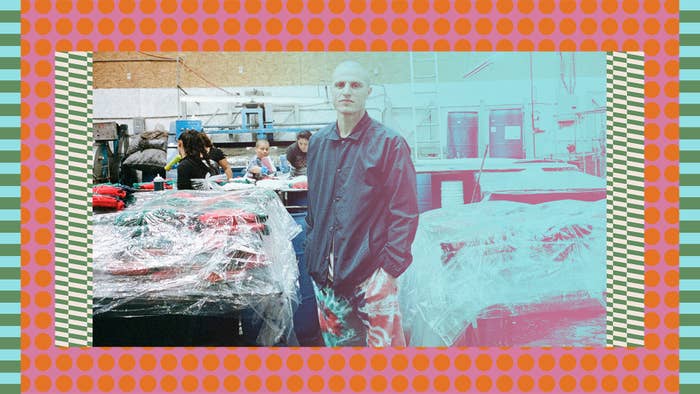 Through Standard Issue Tees and JSP, Jimmy Gorecki uses simple, functional silhouettes to tell a story. The narrative began with his love of sweatpants and his desire to manufacture sweats and basics with a higher production value than he saw on the market at the time, resulting in JSP, a brand that owes to his nickname, "Jimmy Sweatpants." 
Striking a balance between premium materials and ethical, local production, Gorecki has carried his design ethos into elevated essentials that resonate with athletes, celebrities, and musicians like LeBron James, Meek Mill, Carmelo Anthony, and Chris Paul. He has also collaborated with Vans, DC Shoes, Padmore & Barnes, ICECREAM, and more.
Gorecki's personal story, though, began as a skateboarder. As an amateur in the early 2000s, the Philadelphia local counted Ice Cream, Zoo York, and the cult board brand Aesthetics among his sponsors. It was through this experience that he gleaned insights that would inform his next act. Armed with a marketing degree from Temple University, he moved into television, consulting, and, ultimately, fashion.
 So what does this run mean to Gorecki? Here, he breaks down what he learned from skateboarding and its community, how he applied it to his business, and the financial lessons he took from it all.
"My first job was being a paperboy when I was 11 or 12 years old, because you could get a route really young. I somehow hustled my mom to help me take on another route, so she'd throw a bag in her car and drop me at this apartment complex, then I'd jump on my bike to the next. The shitty part of the gig is collecting money—you realize how selfish adults are and how they don't want to pay bills. So you're spending more time chasing down grown-ass people to get a few bucks. [Laughs.] A friend of ours owned an Italian restaurant, and they started me off as a dishwasher on Friday and Saturday nights, so I'd make good money but missed all the fun shit in middle and high school. Then I started bussing tables, and later anything from dollar stores to gas stations. But when I think about it, those early jobs showed me that the harder you hustled, the more you made, whether it was tips or just taking on more work."
"My mom supported me skating, but she let me know she wasn't sure how it would pan out financially. So until I could figure out my career, she made sure I was still making bread. I was taking odd jobs and going to college. I wasn't thinking about money when I got on Aesthetics—I was just happy to finally be put on. I think I was getting $250 a month as an amateur and I felt like I won the lottery. I didn't need much back then, just some money for my cellphone and car insurance, but after a few months I realized I needed more, so I learned to balance my skating and generating money outside of it. I ended up getting a job at a sneaker store with a really great commission package plus our hourly rate. No ams were making a rack a month back then, so getting an extra $300 or $400 in your paycheck was nice." 



"My mom supported me skating, but she let me know she wasn't sure how it would pan out financially."
"Partnerships in business are more than just financial relationships; they're about where you want to go and how far you take an idea. I love working with people and for people. Having worked for other people's brands, it was about me being able to express ideas through products that I felt good about and could relate to. Obviously, the money to create and maintain a business is always important, and if you can do that independently and fund your ideas, I tip my hat to you. I also tip my hat to people that build something like a true partnership, like a marriage, because you have to trust and connect with people: the production people, the people filling orders—everyone has to be on the same page, working for the same end result. I'm paraphrasing Kanye, but it's how he said that he has a plan, he has ideas, but you need the right infrastructure, and for him, Adidas provided that, and you can see how far he's gone with a multibillion-dollar machine behind him. I'm not a numbers guy, so there's a lot of give and take with my partner, where he gives me creative freedom but we find the middle ground between creative passion and the reality of sustaining the business."
"There are times where I would love to get on a pre-sell/pre-book production schedule, but I think in the fashion space, things change so quickly, what could be cool today is gone in a week. Having the ability to pull an audible and pivot is important for us. At the same time, we know our niche—that we're less seasonal and made to be worn year-round. Sweatsuits don't go out of style, T-shirts don't go out of style, so that's our foundation. Then we interject special projects and collabs intermittently between drops. We find ways to fill the space and bring some energy when things are slow."
"Everything goes back to being a kid and thinking about the value of a dollar. People work their asses off to make money, and there are so many options out there. If anyone feels like they want to spend their hard-earned bread on our products, I consider that a compliment and a real honor. I like to let people know what goes into the brand—the people, the craftsmanship, the hard work, the community, and how that plays into the price tag. There is a value to brand names, but I think there's also a massive gap between the process that went into something and whatever that price point is. If you spend $100 on something we make, we want you to know how the fabrics were sourced, that things are made locally in Los Angeles, the quality of the sewing, how things are pressed and packaged… that the packaging is reusable. We want to let people into what we do. You have to do so much digital marketing nowadays, and the majority of people getting those ads don't know anything about your brand. I think about those ads and the comments, so I make it a point to explain it the same way to every single person and constantly tell that story. In a lot of ways, it's no different than my experience in skateboarding. The hard work you put in just to buy a skateboard, then learn how to do tricks, then do them better, all the sessions where you learn where to put your foot or distribute your weight, then you land and you need to find a photographer or filmer to document it at the right spot, shot the right way. That process is never lost on me, and it's applicable to every point of my life now."