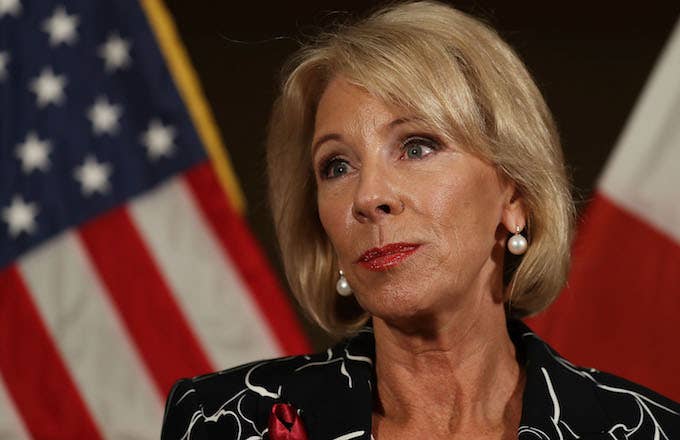 Secretary of Education Betsy DeVos briefly visited Marjory Stoneman Douglas High School three weeks after the tragic shooting that left 17 students and teachers dead. Students returned to school last week, but many are still actively calling for gun reform and organizing the national "March For Our Lives" protest on March 24.
During and after DeVos's visit, many Parkland students complained via Twitter that she did not engage with them or answer any of their questions. According to BuzzFeed News, she took only five questions during a press conference and did not share specifics on what policies she supports regarding gun reform. "I told the student newspaper reporters that I would love to come back in an appropriate amount of time and just sit down and talk with them," she said during the press conference.
When asked specifically if she supported students' initiative to ban assault rifles, she avoided the question. "The president has advanced a number of issues that Congress will have to consider," she said. "There is an opportunity to take practical steps that many people agree on that have support at the federal level." She also said that "arming teachers" is not something that "needs to be required or mandated for every community," according to BuzzFeed.
When asked what "practical steps" she has in mind, DeVos once again avoided the question. "We'll have more on that in the future," she responded. Students criticized the visit on Twitter, with some asking why DeVos visited the school at all.