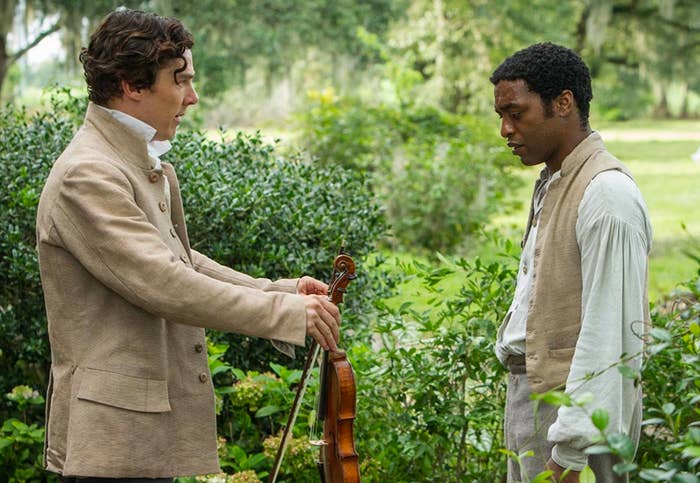 Hollywood North is absolutely buzzing this week thanks to the 42nd annual Toronto International Film Festival. It may only be a few days old, but TIFF has once again proved its prestige with terrific new movies and appearances by some of the world's biggest celebrities. The electric atmosphere is already making its mark, and despite a few road closures, the fest has everyone and their nonna living their best life.
Hoping to contribute to the excitement was the Toronto Star, who published a feature this past weekend pairing bottles of wine with notable movies from TIFF's past. While it may seem totally harmless, if not completely forced, the worst part about the piece was an incredibly dumb suggestion that had social media in an uproar. 
According to the piece's author, Carolyn Evans-Hammond, readers should pair a "gentle strawberry" rosé with the 2013 period drama, 12 Years a Slave. As to why the combo is a perfect match, Evans-Hammond stated that the fruity wine is the best option to "offset the searing cinematic discomfort" felt during a viewing of the intense Oscar-winning movie.
The insensitive feature was first posted to the Toronto Star's website last Saturday and eventually made it to print on Monday morning. Michael Barclay, a freelance writer and former copy editor, discovered the gaffe and promptly shared his take on Twitter. Soon, the snapshot was shared by hundreds of users, making the post trend on social media.
The offensive article has since been edited with the 12 Years a Slave segment completely removed. Kathy English, the Toronto Star's public editor, quickly responded to the backlash saying that "All involved agree this was in bad taste- newsroom taking steps now to remedy."
Meanwhile, the piece's author didn't seem vexed with the situation. Speaking with the Columbia Journalism Review, Carolyn Evans-Hammond tried to defend herself. "What was I going to do otherwise? Omit that film, I think that's less scrupulous. It's a very important film to watch. I could have said a shot of whiskey, but I'm a wine writer."
Despite the freelancer's initial tone deafness, Eveans-Hammond called the CRJ again to show some remorse. "I feel gutted that people would take offense, and I didn't mean to hurt anyone," she told the publication. "Twitter has obviously revealed I have hurt people, which makes me sad. There's no way I want anyone to think I'm glossing over it or diminishing these movies in any way."