5 Dead, 68 Arrested, 2 Pipe Bombs Recovered After Violent MAGA Mob Invades Capitol (UPDATED)
2021 got off to a heartbreaking start as images and footage started stacking up on Wednesday showing delusional MAGA cult members storming the Capitol.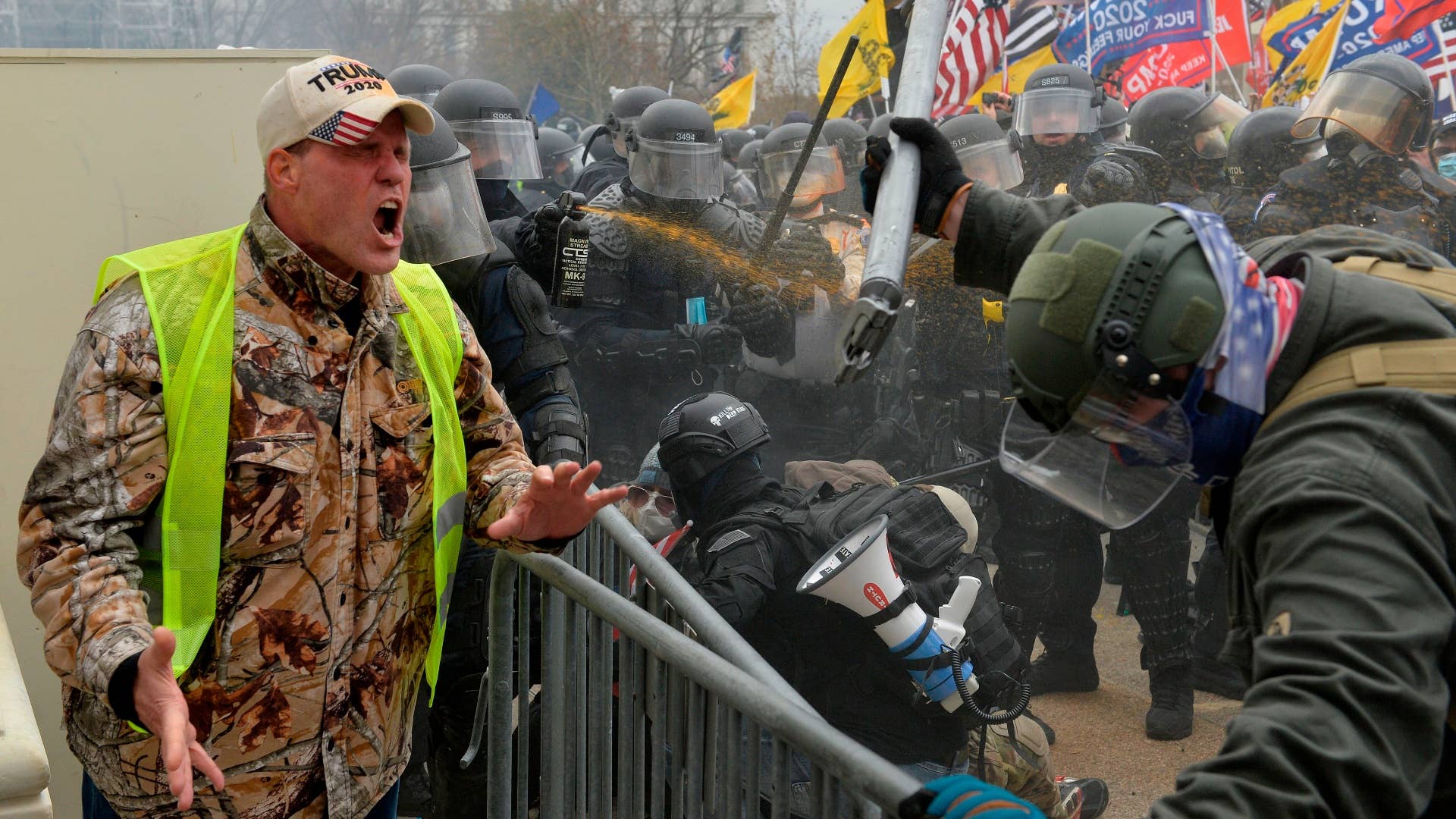 Getty
Image via Getty/JOSEPH PREZIOSO/AFP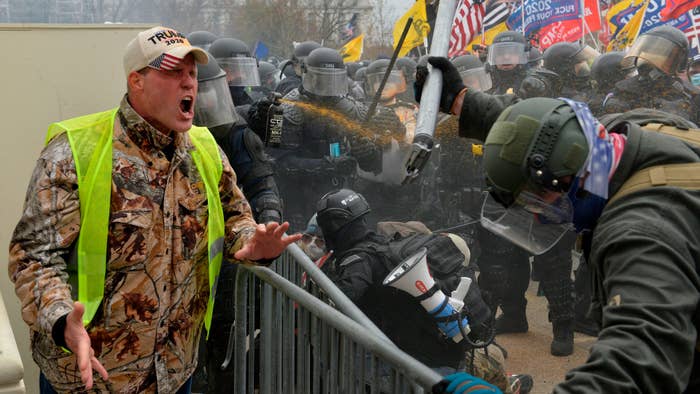 UPDATED 1/7, 10 a.m. ET:U.S. Capitol Police officer Brian D. Sicknick died on Thursday night as a result of injuries sustained during Wednesday's violent insurrection. Officials stated he was "injured while physically engaging with protesters. He returned to his division office and collapsed. He was taken to a local hospital where he succumbed to his injuries." 
Two law enforcement officials told the New York Times that Sicknick, 42 years old and a member of the U.S. Capitol Police force since 2008, had been struck with a fire extinguisher. His death is now under investigation from the DC Metropolitan Police Department's homicide branch, the U.S. Capitol Police, "and their federal partners," CNN writes.
Speaker Nancy Pelosi ordered Capitol flags to fly at half-staff on Friday to honor Brian Sicknick.
UPDATED 1/7, 12:55 a.m. ET: CNN reports that the U.S. Capitol Police officer has not died but is on life support.
According to the outlet, 3 sources relayed that Capitol police were informed of an officer's death on Thursday but a statement was later released saying that they were on life support. Prior to the release of said statement, Capitol Police union chair Gus Papathanasiou told DC news station WUSA that the officer had passed away.
"He had a stroke. I think he's on life support. We've got some misinformation on that. He's on life support from what I'm hearing," Papathanasiou said, per CNN.
Other outlets, such as NBC News, are reporting that United States Capitol Police Officer Brian D. Sicknick died after clashing with pro-Trump rioters. According to Capitol Police spokeswoman Eva Malecki, Sicknick died on Thursday night.
KHQ-TV has reported that Sicknick was previously on life support.
At the time of this writing, it's unclear if CNN was referring to Sicknick as being the officer on life support as they provided no names. 
UPDATED 7:03 p.m. ET: A U.S. Capitol Police officer has died as a result of the riot that took place at the Capitol building, according to CNN. The outlet cites three sources confirming the officer's death. 
UPDATED 2:30 p.m. ET: In an update shared Thursday afternoon, the D.C. Police Department updated the total number of arrests.
Per the department's rep, 68 arrests have been made by the MPD so far. A total of 56 officers were injured, with two being hospitalized. Additional arrests are expected to be made, including by federal law enforcement agencies.
See original story below.
The brain-boggling events of Jan. 6, 2021 on U.S. Capitol grounds, in addition to making zero sense and being a total waste of time for those responsible, have resulted in dozens of arrests and several deaths.
According to D.C. police, there were at least 52 arrests made among the violent and petulant mob of MAGA cult members as of Wednesday night. D.C. Metro Police Department chief Robert Contee also revealed that two pipe bombs were found.
"As of 9:30 today, we have made in excess of 52 arrests," Contee told reporters late Wednesday night. "Four arrests for carrying pistols without licenses, one arrest for possession of a prohibited weapon, 47 arrests related to curfew violations and unlawful entry. 26 of these 52 arrests were made on Capitol grounds. Additionally, two pipe bombs have been recovered—one pipe bomb from the DNC, another pipe bomb from the RNC. A cooler from a vehicle with a long gun in it that also included Molotov cocktails, this also was on the grounds of the Capitol."
Due to the nature of their actions, as well as the pipe bombs discovery, many have noted the ridiculous disparity between how police have responded to the MAGA mob terrorists and how they typically respond to actually peaceful protesters who hit the streets in support of Black Lives Matter and similar causes.
Four deaths in connection with the U.S. Capitol insurrection have been confirmed, with one woman said to have been shot inside the Capitol while three others died from "medical emergencies."
Lawmakers have since promised to launch an investigation into how law enforcement handled the MAGA cult invasion. The ease with which the breach was carried out, Rep. Zoe Lofgren of California said, "raises grave security concerns" and must be looked into as part of a collaborative investigation between the House Administration Committee and both House and Senate leaders.
Following the breach of the U.S. Capitol, a direct result of a failed steak hawker's consistently dangerous messaging about the 2020 presidential election (which he quite clearly lost), the vaguely anthropomorphic packet of fast food mayo in question has (finally) had palpable action taken against him by multiple social media companies.
Twitter has locked Trump's account for 12 hours and is requiring him to delete certain tweets unless he wants the account to be suspended indefinitely. Facebook, meanwhile, has suspended Trump from posting for 24 hours. Instagram has also locked Trump's account.