Day four of ComplexCon Long Beach 2019's Community Week found the Complex crew heading to South Central Los Angeles to visit Vector90—a creative and collaborative space that was one of the many brainchildren of the late Nipsey Hussle—to talk healthy eating and learn how to make delicious smoothies.
The Feel Good FARMacy was led by AalaCare's Aala Marra, who shared how she defeated an autoimmune disease with the power of healthy eating. The participants on hand not only got to hear about the benefits of herbs in our diets but were able to make their very own smoothie concoctions using fruits and veggies. It was a dope way to highlight just how easy (and delicious) making smoothies in the comfort of your home can be.
Here's our recap of Day 4 of #ComplexCommunityWeek, which featured the #FeelGoodFarmacy at @Vect90r. pic.twitter.com/Rcdcru2vD9

— ComplexCon (@ComplexCon) November 2, 2019
Following the smoothie demonstration, Complex's own Pierce Simpson held a panel to get deeper into how one can find ways to get better at eating healthier with the likes of Compton Vegan founder Lemel Durrah, Nicole Steele of the Social Justice Learning Institute, and Estrada Fitness owner Jason Estrada. It was an important discussion on educating yourself to doing things like recreating Chipotle bowls at home as opposed to spending all kinds of money eating out healthier.
To help make purchasing those essential foods and nutrients easier, Complex purchased $2,500 worth of food vouchers from Hank's Mini Market to distribute to community members that are currently experiencing financial difficulty and need to shop for those looking for fresh fruits, veggies, and more for a community that—like many in the country—have difficulty getting unprocessed foods on a consistent basis, without having to travel miles outside of their neighborhood.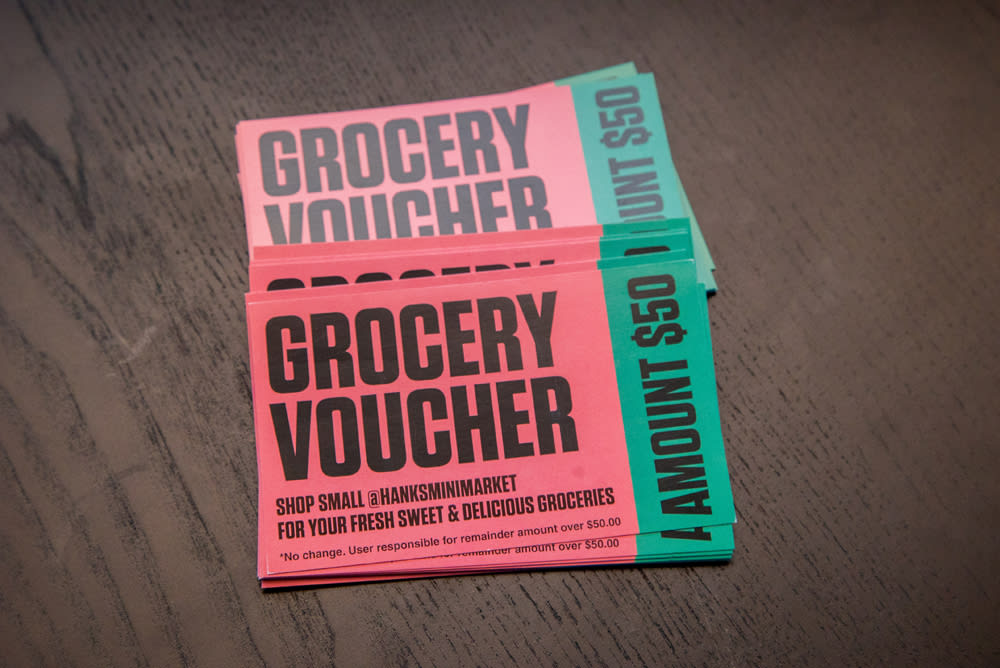 Ahead of ComplexCon Long Beach 2019, we got a chance to speak to Kelli Jackson, who broke down how she turned her father's staple corner liquor store into a hub for healthy eating and community action. "My dad opened in 1997.," Kelli shared. "He lived in the area and really was interested in owning his own business in our community. He opened Hank's in March of 1997; it's actually named after him, because my dad's name is Henry Jackson. I grew up working there, and my dad was really ready to move on. A couple of years ago, I was trying to figure out how to take the store into a new direction, and looking for what that possibly would be. I was actually a part of a focus group about mom and pop shops introducing healthier options to the community, and understanding what food deserts are, and that we were in the middle of a food desert. It just really opened my eyes like, 'Oh we're in the middle of a food desert. We have this market, and we should help bring access to these sort of areas that doesn't have enough access to fresh foods.'"
It took some time, especially when it came to transforming the look and feel of the store that's not familiar for this type of establishment, and according to Kelli, the residents in the surrounding area thought that new owners had swooped in, but when they understood the work that Kelli and her family put into creating this new iteration of the store, there was a genuine excitement for what the new Hank's would be providing for the neighborhood. One interesting thing Kelli picked up on was that while many might assume that people in these areas might not want to explore healthier food options, that's far from the case. "It's not that people don't want to eat healthy," she explained, "it's because they don't have any options. And when you work with what's in front of you, and what's available, you're just going to eat and choose from those pickings. People were picking it up and shopping for it, appreciating it. We really rebranded the store from this corner liquor store into this family mini market that really was a place where all kinds of people are coming and stopping to shop for groceries, versus just coming in for the one or two snacks."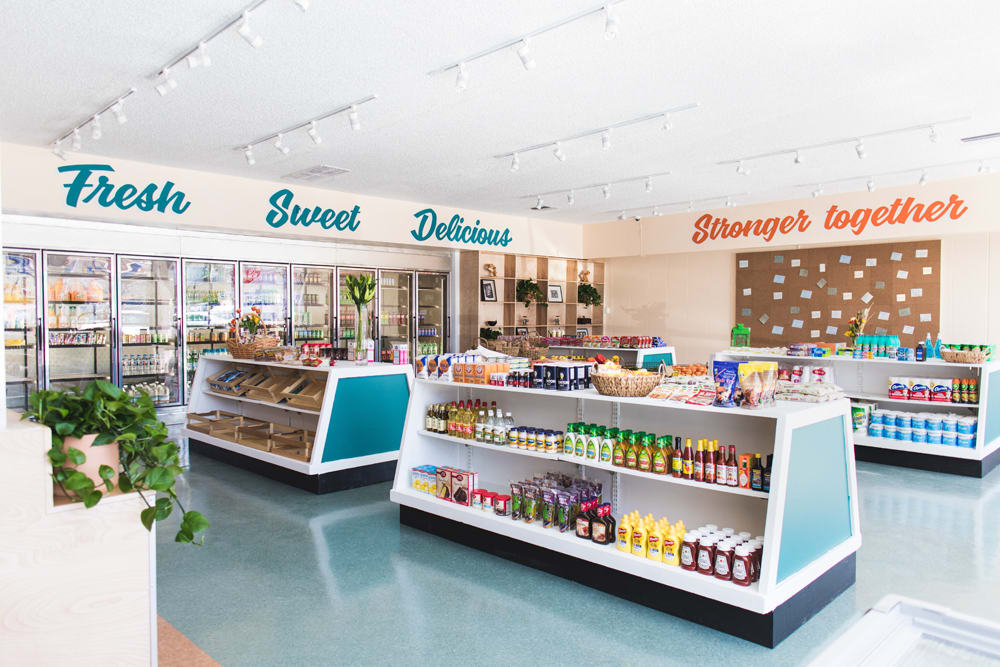 While everyone from LeBron James to your mom is talking about what to do for Taco Tuesday, instead of having to get your lettuce and tomatoes from the larger supermarkets that might be a hike from you, you can pick that stuff up right on your way home from school or work. And you can feel better about what you're putting into your body. It's a win-win all around, but Hank's isn't just about feeding your body—it's about what goes into our mind as well. Kelli, who has a background in the arts, wanted to make sure that she was feeding those hungers for art and literature within Hank's.
"When I was going on this journey to think about how to change the place," Kelli shares, "my first thing was like, 'I really want to introduce art to the community.' There's this lack of art in this community as well. When we rebranded the store, and we talked about what this new space is going to be about. I'm really, really proud of the work that's bringing access to art, access to healthy options and access to safe spaces because in this community, there are not enough community spaces. There are not enough spaces to really express yourself artistically, or think about those things. I was very adamant that I wanted to have a space for the community to be able to gather, which in our old space, we were doing less. So now, in the shopping experience, there is a small community space where we do have a bookshelf, and we've partnered with the South Central Los Angeles Public Library, where we have a free exchange of books. It's a huge bookshelf and it's full of books, and it's really cool to see everybody from different ages donating books and then stopping and picking up books to take with them to read." Not only will Hank's be offering book clubs for children and adults, but they also link with the Social Justice Learning Institute for nutrition workshops help teach people how to cook and eat healthier. They also have a board where art can be hung in the back.
On the one-year anniversary of Hank's Mini Market, Kelli shared that Hank's was planning to hold a block party. The area of Hyde Park they are in is about a mile away from Nipsey Hussle's neighborhood, and their anniversary fell close to the date of Nipsey being slain. "I didn't know him personally, but his work, and the things that he was doing in the community, I was very familiar with, and very inspired by," Kelli explains, and in understanding that a number of Hank's customers knew Nipsey perosnally, she realized that they "didn't feel compelled to celebrate our first year, moving into our second year of the new Hank's. [We were] really was compelled to do something to hold space for the community, and bring them together to have a safe space to grieve Nipsey Hussle. So what we did was we used the day to bring the community together, in memory of Nipsey Hussle, and all those gone too soon from gun violence. We used our own front parking as a temporary chalk memorial and had a DJ play Nipsey Hussle music all day." What Kelli also arranged was for tattoo artist Tuki Carter to provide a version of this magnificent Nipset piece he did that could be turned into coloring pages that Hank's customers and community residents could then color in tribute to Nipsey.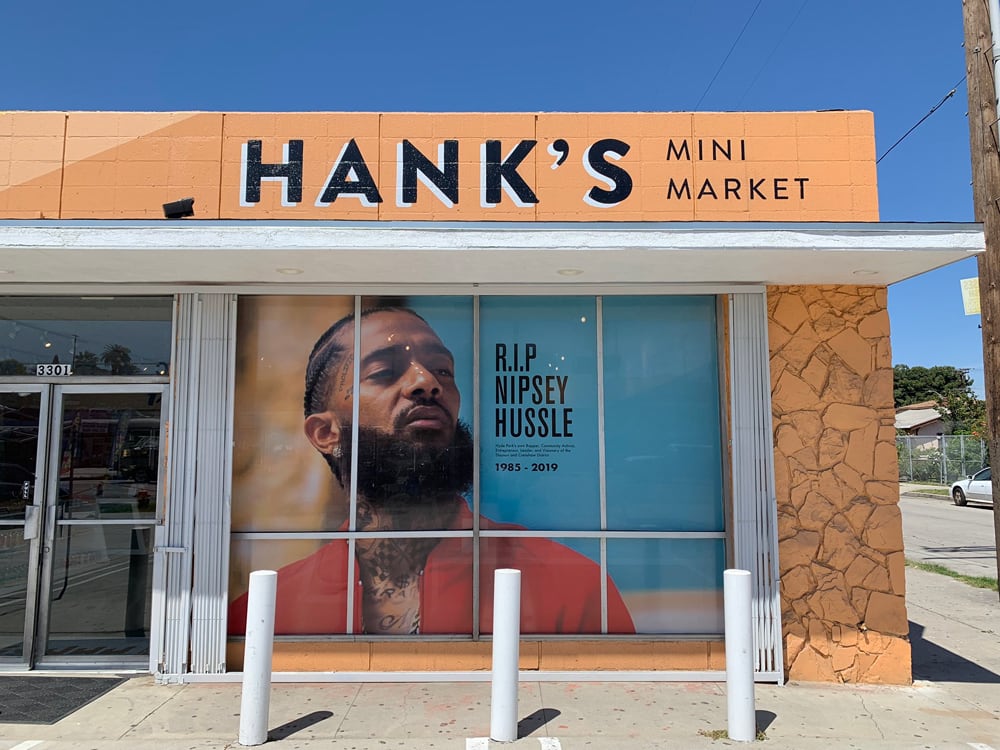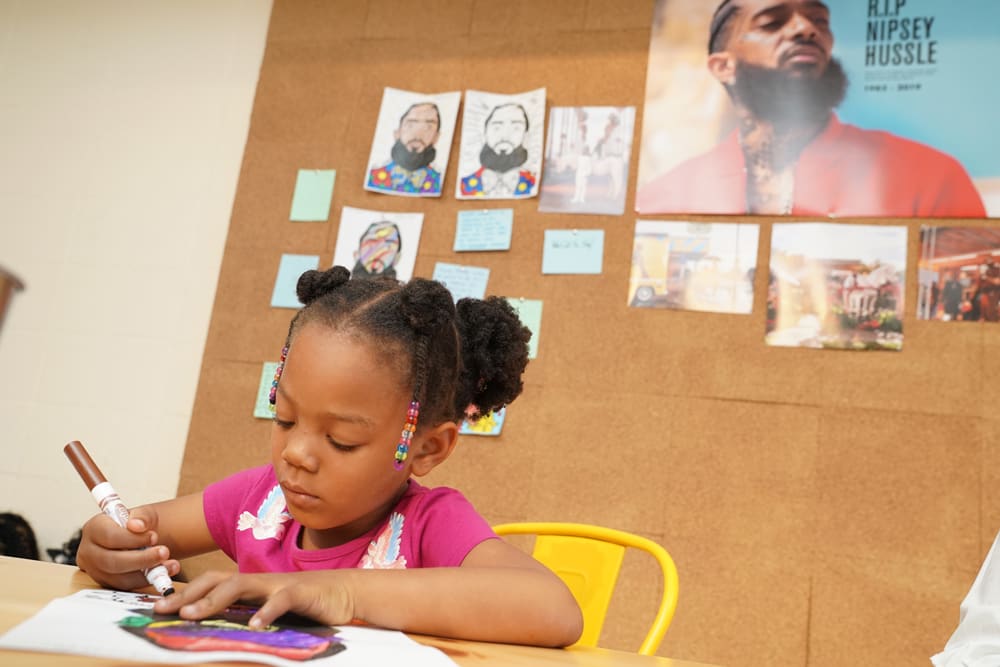 When asked about how her father Hank feels about the transformation Hank's Mini Market has received over the last year and change, and all she had to do was point us to this video from sweetgreen, the national restaurant chain that specializes in grain bowls and salads that also helped partner with the Jackson family to help realize this new vision of Hank's.
"Coming from the background of public art," Kelli says, "when you're using art to reimagine pretty confined spaces, especially like our corner store, is important. This Hank's in this new space is my art piece, and it's my way to impact the community. And we don't have to do it in these huge ways. I'm happy to have grown it, and seeing that that's where our story is, and that's the example that we're leaving with our projects."
For more information on Hank's Mini Market, check out their Facebook and Instagram pages. For more photos from the Feel Good FARMacy event, check out the images below, and be sure to keep it locked for more from Community Week.