When rumors began circulating that Talladega College, a small, private historically black college in rural Alabama, would be performing in the 56th inaugural parade honoring Donald J. Trump, many had strong opinions about the decision. Alumni were dismayed. Talladega President Dr. Billy Hawkins said he received death threats. Many labeled them race traitors. In fact, the only ones who have seemed to be publicly supportive of the decision were Fox News Commentator Bill O'Reilly and Hampton University President, Talladega alumnus and unofficial "godfather" of historically Black colleges and universities, Dr. William Harvey.
For the roughly 230 members of the Marching Tornado Band, however, the opportunity to perform in any inauguration is "a once in a lifetime opportunity."
"Look at what we came from...Some of us grew up in bad situations..."
"Look at what we came from," said Bernard Norris, a freshman band member via telephone from the bus en route to Washington, D.C. "Some of us grew up in bad situations — me being one of them. This is not just so we can be on TV, this is so we can … say that we've been somewhere that's very important on this huge stage."
For Norris, who was abandoned at the age of two, spent four years in foster care before being adopted, only to be "put out a couple of times" because "I put my adopted mom through hell," the opportunity to travel to the nation's capital to perform at such a momentous occasion—regardless of whom the celebration is honoring—is awe-inspiring.
"There's times … dark and bad situations that nobody should have to endure, me and my brother [endured]," he said. "People come from situations like that, a background like that … people have literally come to college just so they can stop being shot at," he said of some of his band mates. Playing in the band, and on this stage, is "just people trying to better themselves, and music is our way out of that," he added.
Despite all of the negative press, most of the band members say their families and members of their communities were mostly supportive and proud of them for being able to showcase their talents on such a big stage. Numerous parents expressed their support on the band's Facebook page, saying they are proud of their students, regardless of who is being inaugurated.
Norris said his family members assured him "this is a great opportunity for you, it looks great on a resume, and it'll be a great experience for you."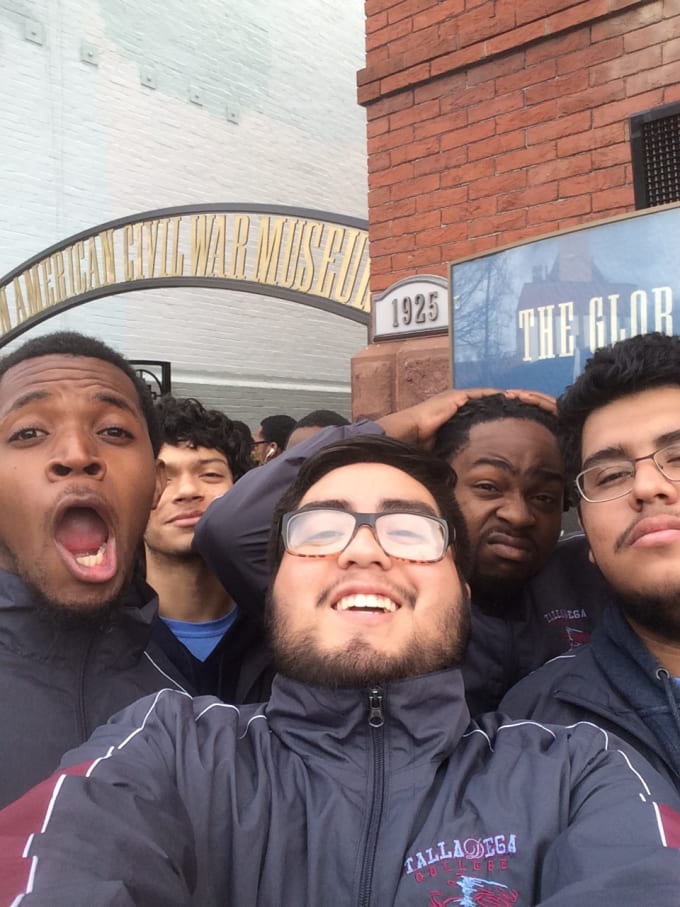 Marco Vera, a sophomore, said he didn't really talk to a lot of people about the trip.
"I talked to my parents about it, and they just told me to go out there and do my best," he said. But Vera admitted he has seen a lot of opposition on social media and other places online.
"All these negative comments about the band and why we shouldn't be going, they started a petition to get us to not go," he said. "I would just ask why—why do you want to take away this opportunity from all of us? It's not fair for us to suffer and face all this backlash when we're just trying to go and showcase our talent."
Shudarious Johnson plays the snare drum in the band, and said he doesn't "know why all the negativity is coming, because they should have a more positive attitude towards us going."
"It's not us marching for Trump, it's us marching for the experience and for us to better our school."
"In a way, we are making history," Johnson continued. "Showing everyone that it's not all about your skin color, it's not always about everybody having negative thoughts about you, as long as you feel it in your heart as you being positive and you're doing things the right way, it shouldn't matter what anyone else thinks."
"Our mindset has been making our band director proud of us, making our parents proud of us, making our loved ones proud of us. It makes us feel good, knowing that we have a lot of supporters," added Johnson.
"It's an opportunity that I haven't had come before. I was excited to go ahead and take this journey and see where it takes me in life," Norris said. "It's not us marching for Trump, it's us marching for the experience and for us to better our school."
And so far, in spite of the negative commentary, the decision to participate in the inauguration has been a win for the school. In what Hawkins is on record as saying is "probably the single-greatest fundraising effort" the school has had, a GoFundMe account raised nearly $650,000 as of Thursday morning to support the band's efforts to get to Washington, D.C. For a private institution with fewer than 1,000 students, the fundraising surplus could make a difference.
The band program itself is pretty new — it was launched in 2012 as a way to help boost the school's profile and bolster enrollment — but already, it is doing its part to increase the institution's national visibility. The Marching Tornadoes performed in the Superdome at halftime of the Broncos' Week 10 win over the Saints earlier this season.
For the members of band, however, all of the focus is on getting to the nation's capital and basking in the experience of being able to play in an inaugural parade and take in the sights of the city. When they applied to take part in the parade in August — long before the election's results were known — they were most excited about not only the opportunity to participate in such an important celebration but the trip itself. Most had never been to Washington, D.C. and were excited about visiting the monuments, museums and maybe the U.S. Capitol building.
Above all, the band members were charged up over the prospect of playing "Sweet Talk," a song written by alumnus Carl Barbarin, who died last month of a heart attack. No protest songs, as some have suggested they perform. Just the opportunity to honor a brother before a national audience.
"Unfortunately, he passed away the day before Christmas," Vera said. "I've never met him personally, but to be able to play his music as a dedication is awesome, especially for such a big occasion."
"He was one of our first graduates, and that song really means a lot to this band," Johnson said. "That song makes the whole band feel together as a whole, as one."
With all of the things that have happened in their personal lives and in the life of the program leading up to this point, band members are determined to tune out any negativity and revel in the occasion.
"We're still going to keep marching on," Norris said.