Hillary Clinton Knows You Think Tim Kaine Is a "Safe" Vice President
In their first public appearance, Clinton and Kaine glossed over criticisms and highlighted Kaine's background as a civil rights lawyer.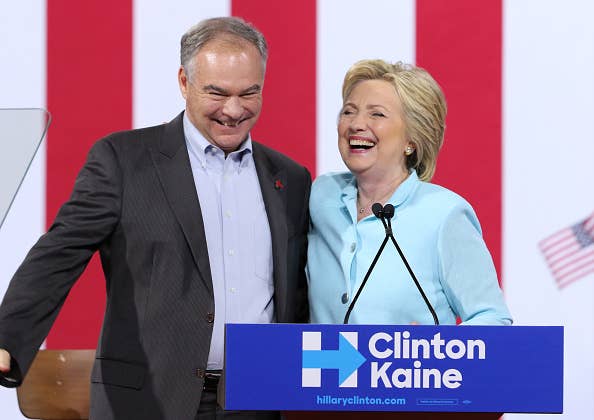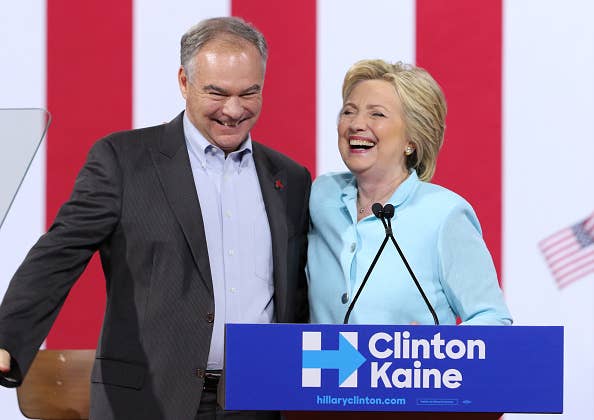 One day after announcing Virginia Sen. Tim Kaine as her vice-presidential running mate, Hillary Clinton appeared with him for the first time publicly at a Saturday evening rally in Miami, Florida. During the event, Clinton and Kaine highlighted the VP's background as a civil rights lawyer, his fluency in Spanish, and his dedication to diversity, family, and education. The pair also lambasted GOP nominee Donald Trump, his VP Mike Pence of Indiana, and promised a strong contrast between the recent Republican National Convention the upcoming Democratic National Convention.
"Senator Tim Kaine is everything Donald Trump and Mike Pence are not. He's qualified," Hillary said when introducing her running mate, citing his experience climbing from Richmond City Council to Richmond Mayorship, on to Lieutenant Governor of Virginia, then Governor of Virginia, and now Senator. Kaine said in his speech, "I've been able to see how government works, and how sometimes it doesn't, from every perspective."
They also carefully glossed over many criticisms some progressives have with the moderate vice-presidential nominee. 
Liberal reaction ranged from disappointment to outright condemnation of the VP pick, pointing out multiple instances where Kaine furthered anti-abortion causes and waffled on supporting LGBTQ rights. Hillary herself called him a "responsible" and safe pick, with a moderate background that some are calling her bid for Republicans that feel alienated by Trump's divisive and inflammatory platform.
Some feel that Clinton is playing it too safe and in the process alienating Sanders supporters, especially by passing over other speculated VP picks including Massachusetts Sen. Elizabeth Warren and Labor Secretary Tom Perez, who would have been the first woman and Laitno, respectively, to run for Vice President. Kaine is another white male in an unbroken chain of white male Vice Presidents, and some progressives feel disappointed that Hillary's candidacy isn't doubly historic.
On Saturday, Hillary and Kaine both emphasized his time as a civil rights lawyer and support for diversity. They spoke of his choice to take a year off and work with missionaries in Honduras rather than taking a prestigious internship while learning at Harvard, and Kaine mentioned that this was his first taste of what a dictatorship was like, insinuating correlations with a Trump presidency. Clinton mentioned that one of Kaine's first cases as a civil rights lawyer to help an African American woman fight for equal housing rights, and pointed out that at the same time, Trump was actively limiting equal housing rights. In an attempt to further contrast themselves with the Republican nominees, Clinton pointed out that while Kaine cut his own salary as governor to support education, Pence slashed education funding and gave tax cuts to businesses. 
One of the big topics of the night was Kaine's stance on gun violence, which Clinton mentioned multiple times. Kaine emotionally referenced the Virginia Tech shooting: "As Governor during one of the most horrible mass shootings in US history, [gun control] is very close to my heart. Many here in Miami feel the same way after the tragic shooting in Orlando ... April 16th, 2007 was the worst day of my life, and the worst day of so many lives." He went on to point out that in every election, the NRA, which is based in Virginia, has campaigned against him, but he remains undefeated: "I've never lost an election ... I'm 8-0 and I'm not about to let that change."
This is one of the most consequential elections in our lifetimes. When someone says I alone can fix it, that should set off alarm bells…
Honing in on  Trump's insistence that he alone can "Make America Great Again," Clinton responded: "This is one of the most consequential elections in our lifetimes. When someone says I alone can fix it, that should set off alarm bells… No one does anything alone." This became a theme of the rally, with numerous references to building bridges and the importance of working together in government and as a democracy.
As if to address concerns of progressives who worry he's too moderate, Kaine insisted during his speech, "We're going to continue [Hillary's] work with a strong progressive agenda." Whether or not that will be enough to assuage concerns and help win the votes of Sanders' supporters and progressive Democrats is something we'll have to wait and see.