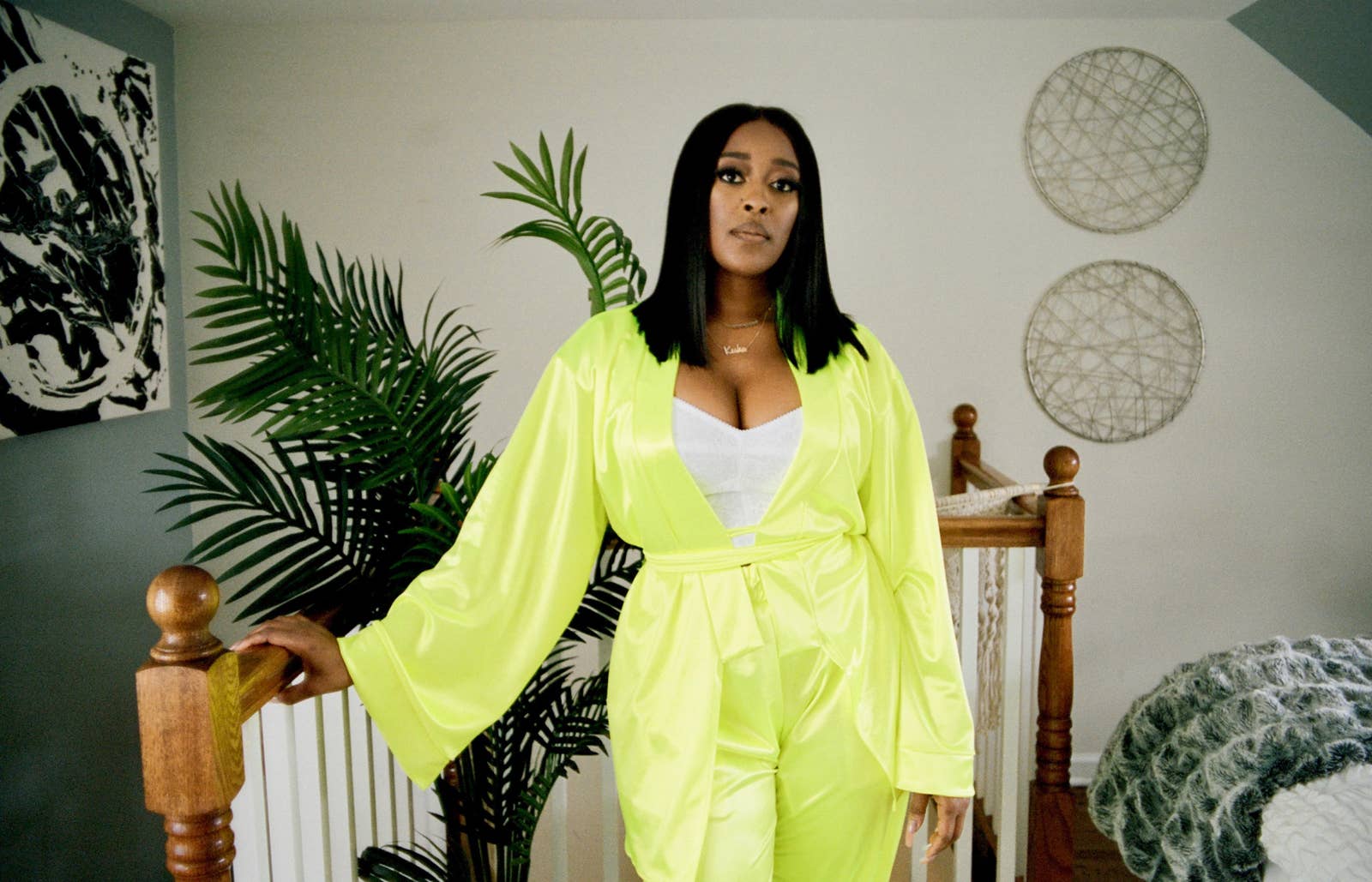 Kesha McLeod always knew how to put together an outfit. She still remembers one of her favorites that she would wear for "dress down" Fridays while attending Catholic school growing up in Queens—orange satin overalls, a cream and orange-striped T-shirt, and a matching pair of 5411s (Reebok Freestyles).
Back then, McLeod was using her fashion sense to dress herself. She says she learned the art of getting dressed from her mother, who had a penchant for bamboo Gucci earrings, and father, who was always dressed up and never wore white socks or jeans. These days, McLeod's vision comes to life on some of the most recognized and photographed athletes in the world. When you see NBA superstar James Harden walk down the Barclays Center tunnel wearing a Gucci x The North Face vest and hiking boots, or PJ Tucker showing up to the Toyota Center in a pair of red Moncler overalls and Toms Sachs x Nike Mars Yard Overshoes, or Serena Williams wearing a white Versace dress covered in beaded embroidery and feathers at her wedding reception, you are seeing McLeod's work. McLeod makes sure to always treat every moment for her clients as big as the last.
"I think of Diddy. I make everything a big deal no matter what I do, no matter how small it is. 'Oh, it's her birthday? OK. We're going all out.' And you can kind of see that reflection in what I do with James and PJ," McLeod tells Complex. "And so that's my process in my head. I make the biggest deal out of everything I do." McLeod's initial career path had nothing to do with fashion though. She wanted to be a psychologist before she realized how much schooling it would require. So she pivoted. As a teen she was a top salesperson at stores like S&D and Epic, clothing stores in New York City that sold everything from Iceberg and Girbaud jeans to the latest Air Jordans, so she decided to pursue fashion. She attended Katharine Gibbs College in Manhattan for fashion merchandising and when it came time to find an internship, she took a bit of an unconventional route. Rather than apply to internships at fashion brands like DKNY or Calvin Klein like her peers, McLeod reached out to Sony Records. 
"To sew clothes, and to drape, and create patterns and design has never been my thing. I loved fabrication class, but everything else just felt weird to me," says McLeod. "I wanted to find out how costumes and clothes got onto musicians."
Sony's Courtney Lowery noticed that it wasn't quite the right fit though. He referred McLeod to Brandi Simpkins, CEO of The B. Lynn Group, an image agency whose clients over the years have included everyone from Rihanna to President Barack Obama. McLeod says her year interning at B. Lynn working under Simpkins showed her the business side of things, from billing and invoicing to how to properly pitch jobs with clients and working with the right tailor.
"Having great style is not really going to get you that far. You really have to have a business and marketing mind behind it," she says.
McLeod's first full-time gig came in April 2004 as a showroom assistant for H&M. She was responsible for keeping the showroom organized, pulling pieces for clients, and communicating with stylists. Being on the other side of the brand/stylist relationship prepared her for the future. She remained there until 2006 when she began assisting stylist Rachel Johnson, whom she met while interning at The B. Lynn Group. At the time Johnson was styling celebrities including LeBron James and Colin Kaepernick, and just a year later McLeod became her junior stylist. James was one of the first big athletes McLeod worked with. In 2006, she flew to Ohio and assisted on styling him for an ESPN magazine cover with Jimmy Kimmel and the duo wore matching black tuxedos. 
McLeod says she got her real start in 2010 when she became the stylist for former NFL tight end Vernon Davis whom she connected with through a mutual friend—according to McLeod, personal relationships and word of mouth is how she's accrued clients over the years. Her time with Davis is when she really began to understand how to style pro athletes who often need custom sizing to fit their larger frames. 
"Understanding the size of the client just builds the confidence. If they're trying on 10 pairs of jeans and only one fits, that becomes discouraging. But if I have 10 pairs of jeans and literally all of them fit, they're like, 'Where are you getting these from?'" says McLeod. "I just know it and I can see it. I learned a lot of that from working with someone like Vernon. Because he's not average sized to anyone, so it just became easy with everybody else after that." Wanting to take on more clients in the music world, she took a hiatus from working with Johnson around 2009. She would begin to style Rick Ross and Jadakiss, whom she met through legendary stylist Groovey Lew while interning at The B. Lynn Group years prior. She also connected with Ne-Yo around this time, whom she met on a music video set. She would end up traveling around the world alongside the singer and styling him throughout the Year of the Gentleman and Doll Domination tours in 2009. Groovy Lew also tapped her to style the cover of MMG's Casino-inspired Self Made Vol. 1 in 2011 where Ross and the MMG roster, which included Meek Mill, Wale, and Pill, donned suits while sitting at a round table covered with wines and cheeses. 
While McLeod had accumulated an impressive list of names in the music world over the roughly five-year period she spent in it, she says she eventually "fell out of love" with it. So she made another pivot to focus primarily on working with athletes in 2015. 
"With musicians, it's 20 people in a room telling you that these pants look crazy. The actual person that's wearing them, they won't tell you that. That's the biggest difference. That, I couldn't take anymore," says McLeod. "I just remember how easy it was working with [Andre Iguodala preparing for the 2015 NBA Finals] because I'm working with him. We're talking about the vision for all of these games. To be on the ride to the championship, it just felt like the most amazing thing. I didn't want to be a part of an album rollout. I didn't care about it anymore."
McLeod relied on relationships she had fostered over the years to build her client base. She founded her own business, KMCME, in 2009 to better handle her busy day to day. Her list of clients has included future Hall of Famers like Chris Bosh, former NBA Finals MVP Andre Iguodala, and even "artists" like NBA veteran Serge Ibaka. She's worked on brand campaigns with the likes of Nike, Beats by Dre, New Era, and State Farm. But one of her biggest current clients is Harden, whom she dressed in many memorable looks, like a matching tan coat and trousers from Neil Barret covered in a black floral print when he accepted his NBA MVP award in 2018. 
You've probably seen Harden on covers of magazines in exuberant clothes and other bold choices like a semi-translucent raincoat he recently wore during NBA All-Star Weekend in Atlanta, but before McLeod started working with him, his wardrobe was very simple—a plaid shirt and jeans or a button-up with khakis. McLeod elevated the looks while keeping the same ethos by introducing brighter colors and bolder patterns to the equation. She recalls meeting him for the first time at a photo shoot with New Era back in 2014. The shoot called for one thing, a simple T-shirt and a hat, but McLeod came to set with bags of clothes from Barneys, Saks Fifth Avenue, and Bergdorf Goodman. It left an impression, and two years later Harden reached back out to McLeod and asked if she could style him during Paris Fashion Week. 
"He called me and he was like, 'Hey, I'm going to Paris next week with Adidas. And I know they do fashion shows and stuff. And I saw you out there with a few other people in the past and I want to go, but I want to do it big.' And I was like, 'You called the right person at the right time.' I took it there the only way I know how to take it there. I went crazy," says McLeod who has been styling Harden ever since. 
Harden would connect McLeod to Tucker, another player who has become known for his pregame outfits in recent years. Then teammates in Houston, Harden asked McLeod if she would be willing to work with Tucker, who McLeod says she had a small vendetta with. Tucker would wear certain items that she had planned for Harden to wear before he had the chance to. "Let's say James was going to wear something for Game 2, PJ would wear it for Game 1. So, I'd have to change my looks because somebody else just wore it who is walking in with him." But eventually she understood how dedicated Tucker was to his wardrobe. 
"I think it was his son or his daughter at the time taking the pictures for him. But he was so dedicated to taking these pictures and making sure the full look was how it needed to be," says McLeod as she recalls Tucker prepping what to pack for his first Milan Fashion Week in 2018. "That's where we started and that's how I got to understanding him."
Now the two, who still work together today, are really good friends. Tucker told Complex back in February that he considers McLeod his "homegirl, his sister" and is constantly bouncing ideas off of her to coordinate his next fit.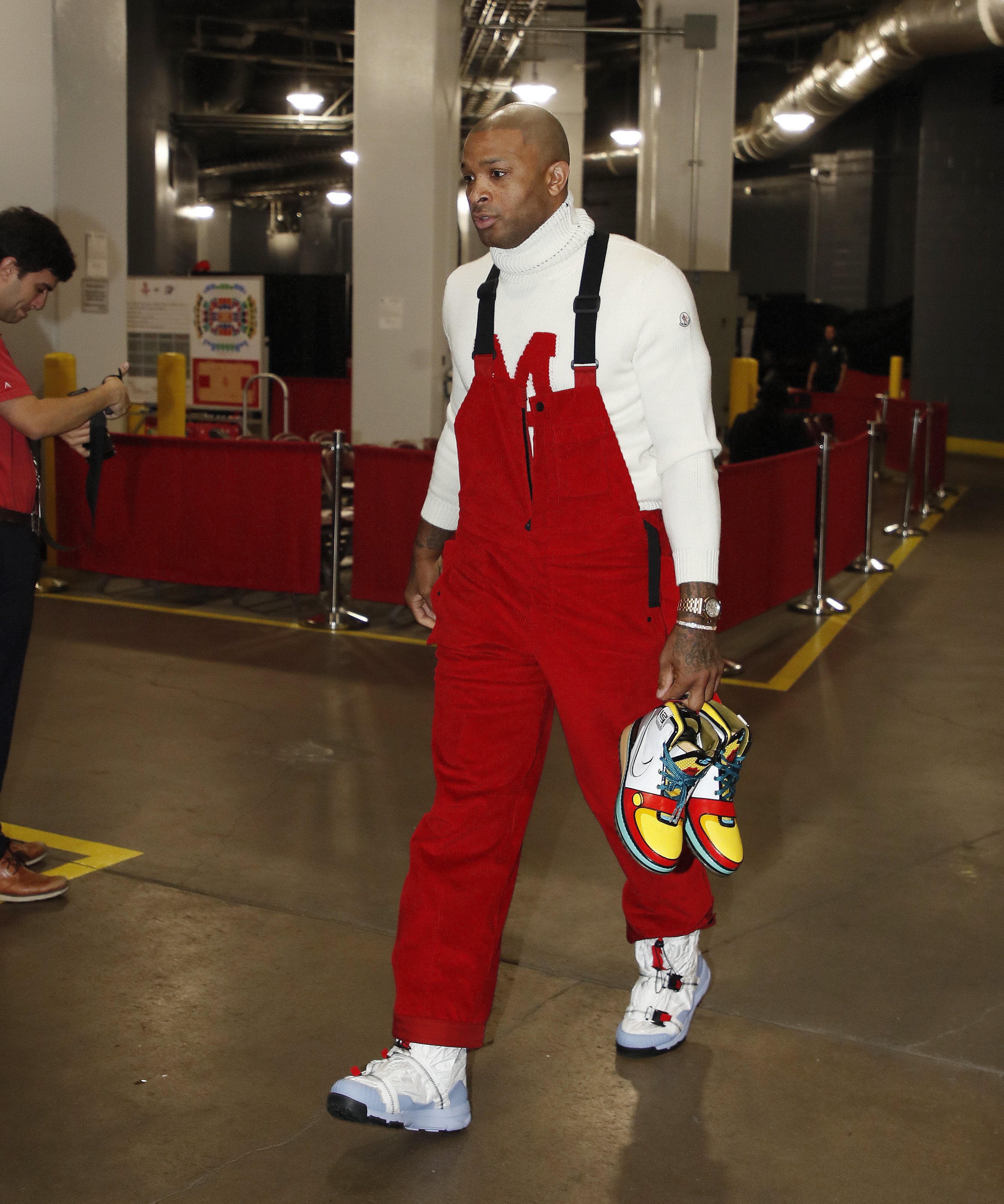 Tucker has become a fashion icon in his own right. He had always been known for his sneakers on the court, but McLeod helped him refine his ideas even further—mixing rare sneakers like "Red October" Air Yeezy 2s with Bode patchwork jackets, or an orange Acne Studios suit with "Warhawk" Air Max 90s. "I send her pictures of stuff I'm putting together and things and she'll put the thumbs-down if she hates this, or she hates that. I really don't do the stylist thing where they send outfits and you put it on and wear it. That's not my thing," says Tucker. "I'll hit up Kesha when I'm looking for stuff. She finds things, hits designers up, hits brands up that I like and I'm looking to get stuff from. She's perfect as a median for me."
Over the years, the NBA tunnel has been turned into a full-blown runway, and McLeod's clients are among the best-dressed players. Once restrained to business attire, an infamous move by then-commissioner David Stern back in 2005, players can pretty much wear anything nowadays whether it be a graphic T-shirt or a perfectly tailored suit. Being seen on the right player can boost a brand's profile overnight. Just look at Thom Browne dressing LeBron James and the Cleveland Cavaliers in matching short suits for home games in the 2017 playoffs. McLeod says the uptick in potential for visibility has certainly caught the attention of designers. That's why you see players like Harden and Tucker front row at Paris Fashion Week or donning the latest pieces from luxury fashion houses like Dior and Louis Vuitton pregame. While having cameras on the tunnel every night presents a new challenge, McLeod embraces it. 
"All eyes are on them no matter what they wear, gray sweatsuit or not. And so there are some days where they're like, "I don't feel like being that person,'" says McLeod. "But I do think it's amazing to see the next generation pick these things up and really work on this. I think it's fun. I think it makes it easier."
McLeod's expertise obviously plays a big role in her clients' outfits, but she says she is only a piece of the equation, helping them take calculated risks without totally abandoning their personal taste. For example, she's dressed Harden in a Versace snakeskin short suit and Tucker in a palm tree-covered set from Sacai for the pregame tunnel in the past.
"I'm like the seasoning on top. I just add to it a little bit. So I wouldn't give myself all of the credit," she tells Complex. "They definitely are as expressive as they are in how they play and we see the emotion in everything. I try and reflect that in what they wear."
With all of the attention that NBA players' outfits receive on social media—there are IG accounts like LeagueFits dedicated to what they wear on a daily basis—McLeod is constantly researching new brands and communicating with designers to stay ahead of the curve. For instance, since being traded to the Brooklyn Nets in January, Harden has been wearing more local brands, like a hoodie from Barriers, a streetwear label co-founded by Steven Barter and Jeff Jean-Jacques in 2015 that has become known for its graphics highlighting historical Black figures, or a matching sweatsuit set from Avenue C, a brand founded by Caroline Bentley Noble offering bold pieces like paisley shorts and airbrushed hoodies.
"I don't just take it as one-dimensional. It's like a 4-D over here," she says. "We don't have another James and we don't have another PJ after all these years. So I guess I did something right." Another one of McLeod's biggest clients is Serena Williams. The two initially connected back in 2010 when she was a junior stylist filling in for a stylist who couldn't make it. Davis, McLeod's first athlete client, was a mutual friend, and that commonality helped them instantly bond. She's been Williams' main stylist ever since. While Williams has become known for her on-court looks like a full-body catsuit at the 2018 French Open or a Virgil Abloh-designed ensemble for the 2018 US Open, McLeod helps piece together her outfits away from the tennis court. She assists with her S by Serena clothing line, dresses her for Vanity Fair shoots, red carpet events like the Met Gala, and even her wedding day, which McLeod calls one of her biggest accomplishments. Along with communicating with the teams at Alexander McQueen and Versace to make sure Serena's two dresses were perfect, she dressed the bridal party as well.
"Serena's become a mentor to me. Even in pivotal business moments of my life, certain things, [she is] somebody to always call on. And so I really do love and cherish our relationship," says McLeod. "I've learned so much from her."
Nowadays, McLeod is still styling and handling her own projects, but says she is doing her best to pay it forward to the next generation as well. She says that seeing her assistants or interns learn on the job, or answering questions that pop up in her DMs, is incredibly rewarding. She's even a published author now, releasing The Essential "How to" Guide: Styling & Understanding Your Business in May 2020. 
"To see that light bulb click, I think that's my motivation now, to see those kinds of things. Before it was so amazing to see my clients get to certain places, but that's proven now. I'm Midas. I get it, I'm going to always get it," says McLeod. "But to now have a generation behind me, get it with me, it's just the most amazing feeling."
When it comes to what's next? McLeod has her eyes set on getting more sets of eyes on other non-NBA athletes around the world, in hopes that people will pay attention to them the same way they do her current clients.
"I've been a sports fan all my life and played basketball. It's just really amazing to be in this space. I want to touch it all and see how I can do this all with [every sport]," says McLeod, who also currently works with stars like MLB outfielder Giancarlo Stanton and NHL center Auston Matthews. "So maybe it's creating the tunnel in the NHL and having them break down the dress code. Maybe it's having more visibility with baseball because they do wear [designer items]. You just don't see it."