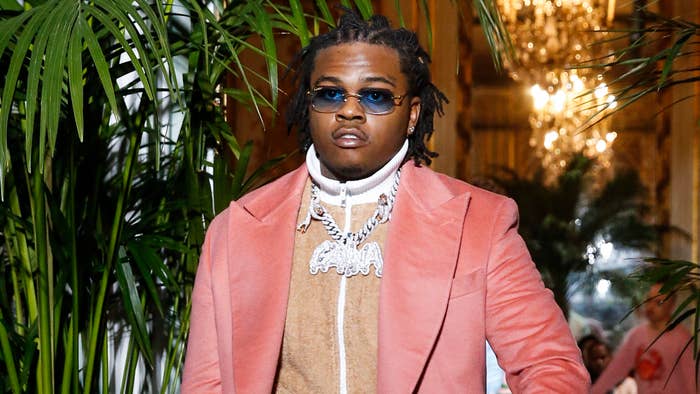 It's no secret that Gunna loves fashion. You will always see him dressed head to toe in the latest designer pieces. His Instagram acts as a personal catalog of fit pics for him to show the world his new threads. "Drip" is a major part of his brand. "Drip Influencer" is even typed into his bio on Instagram.
So, it should come as no surprise that plenty of Gunna's verses feature some nods to some of the biggest designers in the world. It isn't all just a fabricated persona either. If Gunna is rapping about putting Prada on his collar or a Richard Mille watch on his wrist, it's because he really has it in his closet. Some people love his style. Others take every opportunity to take their jabs at it on social media. But either way, Gunna's fits certainly capture people's attention. Perhaps he said it best on 2018's "Drippin'" when he rapped, "This drip it gon' make me a legend."
With Gunna's latest album DS4EVER dropping today, we decided to look back at some of the times that his outfits matched up with his lyrics. There are bars to choose from for this exercise. We kept it to 10.
Song: "Recognize Real" 

When: 2021
Like many rappers, Gunna keeps Louis Vuitton in heavy rotation. Matching sets from the Don C-assisted NBA collaboration, colorways of the LV Trainer, and an assortment of leather goods have all been shown off by the rapper in the past. He's also known for frequently shouting out its Damier print in songs. The French fashion house has always had a place in rapper fashion in some capacity, but a big reason it became so prevalent in recent years was in large part to the late Virgil Abloh being the men's artistic director. As did many other artists, Gunna became a mainstay at LV's runway shows and was often recognized by Abloh for his influential style. One of Gunna's best LV fits came in November 2021 when he decided to piece together some of the items from the LV2 capsule collection co-designed by Abloh and streetwear legend Nigo. A green cardigan, monogram newsboy cap, and even an "LV Made" tiger rug can all be seen. But the best part of this fit, a duck-shaped monogram shoulder bag, isn't something everyone can pull off so easily. All in a day's work for the self-proclaimed "drip influencer" though. Shoutout to the jazz legend Louis Armstrong, too. Some clever wordplay on display with this one. —Mike DeStefano
Song: "Almighty"

When: 2021
Like Gunna said above, you won't see the rapper wearing some out of date pieces. Take this great fit for example, which is well accented by a blue Lamborghini Aventador in the background. Gunna is seen wearing some Louis Vuitton x Nigo sneakers with a belt from the same collaborative effort to match. But the standout piece Gunna is seen wearing is this beautiful multicolor crochet "Manchester" shirt by Bode. Also, who else rocks a pair of iced out Cuban links on their ankle? Gunna might really be the drippiest rapper alive. —Lei Takanashi
Song: "Don't I"

When: 2021
The most recent lyric on this list from his feature verse on Roddy Ricch's "Don't I" is likely a nod to Gunna's most infamous outfit, an all-black ensemble fusing Dior and Rick Owens that he rocked during New York Fashion Week back in September 2021. The internet had a field day clowning this fit featuring a black sheer turtleneck covered in Dior's oblique print, black leather Rick Owens vest, shorts, and knee-high Rick Owens boots. Gunna got the last laugh here, though. Say what you want about this outfit choice, when Rihanna chooses to re-create it for her Halloween costume then you did something right. Good or bad, this fit will go down in history. When it comes to some of Gunna's more polarizing fashion choices, he told Complex back in October 2021 that he was encouraged to take more fashion risks by none other than Young Thug.
"[Young Thug] has definitely taught me a lot, especially just to step it up. A lot of people wear what we might have started. When you see you're trendsettin' just keep it going. The critics are supposed to talk." —Mike DeStefano
"Chanel boss, my closet full of Cs."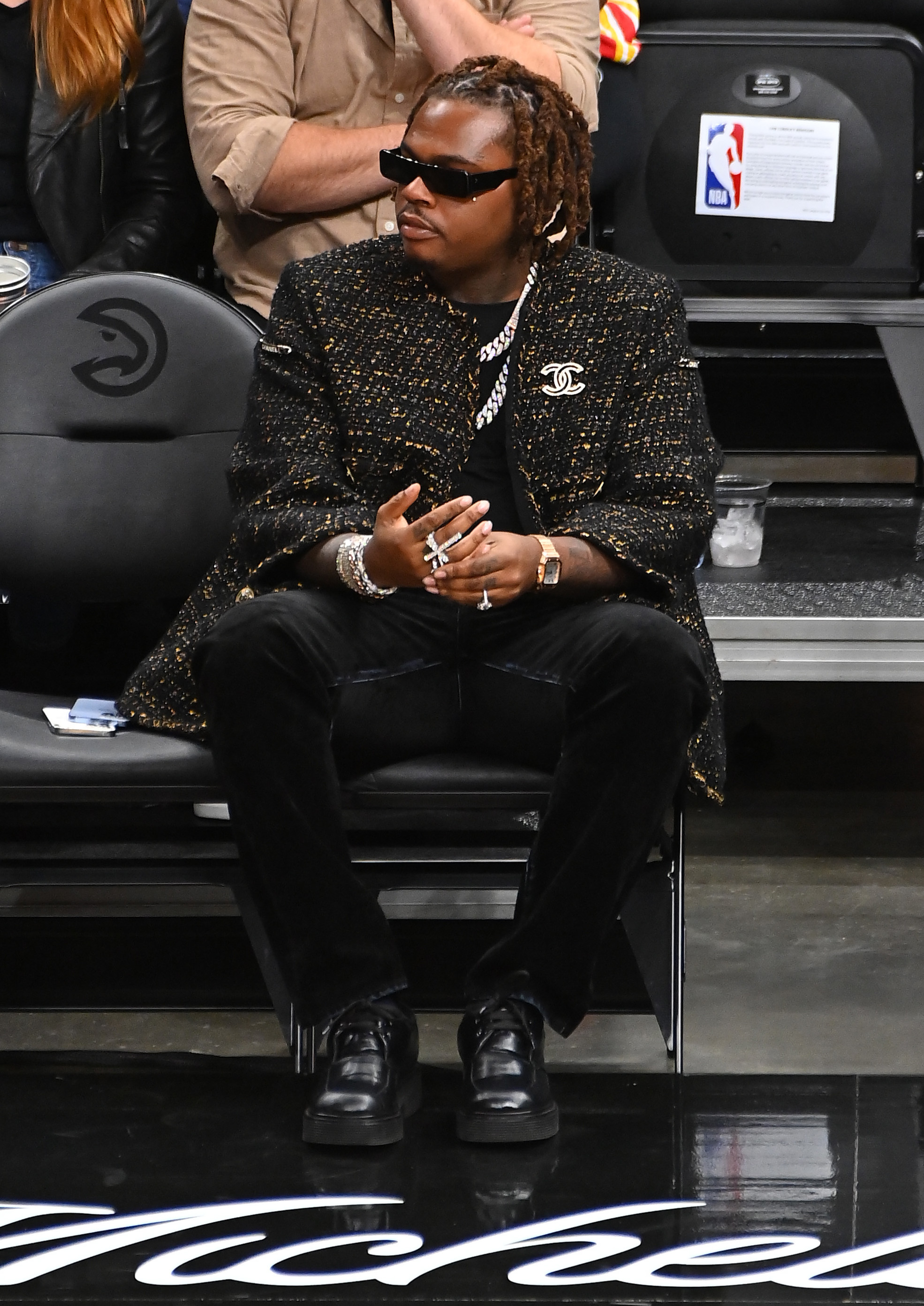 "Richard Mille, no time to explain."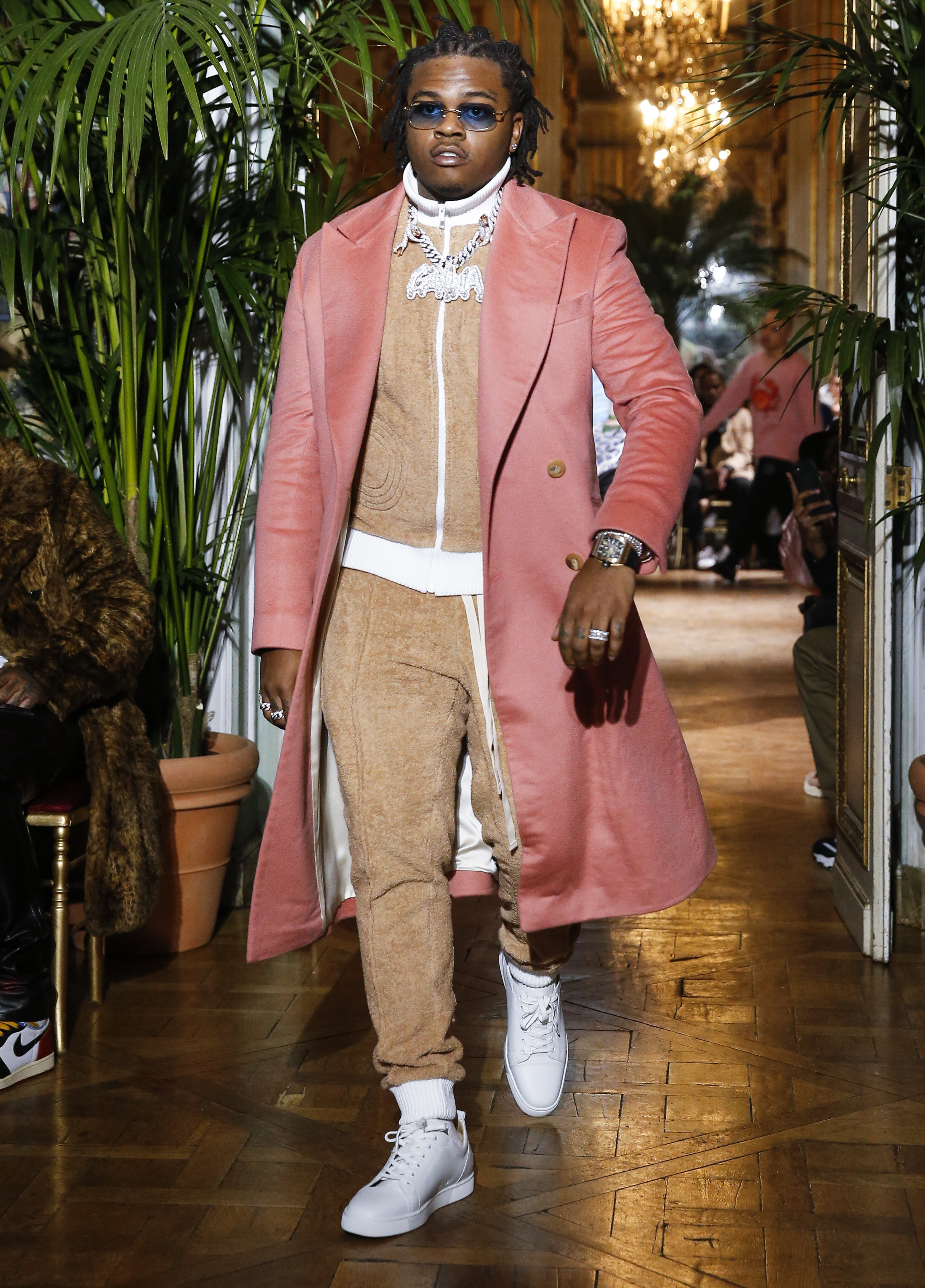 "I clean up real nice, I don't got a maid."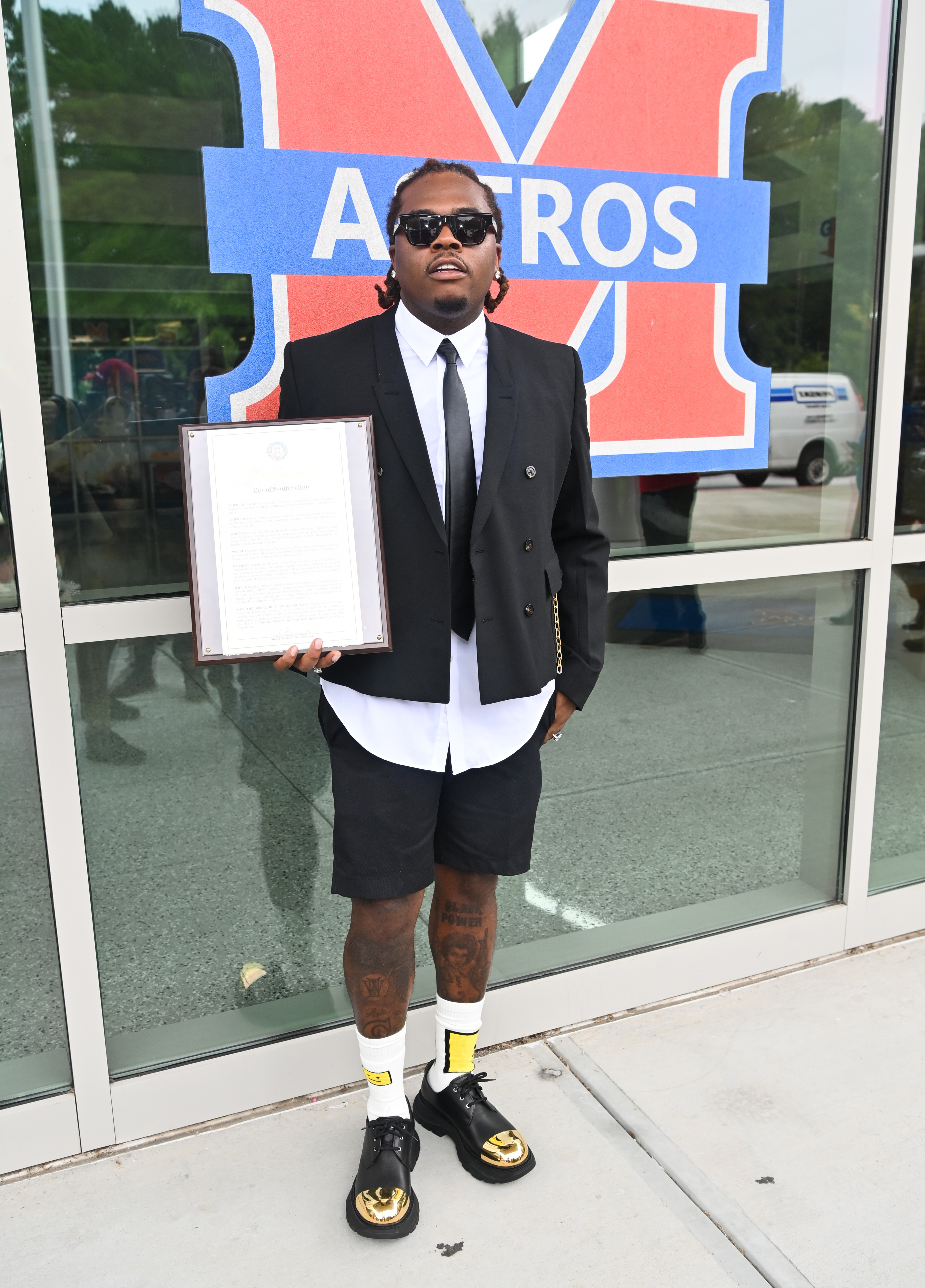 "My jacket Off-White, don't mean that it's beige."
"I put Prada on my collar 'cause she proud of what I said."
Song: "Pedestrian"

When: 2021
There's no cap when it comes to Gunna's raps because here he is rocking a great piece by Comme des Garçons. Gunna kept this fit pretty simple by wearing a CDG collaboration with Kaws, a subtle pair of white Air Force 1s, and a felt-lined Louis Vuitton soft trunk handbag from Virgil Abloh's Fall/Winter 2021 collection. Somehow, Gunna always looks good in a pair of shorts and he even looks flyer when pairing it with a Chrome Hearts wallet chain. Gunna can really put anything on. —Lei Takanashi
Song: "Almighty"

When: 2021
When it comes to statement belt buckles, few are as recognizable as the Hermès "H" buckle. And considering the symbol means that the wearer shelled out at least $800 just to hold their pants up, it makes sense why people often turn to the Hermès belt if they are trying to rock a subtle statement piece. As Gunna has proven time and time again, his lyrics aren't just to sound flashy. So when he says there's an "H" around his waist, that means you will see him rocking the storied French luxury house's goods. While this particular bar came off of his 2018 track "Almighty," Gunna is still rocking Hermès in 2021. Here, it can be seen paired with a pair of maroon shorts, matching socks, a cowhide biker jacket, and a pair of Margiela tabi hand-painted lace-up shoes. This photo also proves there is never a bad time for a fit pic. This one was captured right before he hopped into the Sprinter van. —Mike DeStefano