Simply put, Sam Levinson's Euphoria is must-watch television every Sunday night. Not only is each episode of the high school drama filled with plenty of suspense and conflict to keep you occupied for its hourlong runtime, it features an array of character archetypes that every viewer can relate to in some way. One of the ways that viewers may have been able to connect with each character is through their wardrobes that have been curated by costume designer Heidi Bivens. 
Peppered with popular streetwear brands and vintage designer pieces, Bivens has crafted a wardrobe that people in real life may actually want to seek out and wear, averting the usual formula of generic outfits so often used in other television shows.
"I remember wanting to steer clear of anything that felt like what I call, 'ABC Family teen.' I was given the freedom and the support to really push it. I was asked to push it," Bivens told Complex back in 2019. "By that, I mean just not playing it safe and not doing anything that was generic or commercial looking."
While some pieces like Rue's vintage Jean Paul Gaultier vest, Jules' psychedelic hockey T-shirt from Perks and Mini, or the Chanel bag that Maddy poses with while babysitting may not be the easiest things to find right now, there is still plenty of clothing from the Euphoria wardrobe that is easy to get your hands on. For anyone in search of that sweater Fezco wears on New Year's Eve or the Telfar hoodie that newcomer Elliot rocks to class, we already did the searching for you.
Take a look at where to buy some of the items worn by the cast of Euphoria throughout Season 2, below. Make sure to check back every week to see if any of the pieces that caught your eye during the latest episode made the list.
Palace Cable Knit Sweater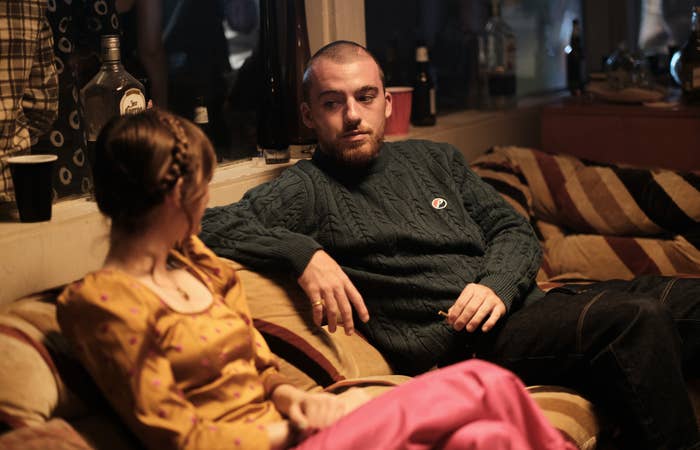 Episode: 1

Who Wore It: Fezco

Where to Buy It:STOCKXThe undoubtable highlight of the Season 2 premiere of Euphoria was Nate getting his comeuppance at the hands of Fezco to close out the episode. But before he smashed a bottle over Nate's head and proceeded to beat him to a pulp, you may have noticed the sweater Fez was rocking on the couch when he was speaking with Lexi. The teal cable knit sweater is a piece from the Palace Spring/Summer 2021 collection. Palace has become known for its wild graphic T-shirts over the years that usually implement its signature Tri-Ferg logo. If those don't fit into your wardrobe quite as easily, this classic sweater with a small Palace patch on the left chest can be the perfect alternative. Plus, if you're a big Euphoria fan, it will now forever be attached to one of the show's best moments thus far. It's a win-win. 
Nike Air Max CB 94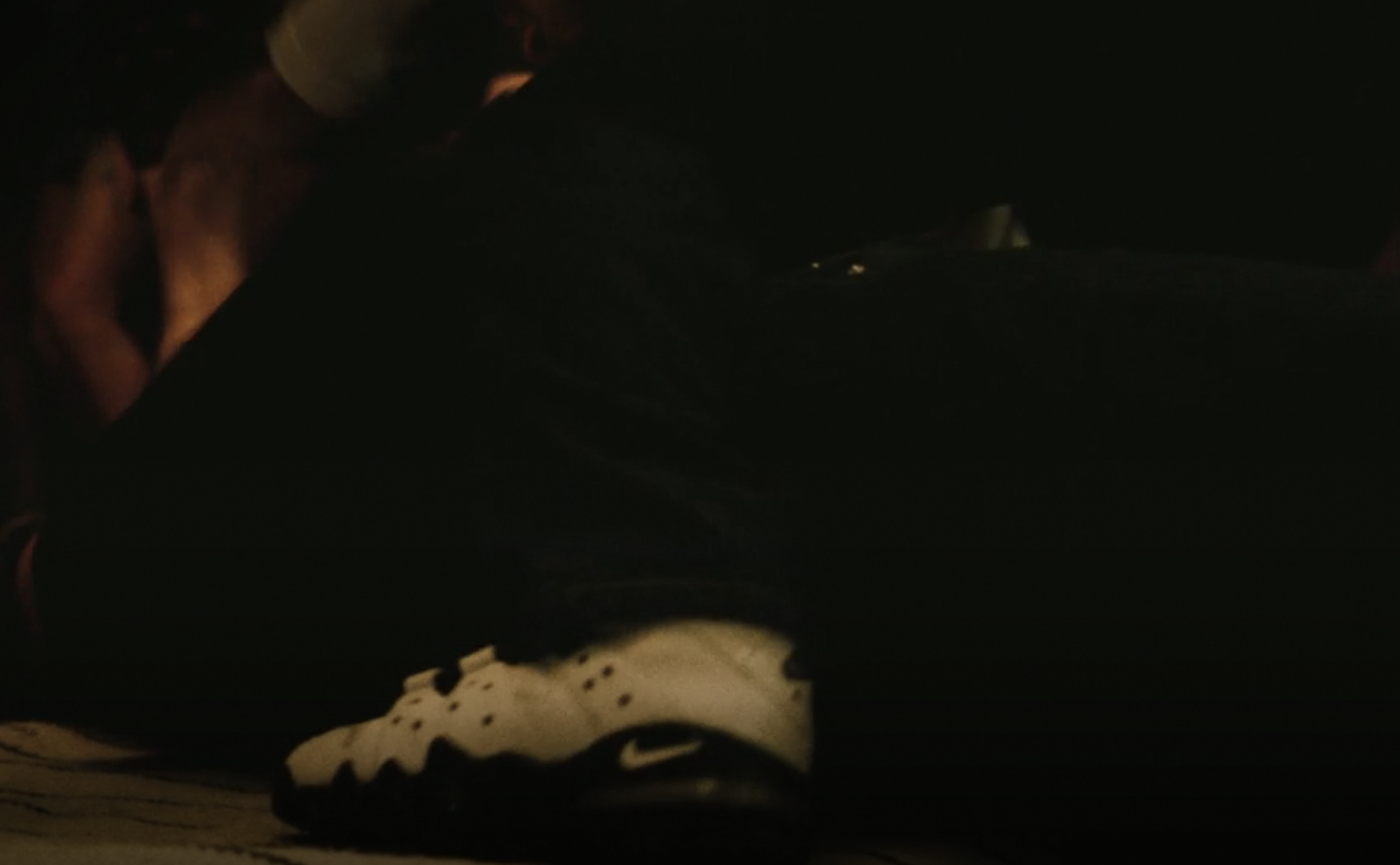 Urbane By Charles Jay Jacket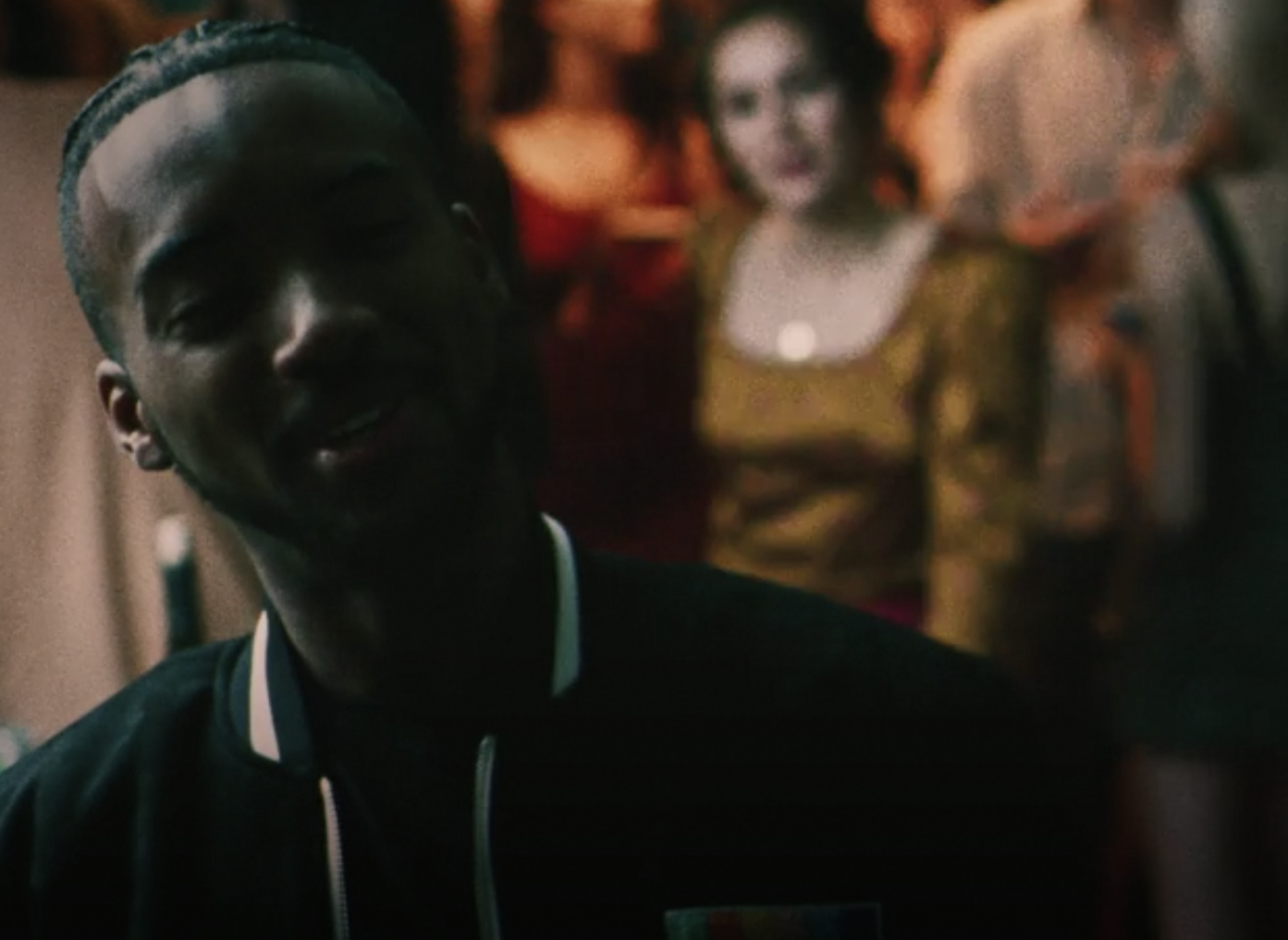 Amiri x Playboy Silk Button-Up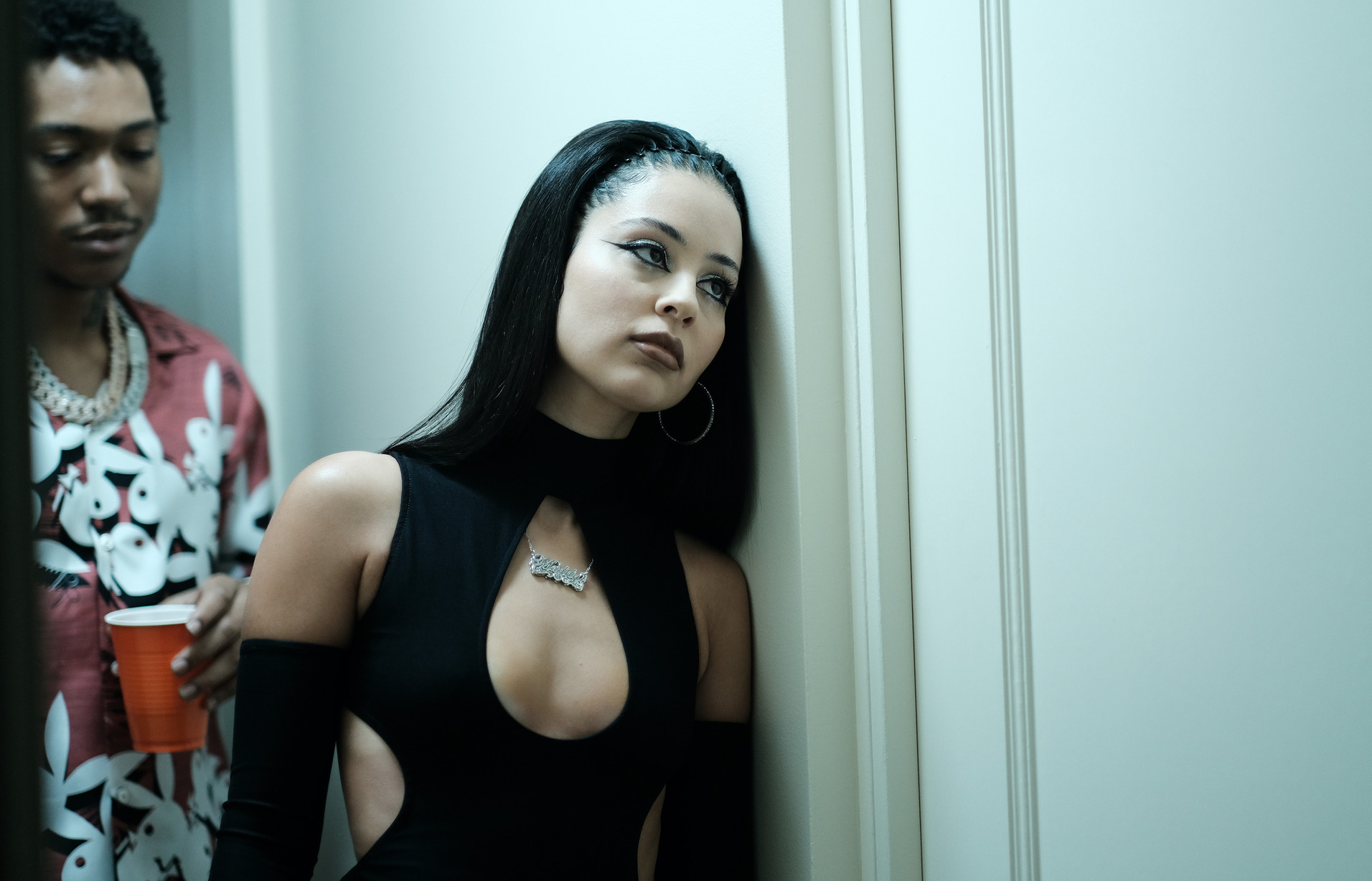 Amina Muaddi x AWGE Thigh-High Satin Sandals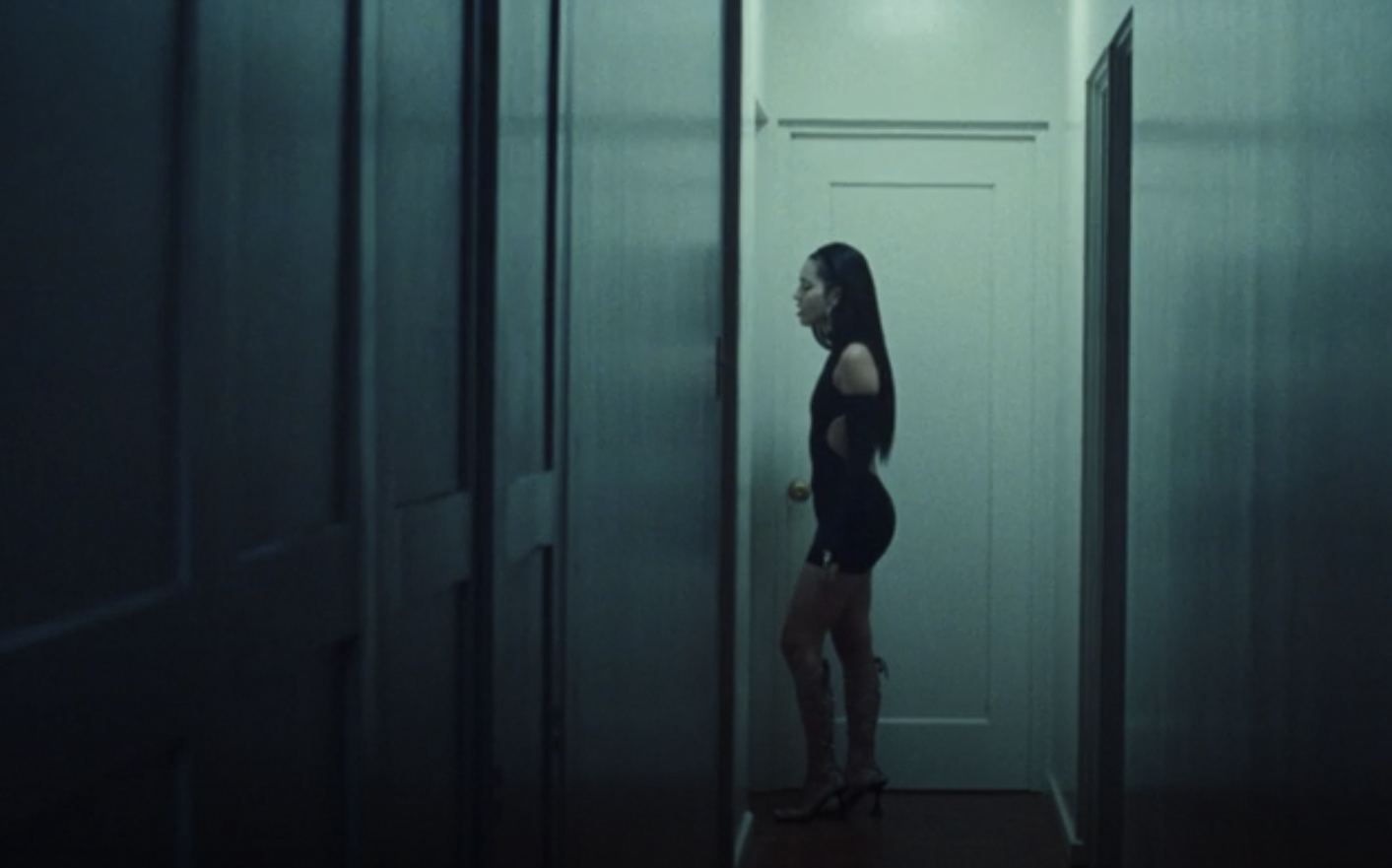 Peels Z Jacket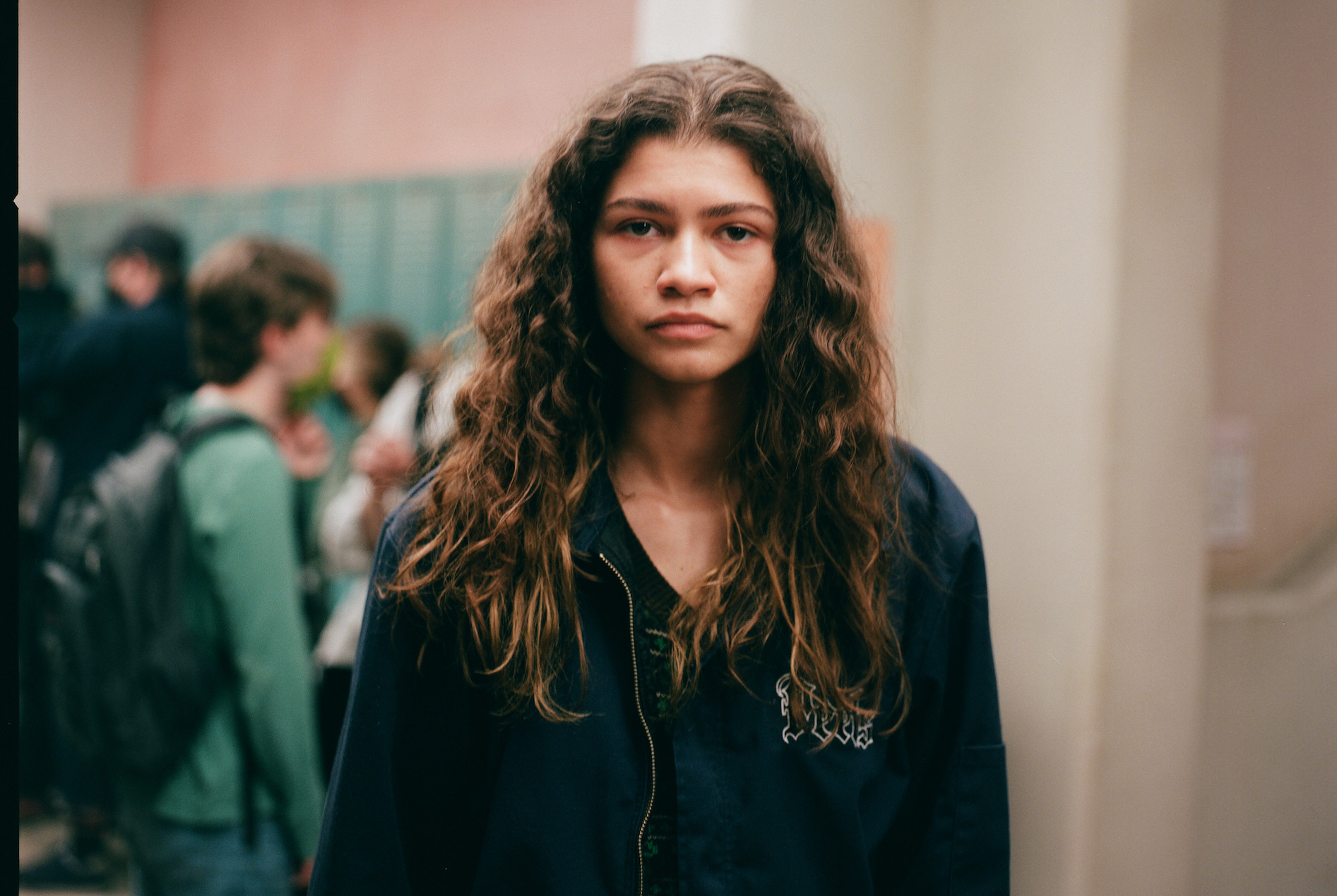 When speaking on dressing characters in up-and-coming brands like Peels back in 2019, Bivens told Complex, "I'm always just looking for brands that feel right for the character. If it's someone I believe in already, then that's just a bonus."
Telfar Camo Hoodie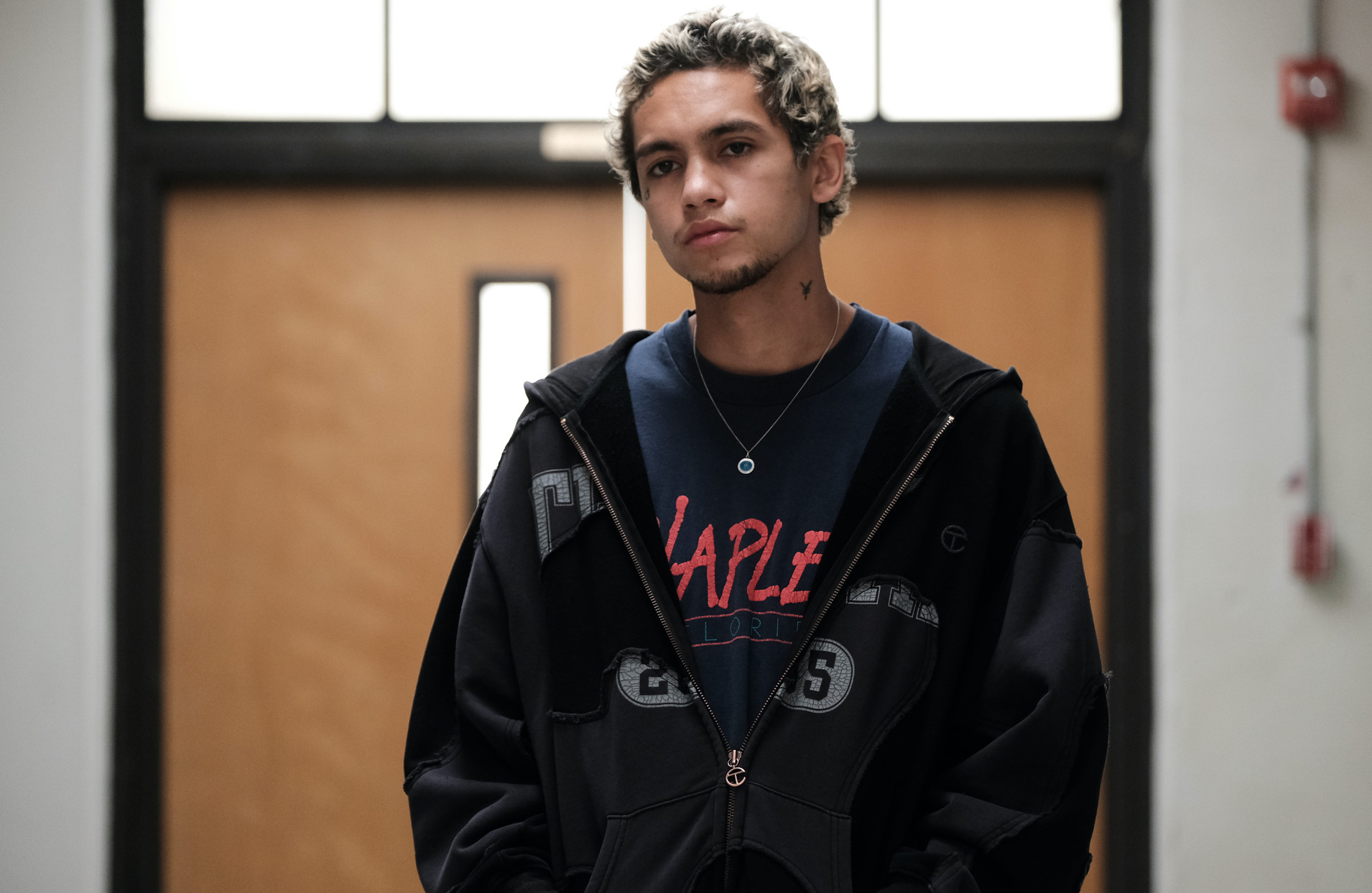 Palace Color Blocked Track Jacket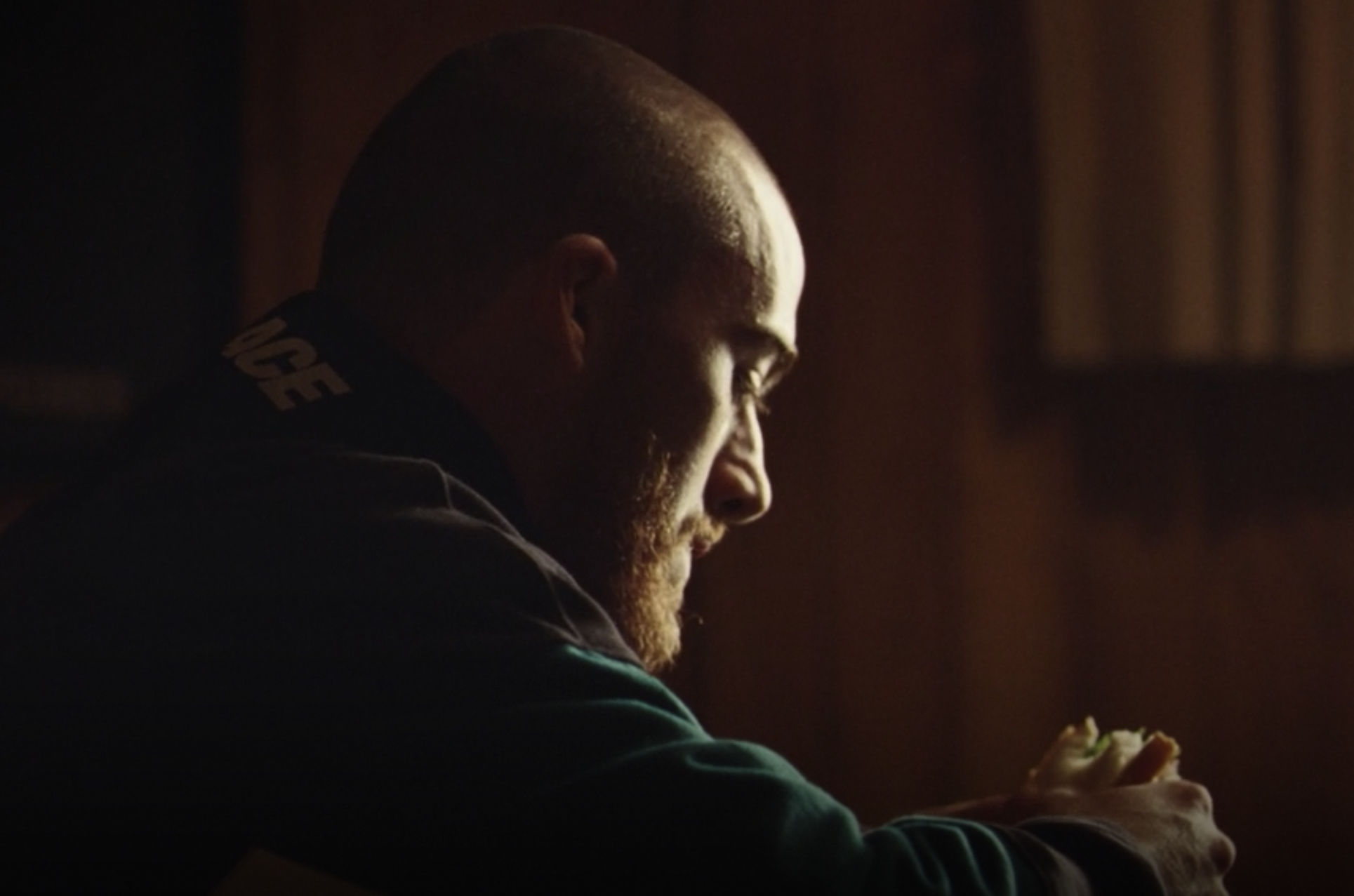 Nike Air More Uptempo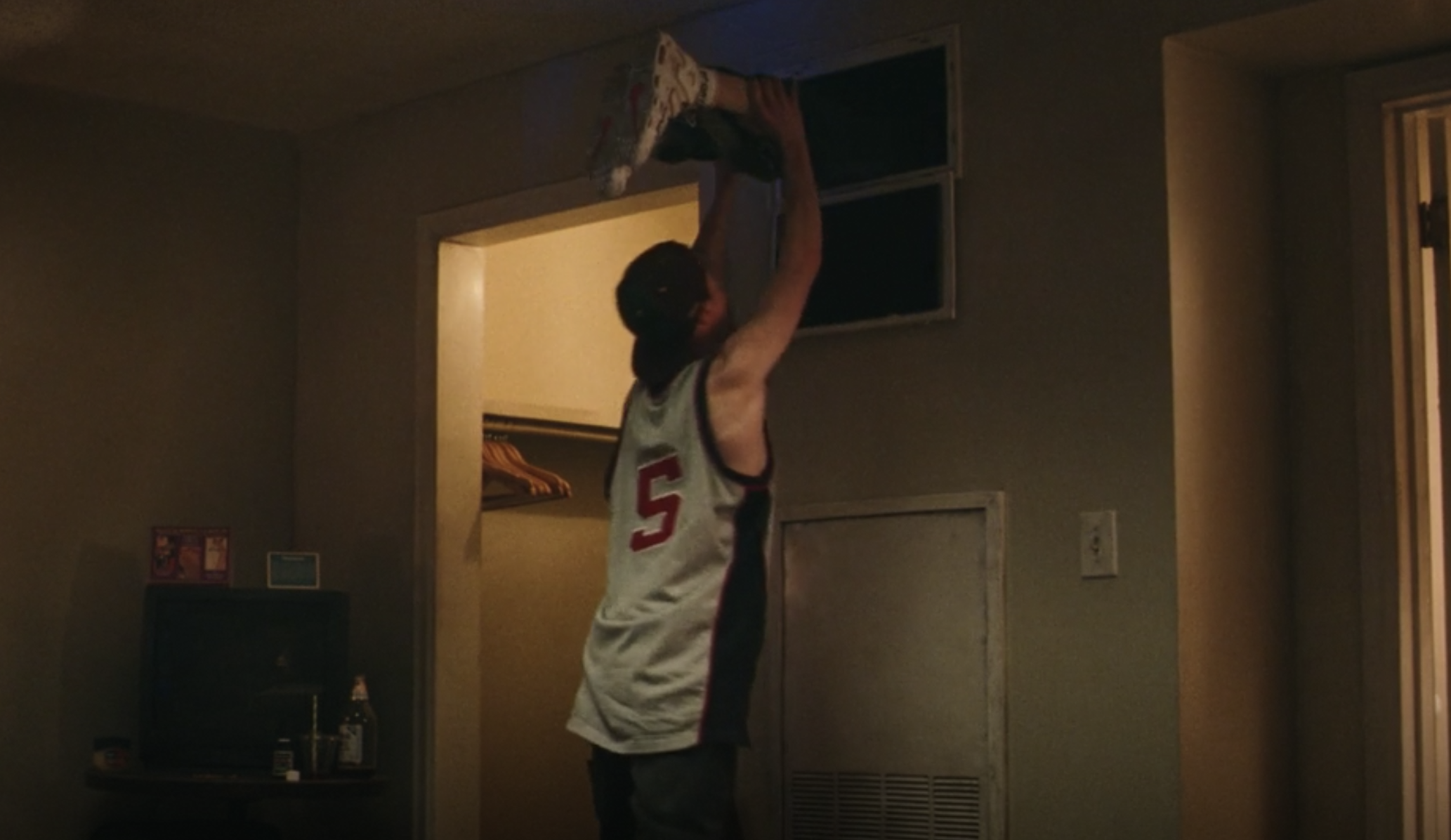 Online Ceramics Haunted Wagon Sweatpants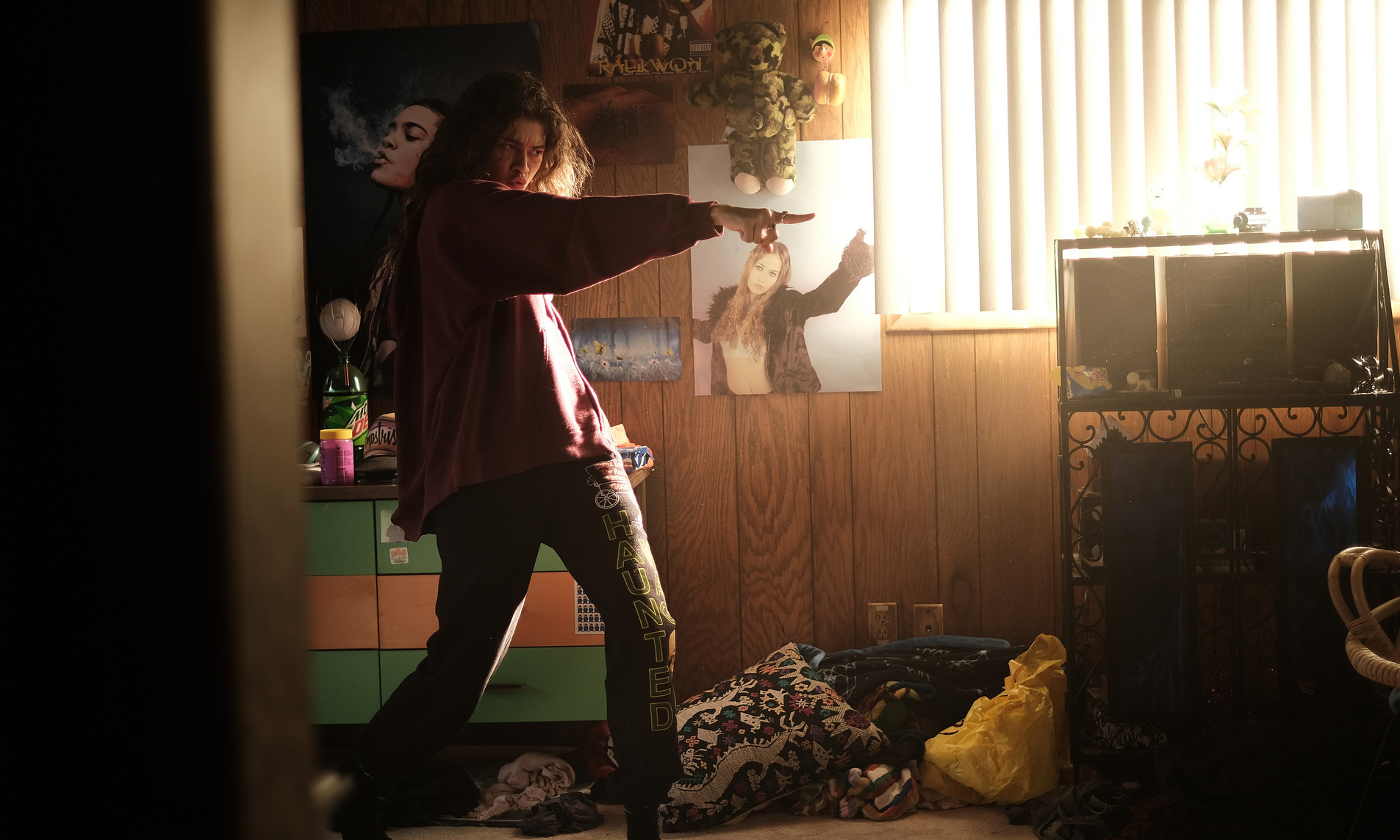 Online Ceramics seems to be Rue's favorite brand thus far in Season 2 of Euphoria. Three episodes in and she has already worn numerous pieces from Elijah Funk and Alix Ross' brand that has become known for its trippy T-shirts and hoodies. One of the most recent examples is this pair of Haunted Wagon sweatpants that she wore dancing around her room performing Bobby Darin's "Call Me Irresponsible." The black sweats feature green lettering running down the left leg that reads "Haunted Wagon" accompanied by a human skull, wagon, and the brand's snail logo. We don't recommend partaking in any of the same leisure activities that Rue does on the show, but these are definitely some solid sweats to lounge around in if you are in the market for a new pair with a bit of personality. 
Online Ceramics Change Is Good T-Shirt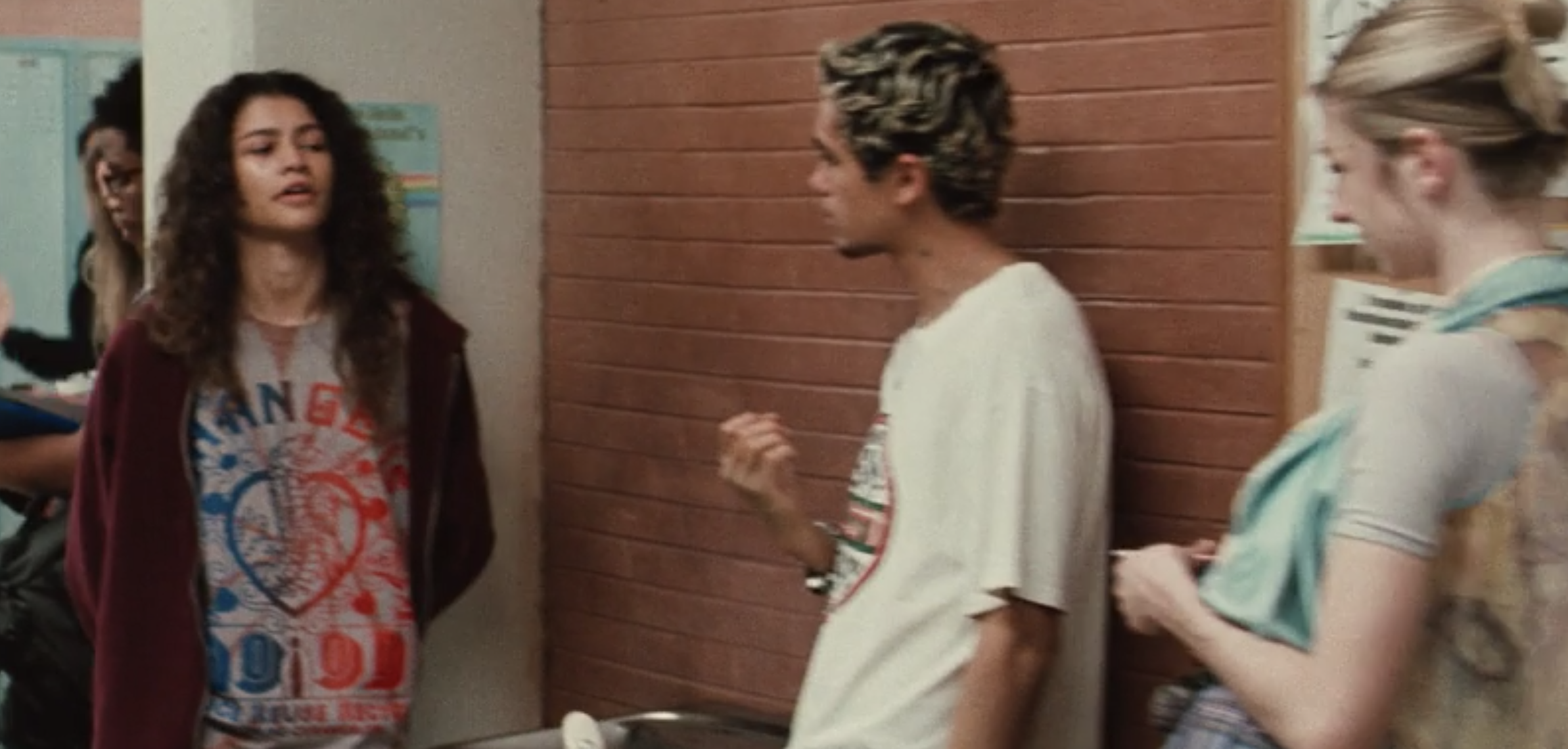 Did we mention that Rue seemed to really like Online Ceramics? Along with the sweatpants we just discussed, she also could be seen in the school hallways in this tie-dye T-shirt from the brand later in the episode. The orange tie-dye shirt features a blue and red graphic across the chest consisting of an animated caterpillar and butterflies. The phrase "Change Is Good" surrounds the images. Given Rue's continued battle with drug addiction throughout this season so far, we hope this is some sort of easter egg and she accepts the help of Ali and others sooner or later. 
Miu Miu Logo Patch Striped Cotton Blend Polo-Cardigan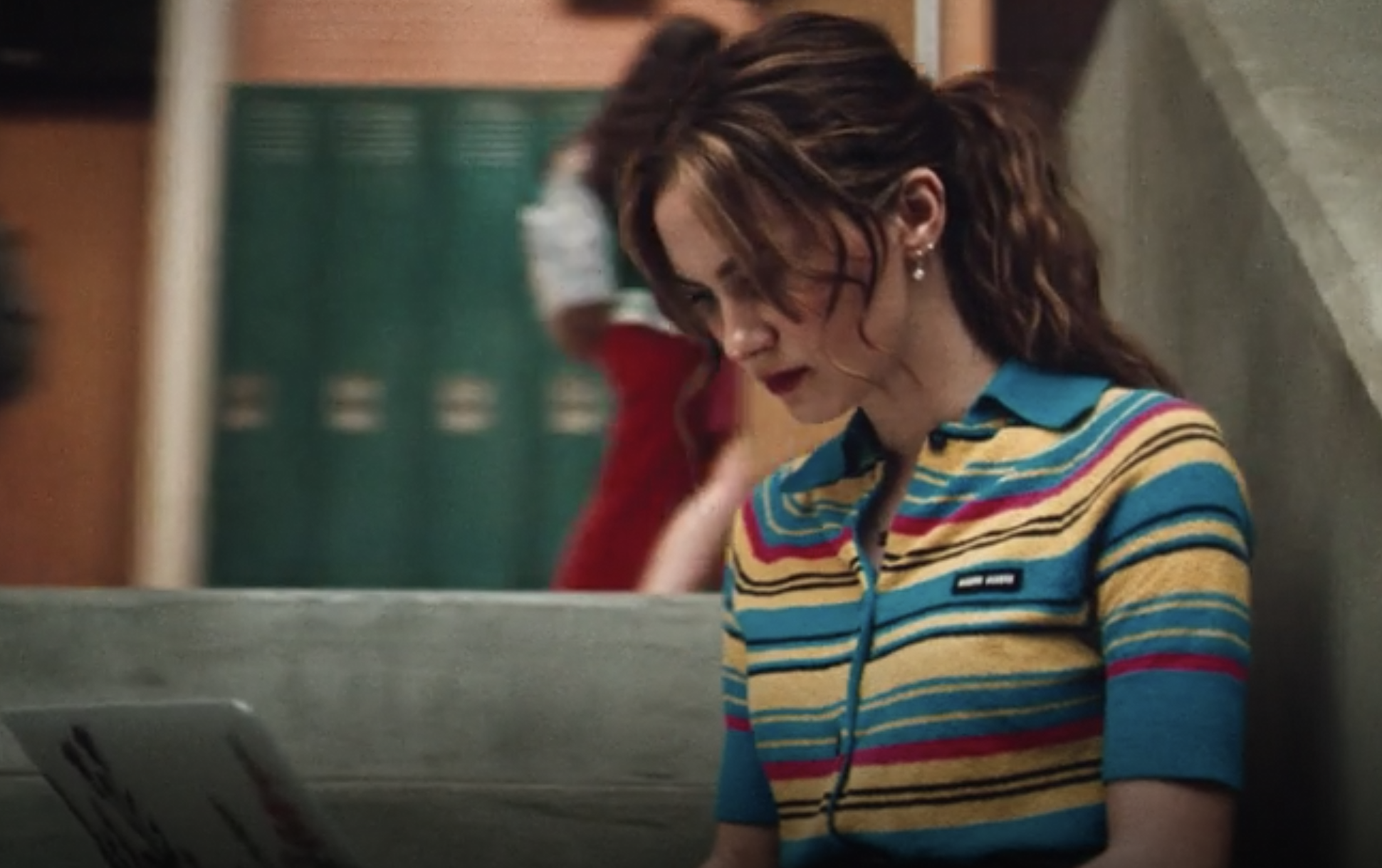 Between her crush on Fezco and the school play we learn she is now putting together in this week's episode, it appears that Lexi is getting a much more prominent role now than she had in the first season. Lexi seems to be the most level-headed student in the Euphoria universe. Her wardrobe helps her stand out from her peers as well. While vintage graphic T-shirts, psychedelic prints, and colorful streetwear dominate the wardrobes of other cast members, Lexi can usually be seen in something a bit more mature. This striped bouclé polo from Miu Miu is a brighter than most of the pieces we see her wear, but still feels like something that perfectly fits her character. This isn't the only time we have seen Bivens dress Lexi in Miu Miu throughout Euphoria's first two seasons either. The same way that Rue loves Online Ceramics or Fezco has tons of Palace in his closet, it seems like Miu Miu is Lexi's brand of choice. 
Air Jordan 4 'Fire Red'
Fezco isn't the only member of his family who appears to care about his personal style. His little brother Ashtray can also usually be seen in some solid outfits of his own. He typically isn't rocking designer polos or streetwear like his sibling though. Ashtray likes to keep things cozy and can usually be seen in a matching tracksuit. In episode 3, he chooses a black and red Nike tracksuit. His footwear, a timeless pair of "Fire Red" Air Jordan 4s. While the pair isn't prominently featured in the scene, the OG colorway is immediately recognizable despite its minimal screentime. If you're ever in search of a pair of Jordans to add to your sneaker rotation, these should be considered.
Ray-Ban Wayfarer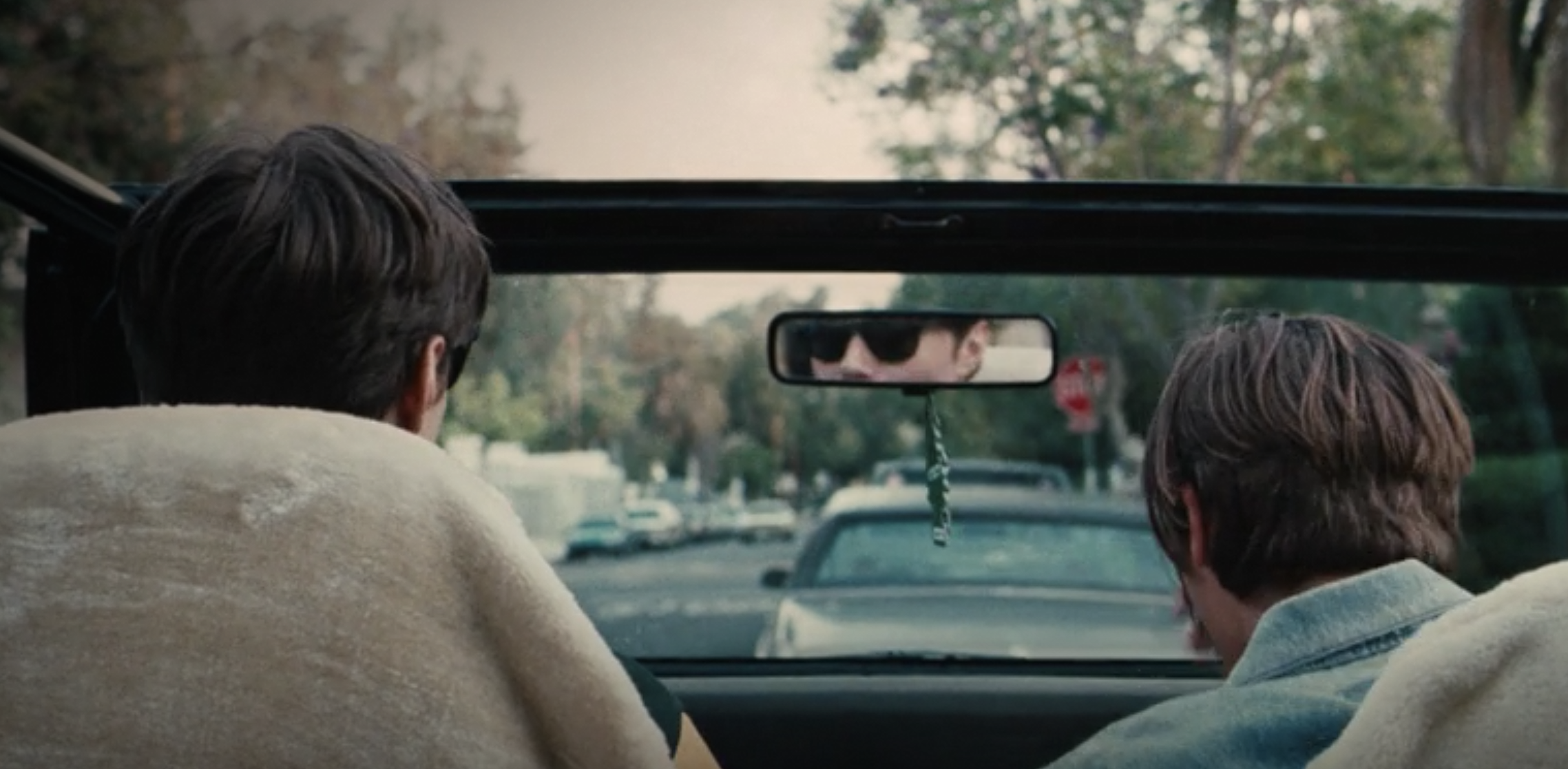 When it comes to sunglasses, few pairs are as timeless as the Ray-Ban Wayfarer. So, it makes perfect sense that the shades of choice in the opening flashback sequence highlighting the high school years of Nate's father Cal were a classic pair of black Wayfarers. They may not be the flashiest or most unique thing on the market, but as a reliable pair of sunglasses that you can toss on with anything whenever you leave the house in the spring and summer months, these are perfect. 
Tiffany Heart Tag Pendant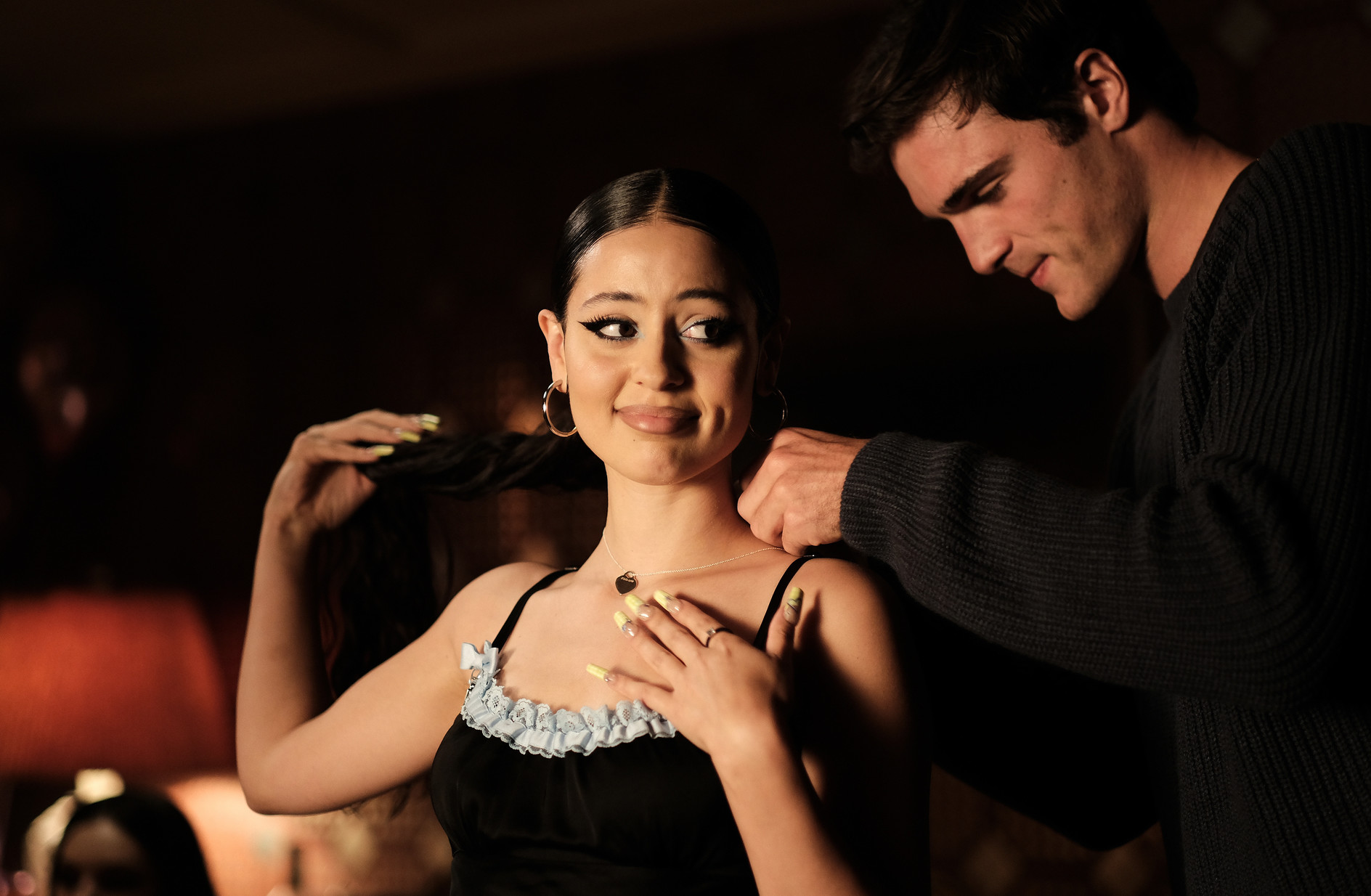 Nate and Maddy's relationship is messy to say the least. They aren't officially back together (yet) and Nate is still sneaking around with Cassie behind her back for now. But he still made sure to get Maddy a gift for her birthday. A heart pendant from Tiffany and Co. isn't the most original gift in the world, but it is still a classic piece of jewelery. The gesture didn't prevent a fight. Money can't buy happiness, of course. Moments later, the two of them got into an argument in the hot tub interrupted only by Cassie drunkenly puking everywhere just as it seemed like she was finally about to spill the beans to Maddy.
The internet likes to crack jokes about the kids in Euphoria not listening to music from their generation. Despite Tiffany's history and reputation, this necklace is sort of similar in that it does feel a bit dated for a high schooler to gift someone. Maybe one of Tiffany's new ad campaigns aimed at a more youthful audience worked after all?
Polite Worldwide Utopia Hand Painted Shirt
Jules' wardrobe is definitley one of the more vibrant ones in Euphoria. Every episode she is guaranteed to wear at least on eye-catching item. In Episode 4, it was this long sleeve shirt from Polite Worldwide. The shirt features a handpainted mountaintop and sunset with the word "Utopia" arched over the mountain. "Polite" has also been sewn into the collar. The Los Angeles-based brand is commited to sustainability. It produces all of its pieces in small batches on upcycled shirts. The graphics are drawn using vegan ink and dye from plants. In an episode that admittedly seemed to not have as many standout pieces, this shirt was an obvious highight. 
Polo Sport Colorblock Graphic Polo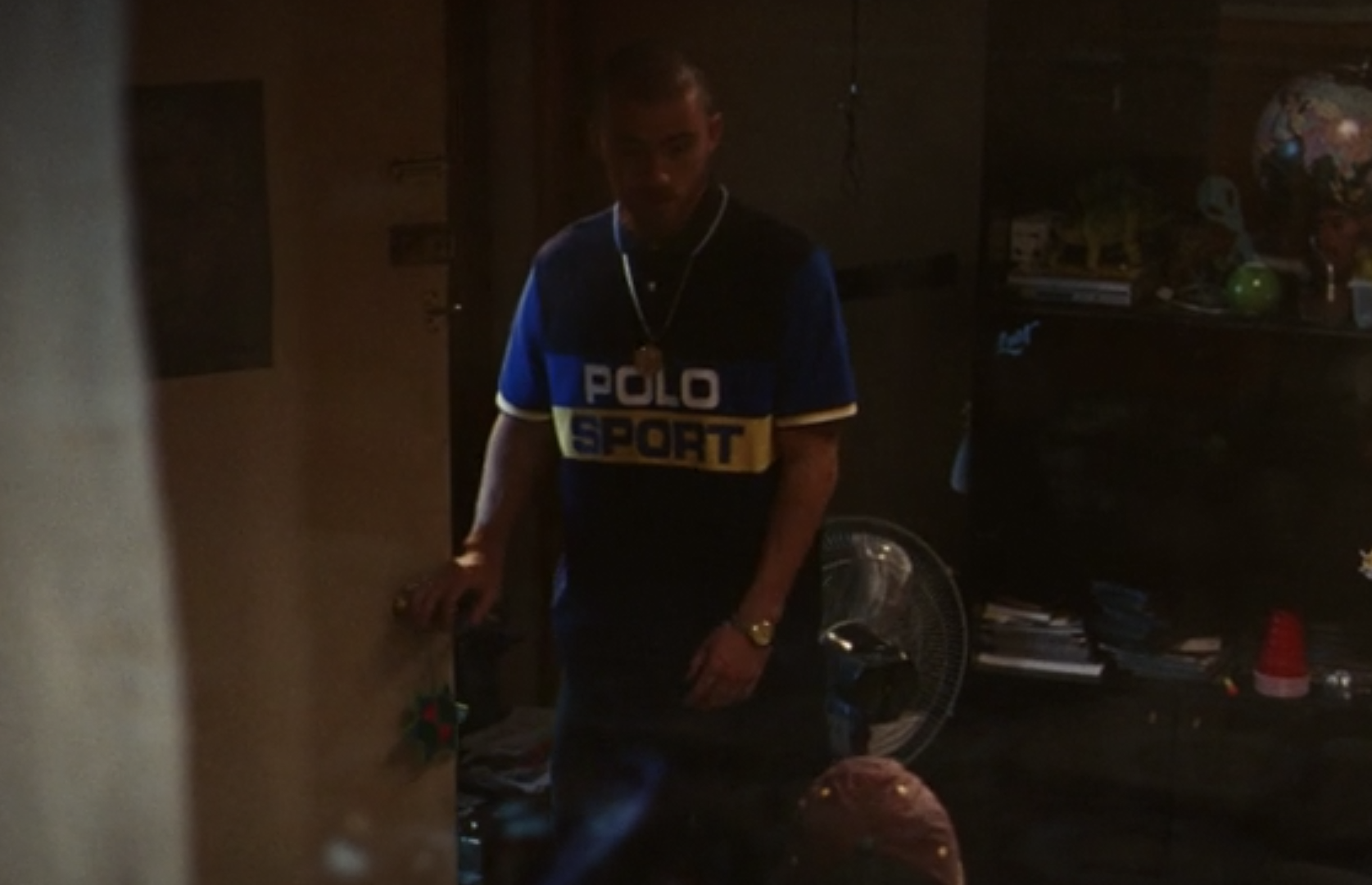 Fezco loves Polo. More specifically, the fan-favorite character played by Angus Cloud loves Polo Sport. In his short cameo in the fourth episode, he can be seen wearing a navy blue polo with thick royal blue and yellow stripes across the chest, "Polo Sport" written in blocky letters, and contrasing royal blue sleeves. Despite the notable attire, Fezco's screentime in the new episode was disappointingly lacking. Hopefully, it picks back up next week and we figure out who the hell Nelson is. 
Andrew 2wo2imes Tee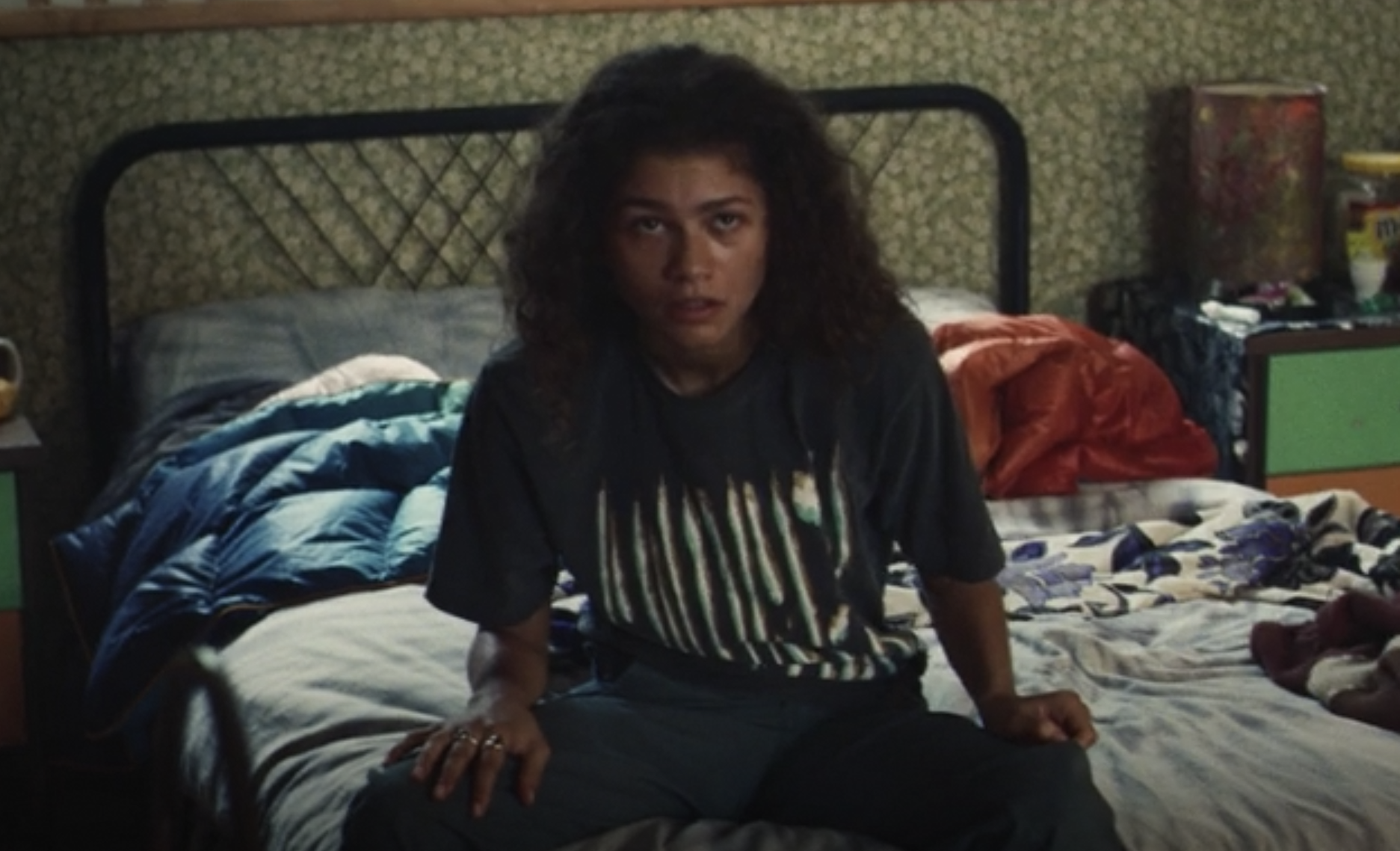 The Rue-focused fifth episode of Season 2 was a look to take in. From the emotional intervention with her family to dodging traffic while running from the cops, the entire episode features the troubled main character. And the entire time, aside from the last 10 or so minutes, she can be seen wearing this graphic T-shirt from Andrew. The trippy graphic from the Miami-based skate brand sees its name written across the chest in an abstract font. Get too close and you can barely read it. Prefer something a bit more simplistic? We like the brand's classic logo tees too.