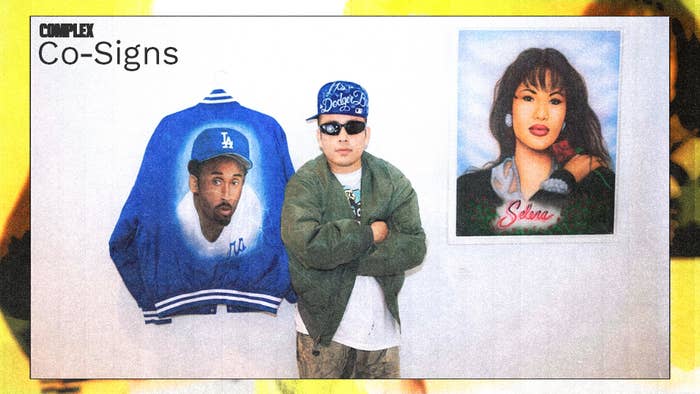 'Complex Co-Signs' is a monthly feature that will highlight up-and-coming or under-the-radar creators within the style space that we are personally fans of but may fall outside the realm of our regular news cycle. Hopefully, it will help you discover a new brand or learn more about someone that you've already taken a liking to. Whether you are familiar with them yet or not, these individuals are surely worth keeping up with.
Throughout the 2000s and 2010s, Fairfax Avenue was considered the hub of streetwear culture in Los Angeles. Home to brands like The Hundreds, Diamond Supply Co., and Supreme, the block encapsulated the city's scene perfectly. These days, Fairfax is a shell of its former self. While many brands remain, aside from Supreme who relocated to its new location on Sunset Boulevard in February 2023, the aura and energy is gone. But that doesn't mean there isn't still creativity permeating from the area.
Andrew Martinez, a Fairfax native, practically grew up on the block. He was interning at Diamond Supply when he was only 12. He recalls the burger joint Golden State being his after school lunch spot during high school. Experiencing the block at a young age helped Martinez grow up fast. Each conversation with an older store worker gave him more confidence. He says that without his exposure to streetwear through Fairfax Avenue, he probably would not have pursued a brand of his own, Guava.
"I was really on that fucking block almost every day. I remember my homie Sean Lyles put it like, 'Fairfax is like an office. You meet people, you network. It's the spot to do anything fashion or streetwear related,'" says the 28-year-old Martinez. "If I wasn't exposed to all that I'd probably just be doing something else. I have no clue what."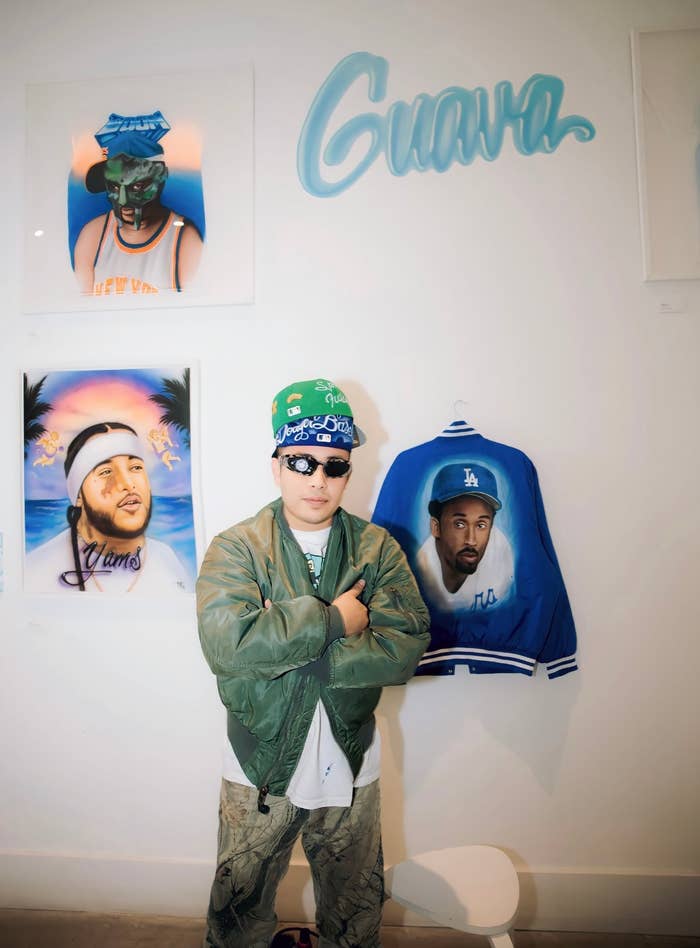 Martinez is one of the creatives helping re-popularize airbrushing in streetwear. Some people may remember the Shirt Kings, a group of artists that turned their space in the Colosseum Mall in Queens into a must-visit for New York City rappers back in the '80s. Its designs are iconic. Shirt King Phade is still tapped by various New York City brands from Supreme to Awake NY to create special T-shirts featuring the Shirt Kings' signature airbrushed art. For others, airbrushing may remind them of memorial T-shirts to honor loved ones who have recently died or a fun souvenir from a local carnival. With Guava, Martinez hopes to reinvigorate and further legitimize the often overlooked art style with a new generation of shoppers.
Guava was established in 2020, the name meant to represent his childhood obsession with Kern's Guava juice and his colorful art. Martinez had been painting before that but formalized the brand more in 2020, thanks to all of the time he was able to dedicate to his art while quarantining during the pandemic. Guava is known for its various airbrush designs all handmade by Martinez on T-shirts (in true West Coast fashion, usually white Pro Club blanks), and occasionally other pieces like New Era fitted caps or crewnecks. Wording can take him a few hours to produce. More intricate designs like portraits are split into two days and require laying down an initial stencil before adding the colorful layer of paint.
He breaks Guava's offerings down into two categories: brand and special. Brand designs are done in limited quantities, usually around 10, because each piece is done by hand. For special projects, which have included portraits of Burna Boy for tour merch (which he considers his most detailed to date) and work for the Grateful Dead, Martinez airbrushes the original designs but then they are scanned and reprinted to make it easier to mass produce. Prices usually range between $40 and $50. While both are special for their own reasons, Martinez prefers the more limited designs. 
"It's just more meaningful. They take so much time to make," says Martinez. "But the reason I mass produce is because the limited ones, they're not really that cheap. There's not a lot of people who would want to spend that for an airbrush tee."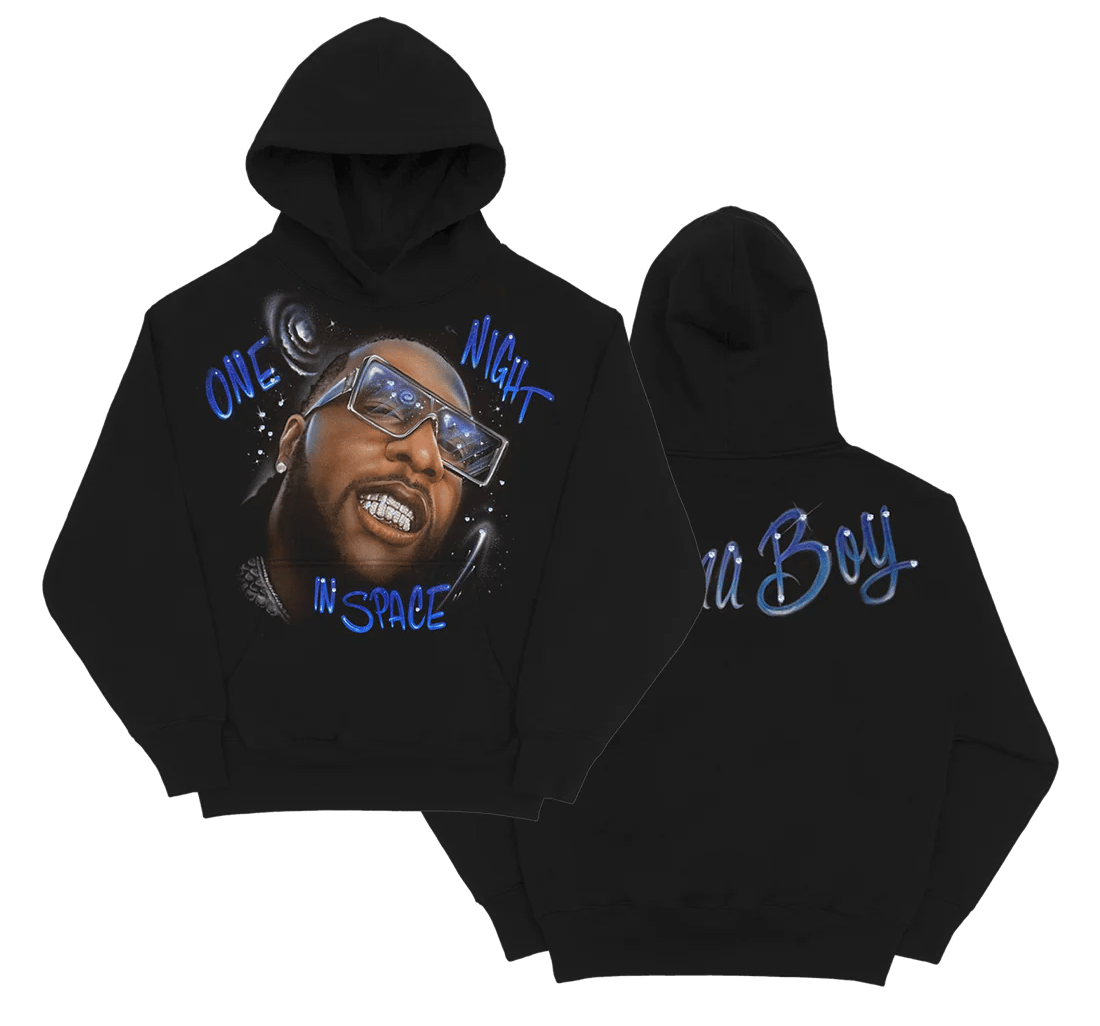 Martinez comes from a family of artists and he was exposed to it at a young age. His mother was a painter and his father airbrushed. His grandfather owned a paint shop on Melrose Avenue Cahuenga Boulevard. Being surrounded by movie studios, he would complete work for many Hollywood projects like the white shoes worn by Prince in the movie Purple Rain. At his home studio, Martinez would see him paint things like lowrider cars. "I'd just be chilling on the side watching him," he said.
As a result of his early exposure to it, Martinez grew up drawing. He recalls copying images from the pages of his favorite comic books. He did graffiti in middle school. By the eighth grade, he was creating graphics like ET holding up the middle finger to print onto T-shirts and sell at school. "I'd have like 20 and by the end of the week they'd sell out. I think that's when I realized like, 'Damn, something could happen.' I had money in my pocket at a young age, very fortunate for that. It just kind of spiraled after that. I started making more T-shirts just for fun," says Martinez. While you may assume he's been airbrushing this entire time, he didn't pick up an airbrush until four years ago. 
Up to this point, Martinez has used the connections he's made over the years on Fairfax to birth new ideas and grow his clientele for Guava. The team behind Jon and Vinny's, a popular restaurant on Fairfax, came across Martinez's rendition of one of their most popular dishes, the spicy fusilli, and tapped him to make T-shirts for the staff. An official project is in the works. Cofax, another eatery on Fairfax Avenue, has tapped Guava to produce store merch. Corey Populus, the founder of Circulate who worked alongside Martinez at Diamond Supply, rocked a Virgil Abloh tribute T-shirt inspired by the late designer's Lumiere pendant when he attended the Louis Vuitton Spring/Summer 2023 runway show in Paris. 
"Virgil was a huge role model. I was doing my airbrush stuff and I would just keep thinking like, 'Damn, maybe Virgil will see my shit one day.' Even just a comment would be dope," says Martinez. 
One of Martinez's most notable designs to date was a T-shirt he designed for Bricks and Wood as part of its collaboration with the Los Angeles Dodgers. It featured the phrase "We Need More Black People at the Stadium" across the chest. Dodgers superstar Mookie Betts even wore the T-shirt on the field ahead of the 2022 MLB All-Star Game. 
"That was a crazy moment. It was in the LA Times and there were even bootlegs of it. Kacey's a homie I met on Fairfax and he kind of just tapped into me like a day before they were going into production with this collection with the Dodgers," says Martinez. "He just told me to do my thing. I did it overnight. He loved it. The whole team loved it, which is actually kind of cool. I didn't really expect it to pop off how it did. Having Mookie Betts wear it and even being on a Jumbotron was sick as fuck."
As a lifelong fan, the Dodgers are a frequent source of inspiration for Martinez. For MLB Opening Day this past March, he released a small capsule consisting of nods to legendary Dodgers announcer Vin Scully and Tommy Lasorda. A second capsule set to drop in the coming months features a blue nylon jacket with every year the Dodgers won the World Series painted on the lining and an image of the late Kobe Bryant rocking a Dodgers cap sprayed across the back. One of his biggest dreams is to create an official collection with the team one day.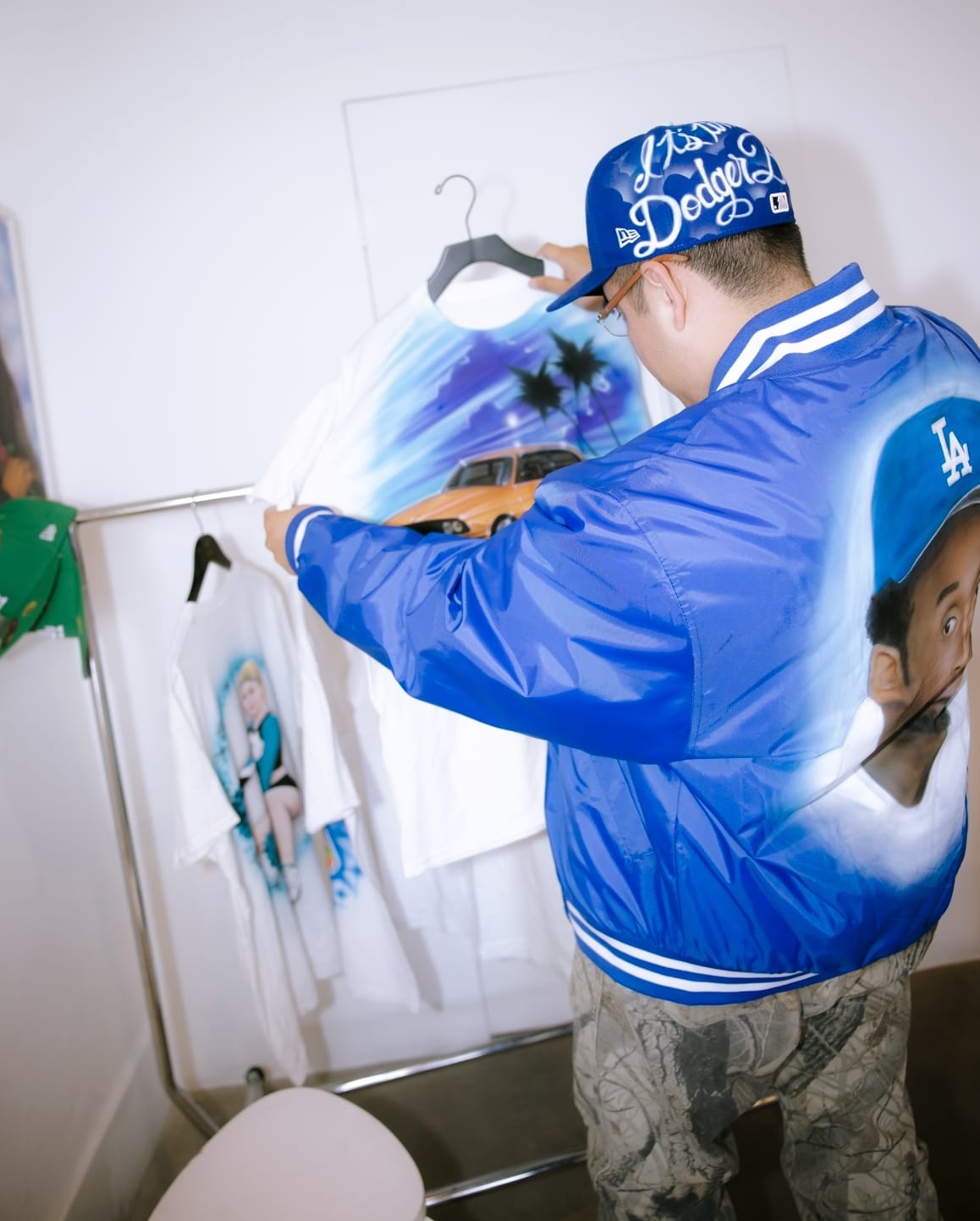 In the meantime, expect Martinez to keep dropping off rounds of new designs a few times a month. Eventually, he wants to experiment with other mediums like oil paint and puff print in addition to airbrushing. He's in the process of setting up a new gallery in downtown Los Angeles and pop-ups in cities across the country including Tacoma, Washington and New York City. He'd love to collaborate with Diamond Supply Co., the brand that gave him his start in streetwear. While Fairfax Avenue may not be what it once was, it's still the place Martinez would love to make Guava's home base someday. But above all, he just wants to keep showcasing airbrush artwork for the masses.
"Airbrush is really under appreciated and that's one of the reasons why I've made a brand where all the designs and artwork is airbrush," says Martinez. "I really want the people to start understanding and appreciating airbrush like an oil canvas artwork."