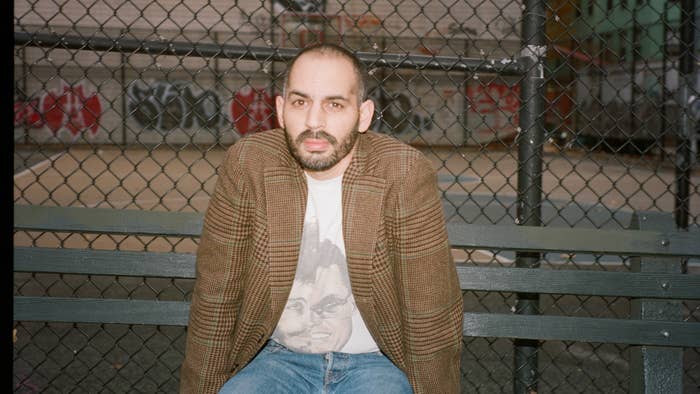 Nostalgia is a powerful thing. And it can be triggered in a variety of ways. For a lot of people, clothing is the trigger. A promotional cap for Loews Theaters can elicit memories of their first trip to the theater. A T-shirt with the Napster logo on the chest can take one back to their time as a teenager burning CDs in the late '90s. Someone may spot their favorite sports team's logo on a T-shirt that just so happens to be the same one a family member wore around them growing up. 
Nostalgia is why Bijan Shahvali, the owner of New York's Intramural Shop, loves vintage clothing. Shahvali has doubled down on his passion in recent years. What began as an Instagram page where he would display some of his favorite finds has grown into a brick-and-mortar space in New York's Lower East Side neighborhood, Leisure Centre, which is shared with close friend and fellow vintage seller Frank Carson. Shahvali's catalog mainly consists of graphic T-shirts, hoodies, and other trinkets that nod to pop culture moments throughout history. Sometimes it's a retro poster of Jerry Seinfeld encouraging you to floss. Other times it's a Whole Foods T-shirt covered in sea creatures. There's no limit to what you may see pop up next on Intramural's feed, as long as it channels a feeling or can provide some sort of history lesson. 
"I think at the root of it, uncovering gems has always been fun and that's very inherent in vintage," Shahvali tells Complex over Zoom. "It's fun to do storytelling through vintage, finding the throughlines or connections between eras, or designers, or artists throughout time is always fun to me."
This niche is what connected him with popular film distribution company A24. More specifically, a paperweight. Shahvali says A24's creative director Zoe Beyer reached out to him after coming across a vintage HBO paperweight he posted back in November 2020. The relationship has been fruitful since. The company has released three curated capsules with Shahvali over the past three months, the final being a 40-piece assortment that hit its web store earlier this afternoon with prices ranging from $35-$165. It sold out in less than 10 minutes.
The drops have represented various aspects of film history—a Blockbuster duffel bag, a T-shirt from the 1996 Cannes Film Festival, and Silence of the Lambs pin have all been available. Some highlights from the most recent drop include an MGM logo crewneck, Speed promo T-shirt, and a cross promotional T-shirt from Apple to promote 1996's Mission: Impossible. Shahvali, who worked alongside Beyer to piece together each capsule, said that while each drop had no specific theme to it. The goal was to not make things too "gimmicky." For example, he wouldn't include anything from the 1993 film Free Willy.
"We wanted it to be cohesive, sort of avoiding the ironic or kitschy stuff. Cause in my mind, when you avoid that, it makes it a little more wearable. A piece could be like 40 years old, 30 years old, but it's wearable in 2022," Shahvali tells Complex. "The overall goal is to appreciate the craft of the promo or the merch stuff that we're celebrating. For example, we decided like we're not gonna put any Free Willy, but like Anaconda is something we're gonna try and find. Free Willy feels a little schticky in my mind. I think that was like the sort of headline. Let's respect and appreciate and celebrate the culture and not have it be gimmicky."
We caught up with Shahvali ahead of the third release to discuss his process for sourcing vintage, his relationship with A24, his goals for the future of Intramural Shop, and more. 
(This conversation has been edited and condensed for clarity.)
How did you first get into vintage clothing? 

I think it's a mix of different things. I think of it as an accumulation of stuff I was into throughout my life. Like, I was always into going to the garage sales and thrift stores and just digging to find something cool. That was always a part of it. So, there's that layer, the hunt for finding a gem, which is the fun part. But then I think you sort of get into different things.You start to learn about art. You start learning about different music. And there's an aspect of nostalgia that I'm at now. I love finding things that remind me of stuff that was very influential to me or stuff I was very into that sort of made me who I am today. I know in 10 years I'm gonna be into some other stuff. The stuff I'm into now, I'll probably be searching for in 10 years and get stoked on it.
So, I think at the root of it, uncovering gems has always been fun and that's very inherent in vintage. It's fun to do storytelling through vintage, finding the through-lines or connections between eras, or designers, or artists throughout time is always fun to me.
You're initially from LA. Was the Rose Bowl or any of that big for you at all growing up? 

Yeah. I mean, so I didn't start going to those until I was older. Growing up I would go to thrift stores like the Salvation Army and Goodwill or local charity shops in between classes at school. I went to part of my undergrad in LA. So, in between classes to kill time I would go and just kind of just search around. Then, definitely. I started to go to Rose Bowl, a lot of estate sales, garage sales. I would travel a lot with my family. I would always see if there was a thrift store nearby and go check it out cause I was always curious what people in other neighborhoods or other towns have in their thrift stores. What does it tell about the area? 
At what point do you end up in New York? 

I moved there about eight years ago. 
Would you say around the time you moved to New York is when you started to consider this more like a job than a hobby?

Uh, no. I had another job that was completely different than this. So, it was still very much a hobby. I was very much still drawn to it, very inspired by what Procell was doing. That was definitely a big inspiration. When you're just doing it as a hobby, there is some trading and commerce involved. It wasn't until a couple years ago that I was like, you know, I wanna try it, try to do it a little more seriously. Little by little, it sort of grew. It got more and more traction over the years, which is cool. It's great that people are into this stuff I'm curating and putting together.