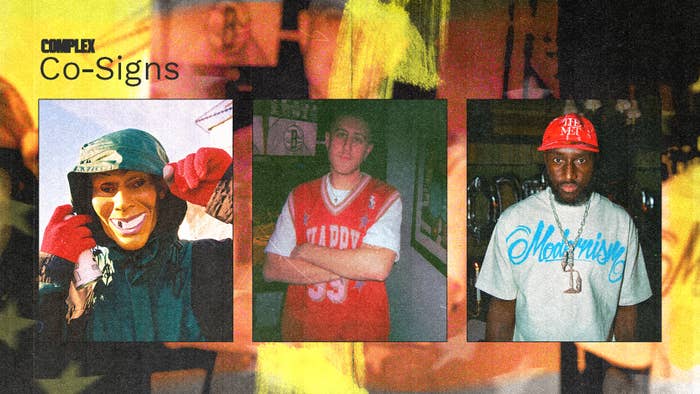 'Complex Co-Signs' is a monthly feature that will highlight up-and-coming or under-the-radar creators within the style space that we are personally fans of but may fall outside the realm of our regular news cycle. Hopefully, it will help you discover a new brand or learn more about someone that you've already taken a liking to. Whether you are familiar with them yet or not, these individuals are surely worth keeping up with.
Jacob Consenstein is a photographer who always happens to be in the right place at the right time. A soundcheck that BadBadNotGood asked him to shoot at Carbone ended up being the location of Virgil Abloh's Met Gala after-party filled with celebrities. Briefly working retail at The Good Company led him to meeting a young British designer named Clint 419, who later invited him to document Corteiz's headquarters in London last year. And a chance meeting with the New York rapper Wiki at 18 East's flagship led to Consenstein creating the visuals and a book for Half God—Wiki's collaborative album with Navy Blue. 
While the universe seems to naturally guide Consenstein to incredible creatives, artists, and celebrities that he's photographed, don't get it twisted. Consenstein didn't reach these spaces because of luck. As a Manhattan native, his hustle and eye for real New York City culture has allowed him to become one of the city's most distinguished photographers.
"The only reason I ended up doing photography was because I liked fucking around; being around graffiti writers and people who partied or were on some kind of bullshit," says Consenstein, who started taking photos with disposable film cameras he shoplifted in 2013. "I feel like I've just kept it super connected to what I'm interested in and never really wavered. I love hip hop, music, graffiti, and New York in general. I love taking photos of people on the street. Once you create a voice that way, people know what to expect from you. And if you can keep them surprised a little bit, they'll stay tapped in."
Since he started taking photos a decade ago, Consenstein has continued to document the nitty gritty pockets of New York while also making a name for himself as a commercial fashion photographer. His documentary-style photography has captured New York City graffiti legends like the late ZEXOR and his ongoing "Artist Series" portraits have spotlighted many of New York's up-and-coming creatives. An artist who originally supported himself by working retail at stores like Only NY, his eye for great product has recently led him to direct campaigns for rising New York City labels like 18 East and large footwear brands like Keds. 
Here Consenstein reveals how he photographed the night of one of Abloh's last public appearances, what photography equipment he uses, creating the visuals for Navy Blue and Wiki's Half God album, and more.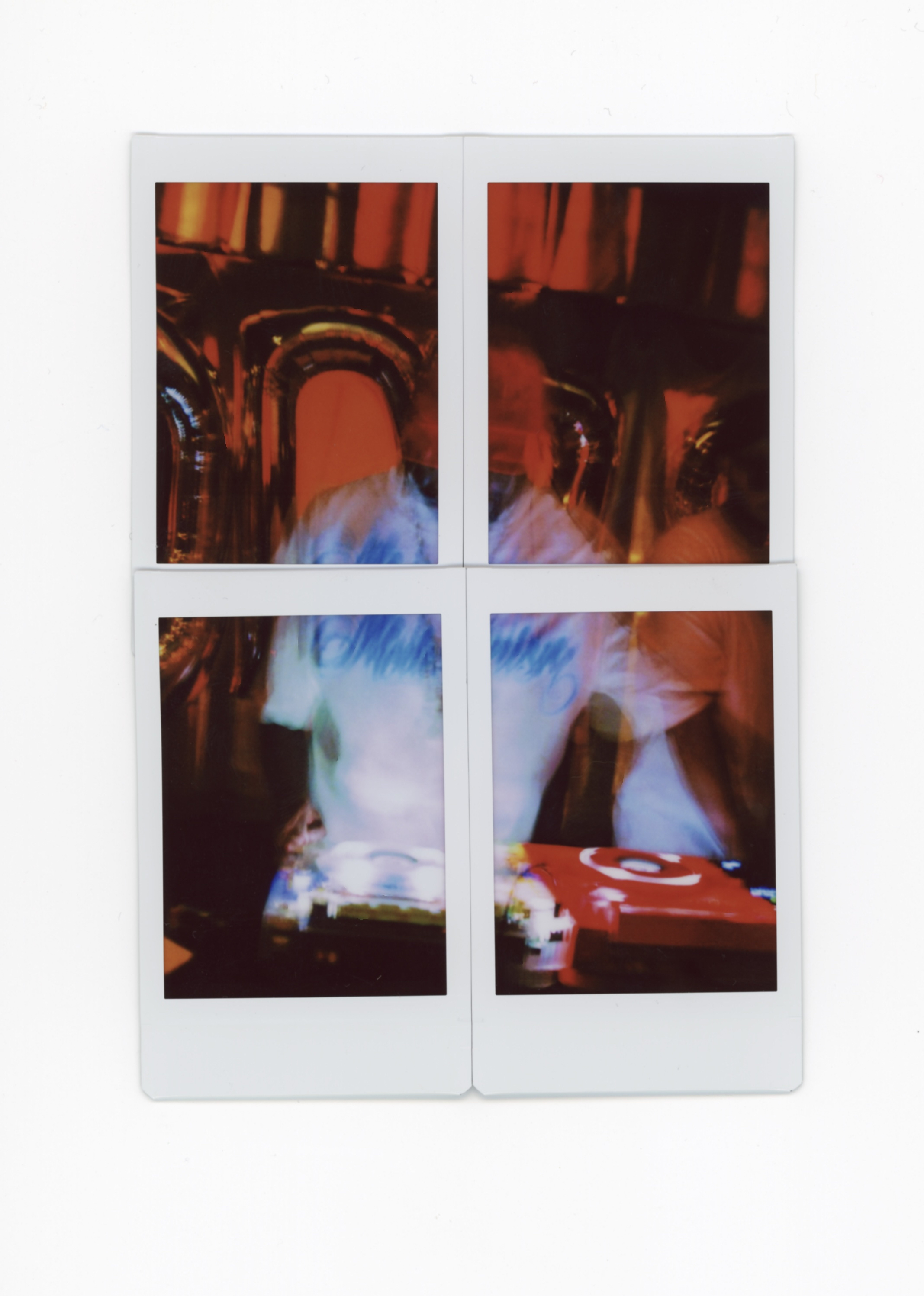 As a fellow New Yorker, I've been following your work for years. You've shot campaigns for brands like 18 East and celeb portraits that have gone viral. How did you get into photography?

Well I was a really shitty high school student and I felt like all my friends had hobbies, were good at school, or were athletes. I just didn't have any of those things and that was super frustrating. I spent most of my time either going to rooftop parties or hanging around people doing graffiti. I thought that was all so cool. So as a broke high school student, I just started stealing disposable film cameras from a local pharmacy chain. This was back when this pharmacy developed film so I was stealing their cameras and then bringing it back to them to get it developed.
I did this over and over, from 2013–2018, obsessively. One of my friends noticed I had an interest in photography and was into it himself for a minute through sneaker culture and streetwear. He gave me a real camera, I shot one roll of film, and I was like, "Oh shit, I think I've found my thing." I believe 2014 was when I shot my first roll of film on like an actual SLR camera instead of a disposable. But yeah, this all happened super naturally. So when I got out of high school, I just wanted to figure out how I could pursue that further.
I called and emailed a bunch of clothing brands. I ended up interning for Acapulco Gold and Only NY. The Only NY internship eventually turned into a retail position. Through that, I just started pushing them to see if I could shoot their lookbooks and they were open to it. Unfortunately, I was getting paid super little or not at all, but I was super happy to do it. But then they gave me more of a platform to do more formal commercial work for them. At that point I worked with super small budgets. I just met up with friends and cast people who I thought were cool within the culture. In the meantime, I also got an internship at Mass Appeal magazine and that really put me on to hip-hop and graffiti culture. Between 2015–2017, they were the platform people went to learn about that stuff. I assisted in writing a bunch of articles and interviews. That kind of got me super obsessed with graffiti.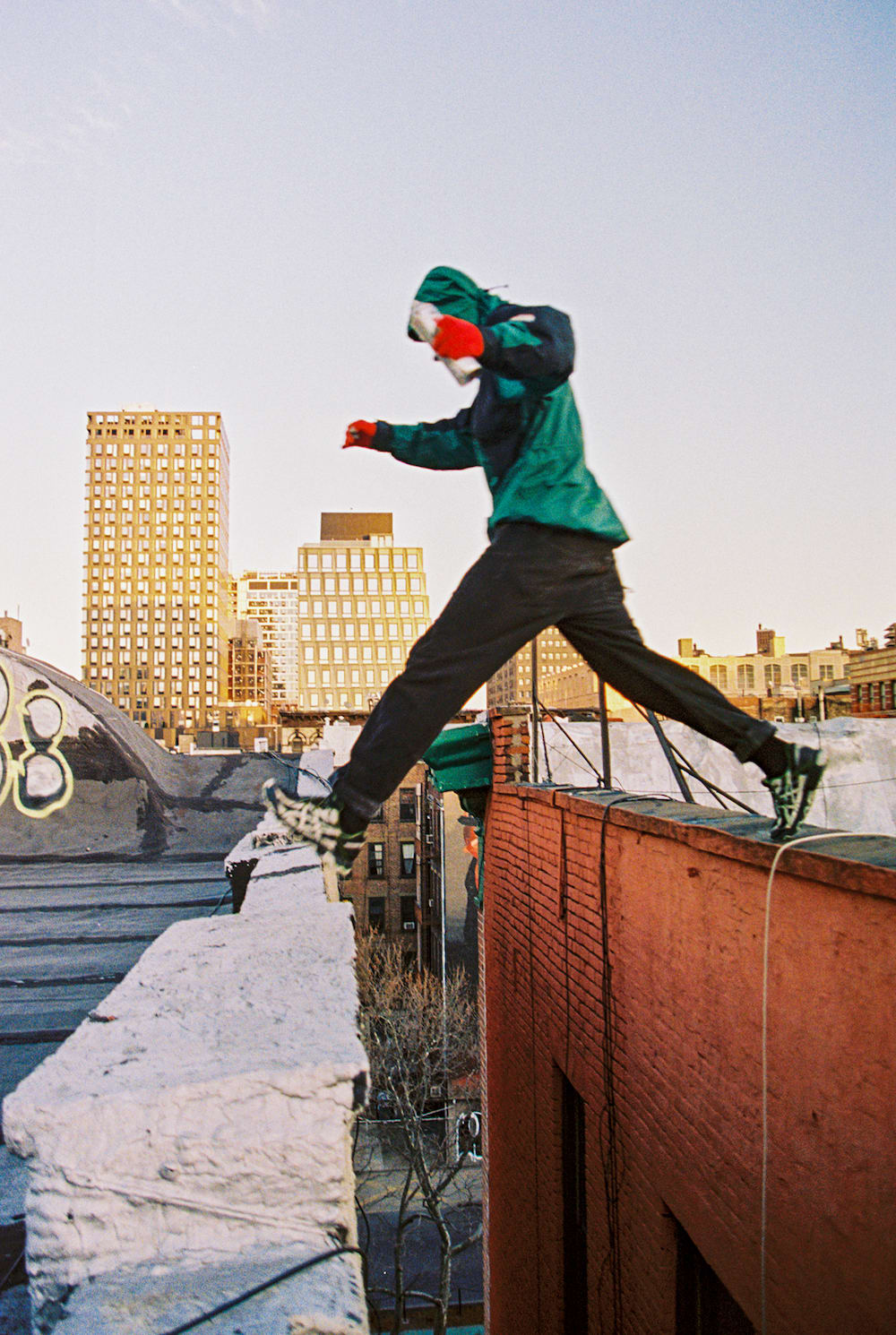 What was the first camera you got gifted?

A Pentax K-1000. That's the perfect starter camera if you're trying to figure out how to use film. It's all manual, super analog, and has a very interesting feel to it. It feels like you're using a camera from the 1920s. If you want to fuck up and learn how to really use film, that's the one. 
There's a lot of photographers in New York. How do you distinguish yourself from the rest?

I don't think that I necessarily put in a ton of effort with the idea of being distinguishable. I feel like if you try really hard to do things that are outside of yourself to be distinguishable, it will come off as ingenuine. So, my advice to other people is if you're interested in something, expand upon that and figure out ways to contribute to people who are doing things that inspire you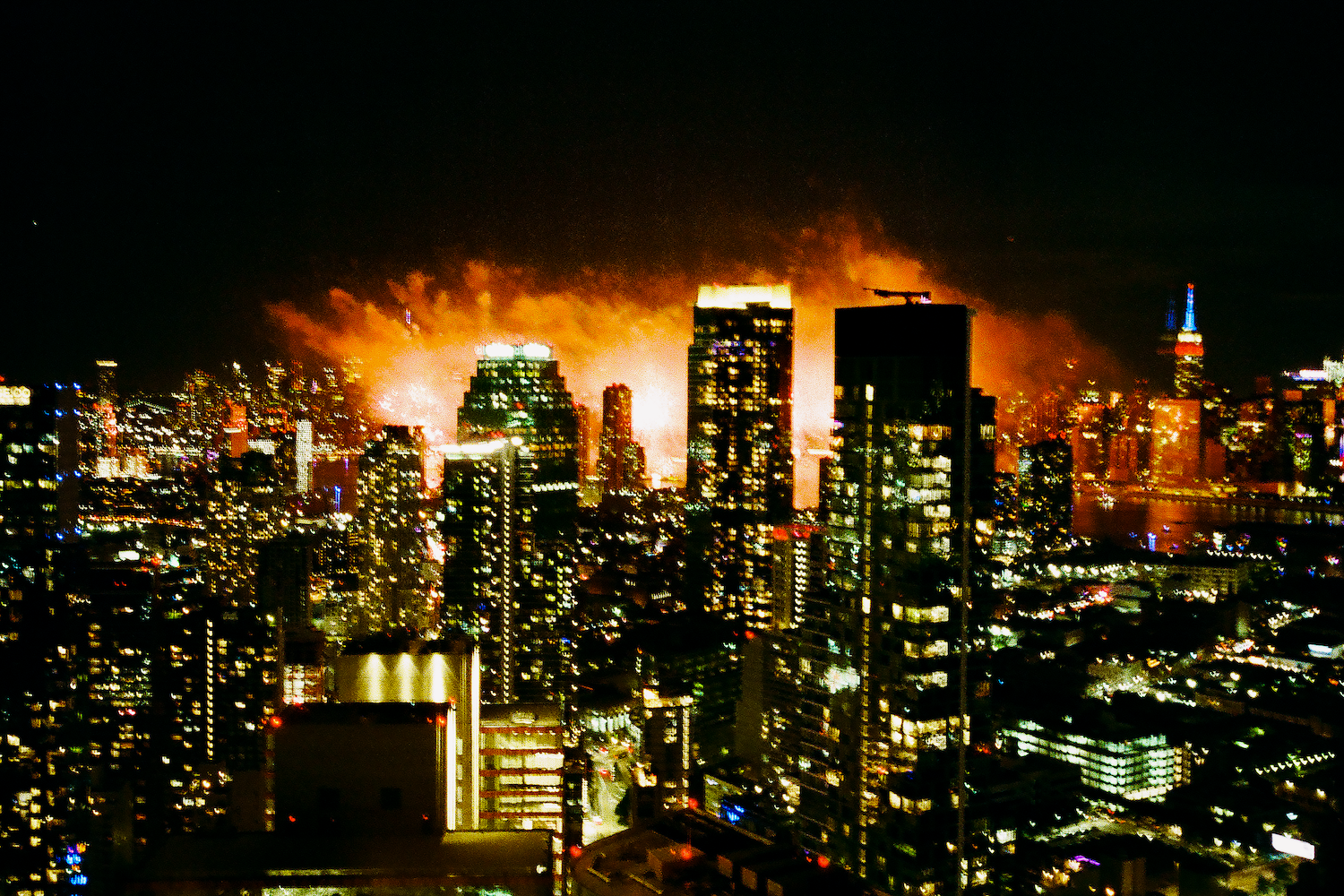 Would you label yourself to be a street photographer?

When people ask what I do, a concise answer I give them is that I do commercial fashion photography, typically within streetwear and footwear. But for personal work, I do documentary style work. I photograph artists in their studios and street photography. That's kind of how I break it down. But honestly, that's changed a lot over the years when it comes to how I define my work. Even just starting to understand photography as an art form more, I've had to redefine what I define myself as. I also help people with art direction stuff and graphic design. There's honestly just a ton of shit that I have my hands on but to be as accurate as possible, it's commercial fashion photography and then documentary work about artists in New York.
So when it comes to that documentary work, what rules do you abide by? I feel it takes a certain approach to produce street photography that feels visceral. What's yours?

I'm honestly trying to learn more and more about photography so I can even wrap my own head around my approach. I have my camera on me 24/7 and I commute a lot. I live in Bensonhurst, Brooklyn, my studio is in Bushwick, and I've always worked in Downtown Manhattan. I'm very used to photographing while I commute. That's been super consistent for my own practice. One thing I've read about other photographers and their approach to street photography is that it's about having faith that the universe will provide you the things that you are looking for without necessarily looking for them. The universe has to collaborate with you. If you're walking outside, not looking for one thing in particular, you're kind of just taking it as it comes to you and having faith that the universe will show you something that inspires you.
I also go to a certain place in my head and openly observe while trying to be as detail-oriented as possible. I feel like those small details are really important. The small gestures. People holding hands. Children navigating spaces. Then, it's having an understanding of your surroundings as well. By having a deep connection and understanding of the spaces that I'm in, I can pinpoint things that are happening within a space that feel substantive and then capture that.
I'm still trying to figure out the exact words to describe what I do to make my images feel visceral. I had someone recently check me the other day by saying, "Yo, remember that you're an artist, act like one." That changed my approach over the last few weeks and these last few rolls of film I've shot are some of my favorite works of street photography that I've ever made. So, to the dude who put fire under my ass, I gotta say thank you.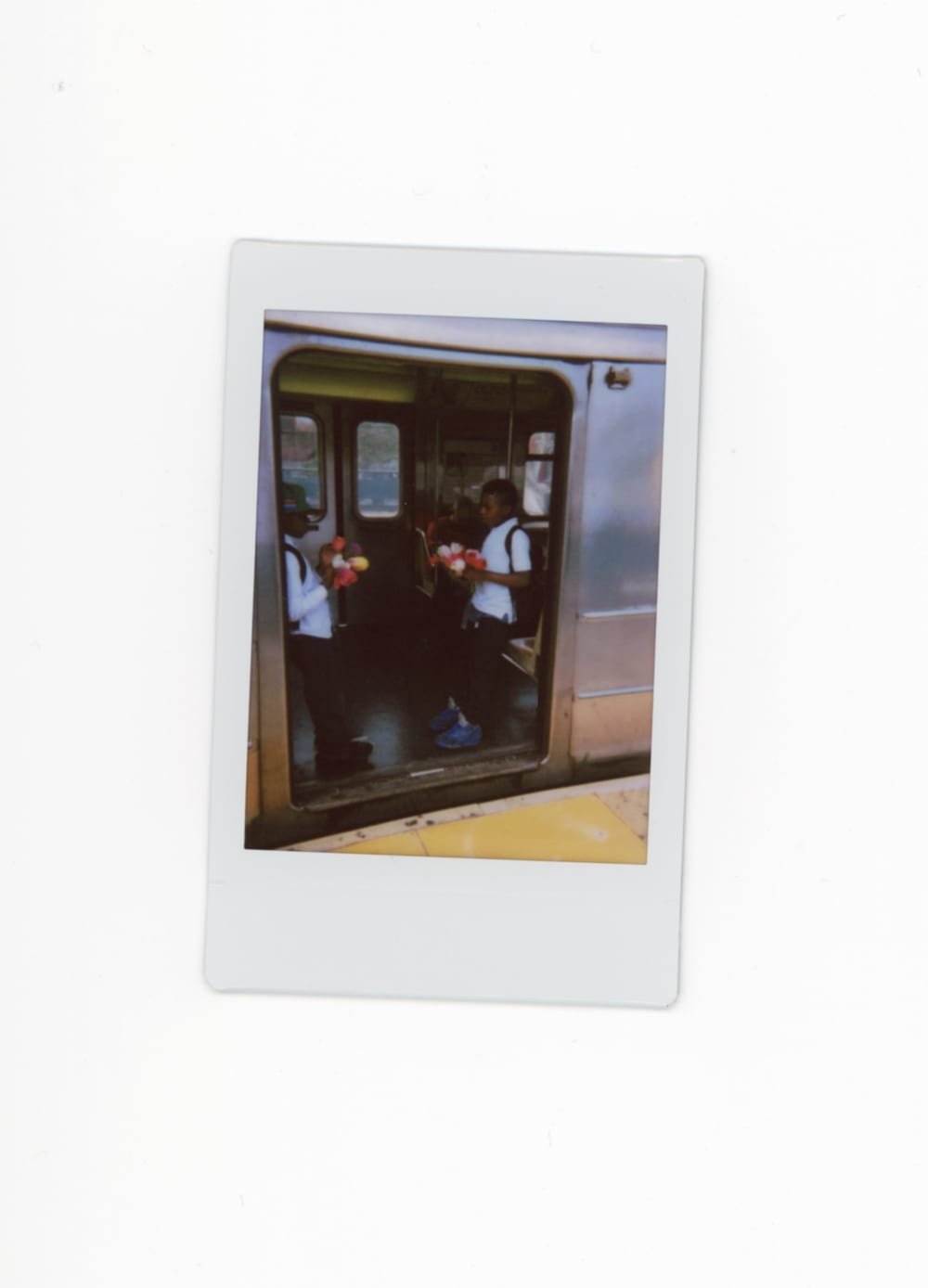 Could you share what you shoot with?

I'm starting to familiarize myself with digital just because film is getting so expensive and clients usually want digital just so they have a guarantee that I'm getting the shots. For personal work, it's all film. For that, I use the Fujifilm Klasse W and the Ricoh GR1s. For campaign work, I use the Canon Pro EOS N-1 with a Sigma Zoom lens. Those are my setups for pretty much everything. I feel like photographers gatekeep and there's no gatekeeping on this side. I want people to create great work. People ask me what I shoot with all the time and I'm 100% open to show you the camera, tell you why I like it, and then keep it moving.
You mentioned that film was getting more expensive. Is it getting harder to shoot film these days or becoming less accessible?

Everyone's favorite film I'd say is Kodak's Portra 400 and the factories had shortages for that film. So that was really hard to get your hands on and the prices went up by 25% just to buy it. Now, scanning and developing is starting to get more expensive. So it's becoming less accessible. Personally, I don't come from a very privileged background. So there have been moments where I've chosen to pay for my film instead of eating. I'm starting to look at digital options for sure, but it would just completely change the way that I approach things. Film is slowly getting more inaccessible and that's very unfortunate because it's such a beautiful medium.
What are your thoughts on this new trend to shoot with compact digital cameras?

Well I really love very detailed, high-quality images. The reason why I love medium format film is because there's so much information and texture there. You can zoom in and see people's pores. So with these small Y2K point-and-shoot cameras, unless it's edited really well and the color grading is cool, I'm not really that into it just on an aesthetic tip. I think anyone carrying around a portable camera to capture moments is super sick. I'm down for that. I love that. But I don't look at those photos and think they are amazing. Personally, I want to get a really high quality compact point and shoot digital camera to carry around just so I could take detailed images in an accessible way and not have to pay a bunch of money every time I shoot. That's something I still have to wrap my head around before I even make a purchase. But that Coolpix stuff is cute. It's a trend, I'm down for it, so keep it going.
Are there any photographers who have had a huge influence on your work?

When I first started getting into photography, I didn't. My only jump-off points were my friends and local artists who I wanted to kind of emulate. The first two I can think of are Richard Sandler and Matt Weber. Those two showed me that street photography was something that was really gorgeous and that it can change someone's perception about their own environments. That was really important. The photographer pair Alex Webb and Rebecca Norris Webb have been hugely influential. Rebecca was a poet before she was a photographer and she relates almost all of her work to poetry. My father's a poet and translates French poetry. So that was something that was also very inspirational and I've always felt so much poeticism within photography and within my own work.
I also went to Dawoud Bey's retrospective at the Whitney and the work he did documenting Harlem in the '70s is just unbelievable. He kind of skewed more into formal documentary work and that's really dope for me to see as well. As for friends, I'm inspired by Dean Majd. He's currently in an exhibition at the Museum of New York and is an incredible photographer.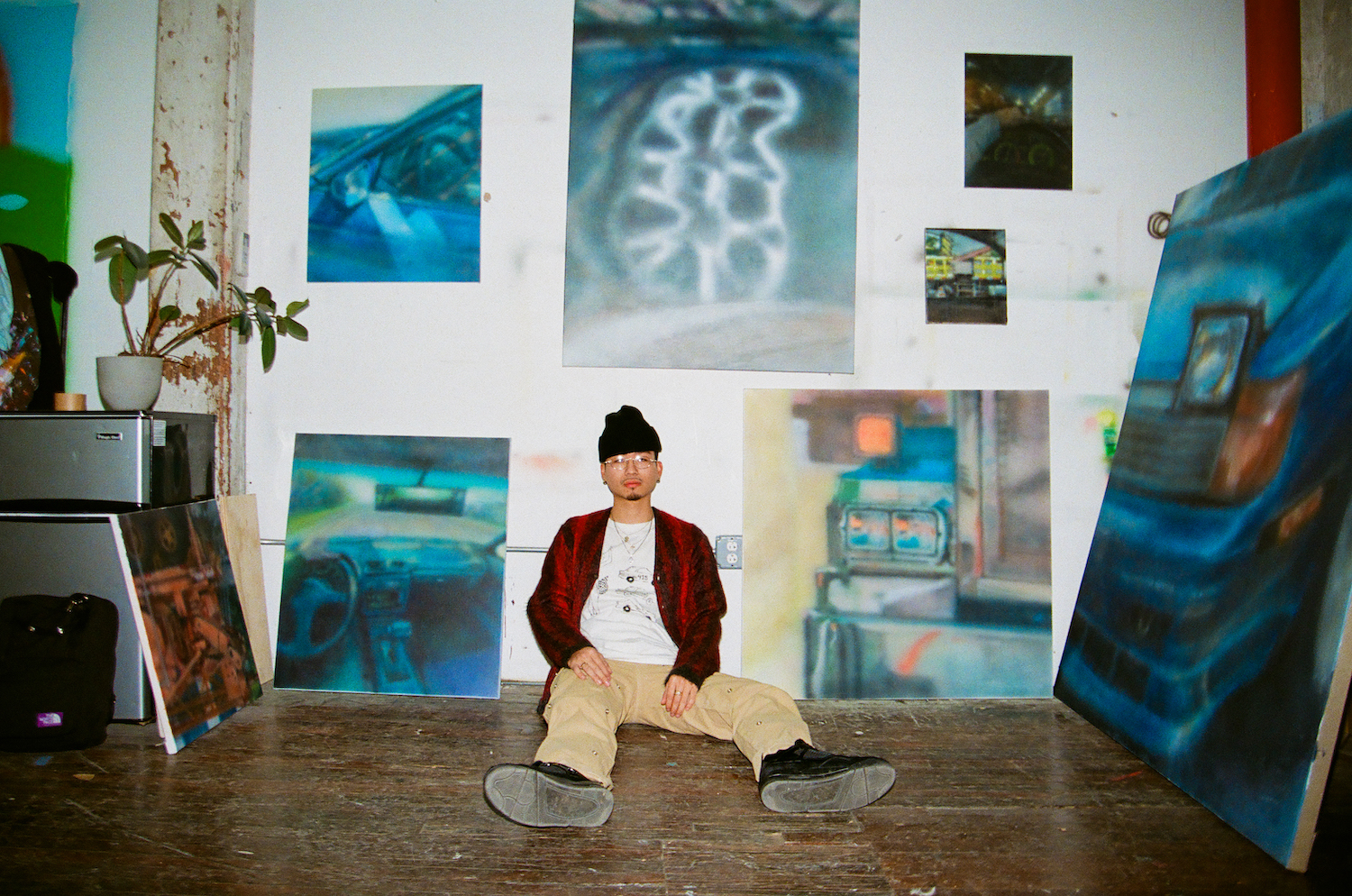 So would love for you to talk to us about your 'Artist Series.' You've highlighted rising rappers like 454 and painters like Leon Xu in those photos. How did that start exactly and how do you pick your subjects for that?

I owe a lot of my interests, success, and inspiration, to the people that I've been lucky enough to be around. People who make incredible work and are really dedicated to their art forms. They gave me examples of what success looked like within the industry when I didn't really know what that looked like. So I wanted to create a series about those people. It's slowly becoming something a bit bigger and I've been fortunate enough to profile artists that happen to have large followings.
These people are so sick and I want people to know about them. I want to have the privilege of photographing them. I feel like we're kind of in this renaissance era and there's a ton of people outside doing amazing shit that are crazy dedicated to what they're doing. I just love to have the privilege to provide another platform, especially now, since I have a larger following.
Personally, I love how you photograph graffiti. So many people run graffiti pages on Instagram but few photographers really capture the physical act that makes graffiti bombing so captivating. I would love to know how you started documenting our city's rich graffiti culture.

I just always thought it was the sickest shit. As a little kid, I would see tags and try to figure out who did it. From growing up on the Upper West Side, there were a bunch of writers that I saw growing up that I was so enamored by. I really got into it when I started working for Only NY. A lot of the people who worked there painted very heavily. They were not just catching tags. They were outside bombing, had crews, and had regiments. They were tapped into graffiti in a way that was very authentic and really inspiring to me.
I just started hanging around those writers and they became my close friends. Once you're in those spaces, you meet other people that do the same shit. So I was around the best graffiti writers in New York. I knew ZEXOR, BAK, and ZNO before they all passed away. The crews I was hanging with, like the Chadie Boys, paint really heavy. Within the past decade, they've become one of the biggest crews in New York. So it came through friendship and being around people while expressing that I wanted to photograph them.
Two years ago, I had the opportunity to work with The North Face and they commissioned me to do an editorial series. I chose to do graffiti work and that's when I really started going on missions with writers. I got arrested one time and I stopped doing those for a while. But I just got back into it again this year.
Any crazy stories related to your graffiti photographs?

Something crazy has happened every single time I've gone out. Graffiti is one of those things that puts you in the crevices of New York. You're around people who have very unique life experiences with very unique priorities. Real writers prioritize getting up more than anything. That's a crazy thing to prioritize in your life. So every single time I've gone out with writers, something has popped off with no exceptions. One of my favorite memories is when I went out with EOK and SKAM. It was a flawless night. Every single spot was super clear and calm. At like four in the morning, we saw one of the [MTA emergency exit] hatches open and all of us ventured in. It was us and seven different people, five-stories deep, in the subway tracks. It was one of those moments where you look around and realize that this is such a wild life we're living. We eventually all left, got out safe, drank beers, and split ways. But it's that feeling of painting all night, risking everything for the shit that we love, ending up hundreds of feet deep under New York, and getting out safely with a beer in our hand. Nobody got arrested, nobody got hurt. I'll always remember that night because it was flawless across the board and just mad fun.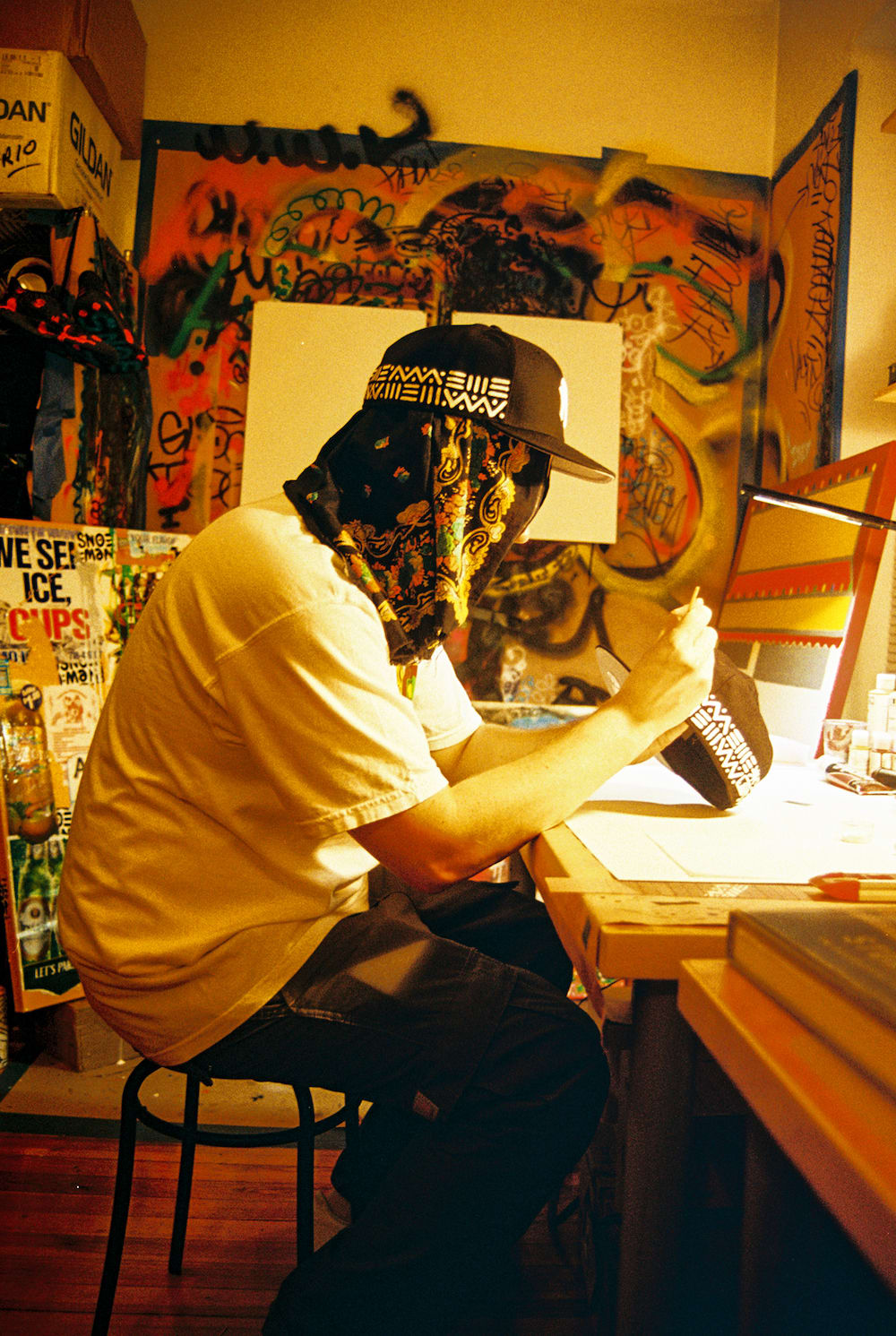 One writer that I feel you've had a particularly rich relationship with over the years is SNOEMAN. Salute to Smart Crew for real. What drew you to follow his art over the years? I feel you've really captured his transition from being a graffiti bomber to being a community-minded artist so to speak.

I love to hear that because that's my dog. I have so much love for him and he's a genuine close friend. I met him in 2015 because he would come to Only NY and pick up paint markers. He was just a graffiti artist I loved at the time and I was honestly a fanboy. But from that point on we just connected on some graffiti and New York nerd shit. I remember asking to photograph him around that time and he had never even shown his skin color on camera before. Nobody knew what he looked like and he was super nervous about sharing anything about that part of his life.  What drew me to him was just seeing his work my whole life. I'm 27, he's been in New York painting for about 15 years, so it was like I was 13 when he was bombing heavily and putting up stickers everywhere. SNOEMAN was a part of my visual landscape for my entire young life. I was super inspired by the work he put in.
We eventually did a whole campaign for Adidas together. I also documented him painting jackets that he donated to homeless people on Christmas. I know people hate writers who aren't originally from New York. But the thing is, those writers who hate are not community-oriented. They'll talk shit about other people but will never contribute to their community. Meanwhile, SNOEMAN'S out here like doing free work, making the streets more beautiful. He's known on the block and he's great to everyone around. So I love to see him tapping into that and that's really dope.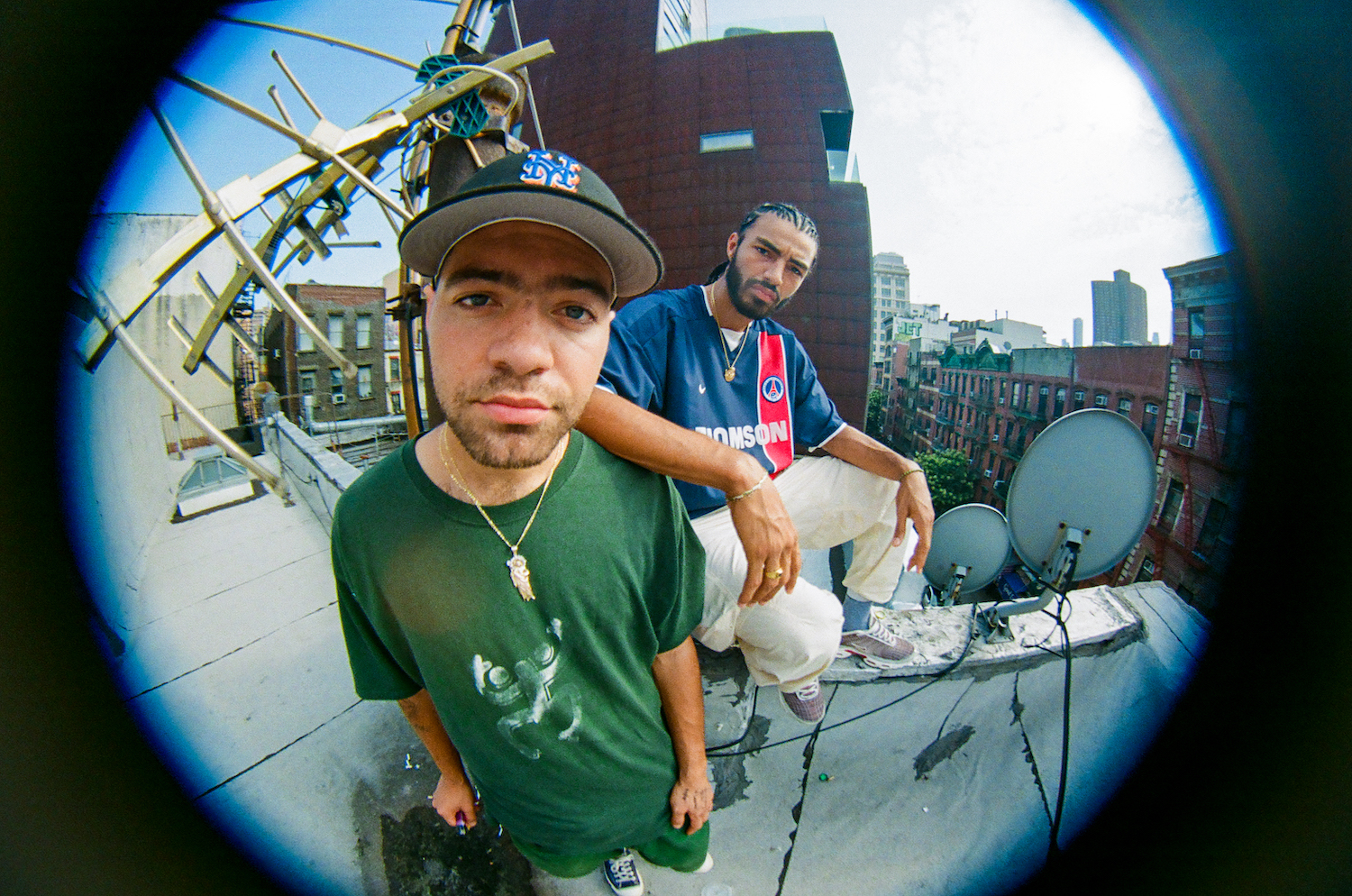 Aside from SNOEMAN, one other artist that I've noticed you have a super close relationship with is the rapper Patrick "Wiki" Morales. What can you tell me about your bond with Patrick and your work on his album with Navy Blue, Half God?

I remember seeing him around in high school for a long time. I'm like three years younger than him, so he was like a senior when I was a freshman. He grew up like a block away from me and I remember seeing his tags around my neighborhood. We became cool while I was managing this shop called The Good Company on Allen Street. I worked there for like two years and during that time he did a release there for a project he released right before Half God. We got along super well and from that point on we would just see each other around.
When I was working at 18 East's Elizabeth Street flagship in October 2021, he ran into me outside. We smoked a spliff, hung out, and chatted. A few days later, he swung by with a portable speaker and showed me all of Half God. It was unfinished tracks, he was spitting every bar at me, and telling me about everything. Me and him have a lot of similar childhood references because we grew up in the same neighborhood. Since he's an independent artist he needed somebody with ideas and input for visual landscapes. It was a huge opportunity to capture somebody I've been a fan of for so many years. I know every bar on his Wiki 93 project. I genuinely listened to his music.
In the same breath I was spending a lot of time with Theophilos Constantinou, who runs a publishing house called Paradigm. He's also a huge hip-hop head and we both started talking about potentially making a book together. So from that point on, I just linked with Pat as much as I could. Within a six-month period, we photographed like eight to 10 times together. Eventually we coordinated a day for me, him and Sage to shoot together because we knew we needed that shot. Sage actually just got signed [by Def Jam] that day. So after the shoot he took me and Wiki out for pasta on some celebratory shit.
Wiki's my dog and one of my favorite projects in my whole life is making that book and providing the visual direction for Half God. The vinyl is my photo, the poster that comes with it is the contact sheet from our shoots together. I did all the hand styles, the layout, and all the graphics. So that's an impactful project for me. 
That Cold Cuts shoot with Subjxct 5 and Wiki is also definitely one to remember.

He asked for help on that as well and I was super hyped to get it done. The concept was them pretending to be deli dudes making sandwiches. I was like, "Damn, how the fuck are we going to do that?" The delis in New York would be like, 'Shut up, get the fuck outta here.' Turns out, Subjxct 5 had a relationship with a deli in Elizabeth, New Jersey. So me and Pat took the PATH train to an Uber, and went outside in the boonies to shoot at this deli. But it was so chill. I even have a portrait of the guy who owns the deli. It was a great shoot, super casual, and super low budget, and the shot that we got was ill. I love that it made the cover. That's such an underground project and I feel it's so high quality but it did not get the shine that it deserves. I also got to photograph Subjxct 5 in front of the housing complex he grew up in.
Would love to know what other books you got plotted in the future?

I really want to put out a book of personal work, mostly street photography, but I'm still formulating the context and narrative for it. Right now, I have one project in mind that's called Why God. It's a commentary on religion and culture. The visual expression of that within landscapes in New York and how it relates to the people and cultures that fill these spaces. That's not fully hashed out yet and I have nothing official coming yet. But the next book I put out has to be a career-making move. So I'm formulating, plotting, thinking, and writing. But you'll 100% within the next five years see a book for me.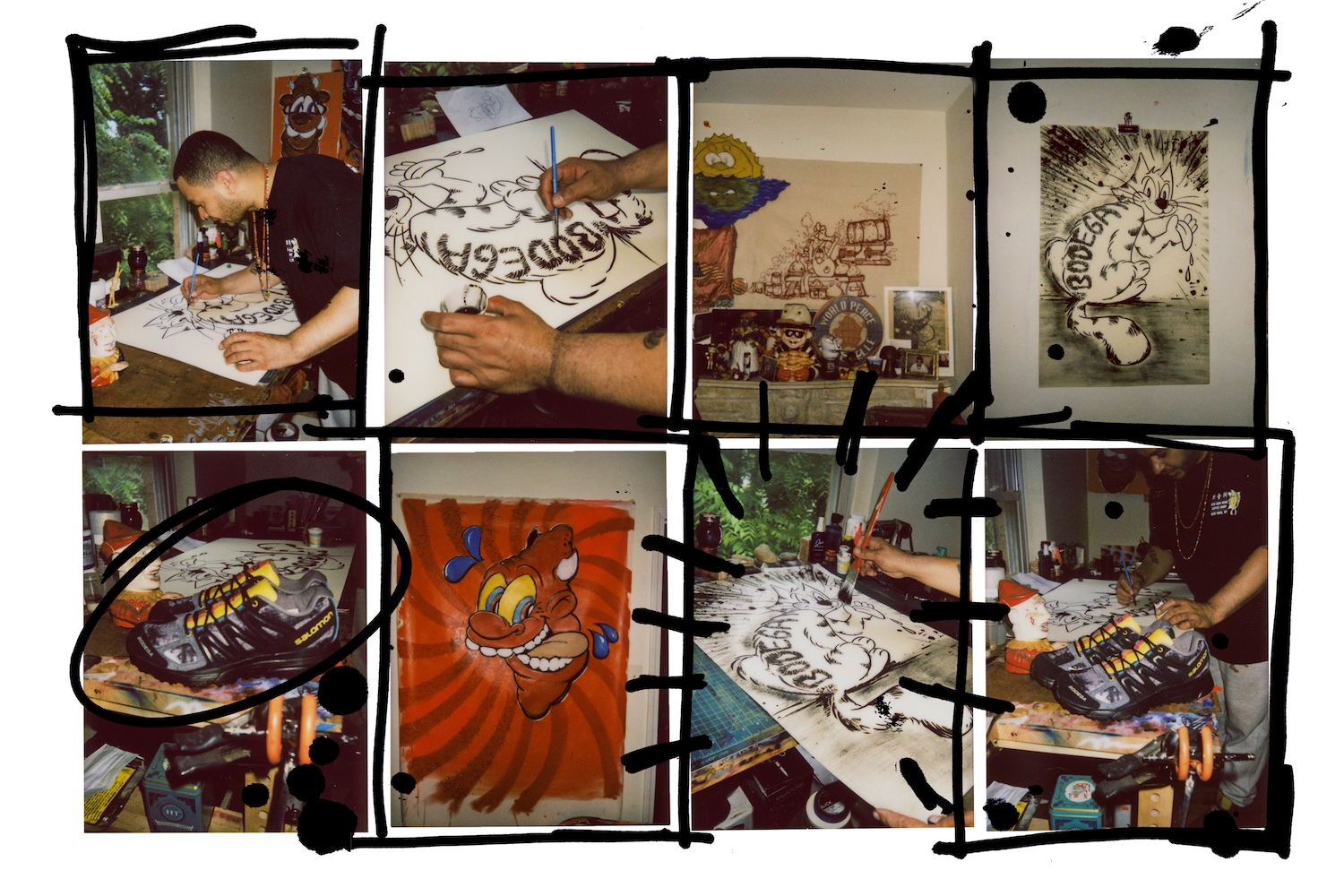 I feel like I got introduced to your work through Only NY. Since then, you've done work for brands like Salomon, Alife, Advisry, and more. How is fashion photography different from everything else you do?

People creating successful brands is really inspirational to me and it's such a different way to choose to make money and live life. Like I said, my approach always is kind of connected back to me just being a fan of everything. I was super lucky to be given opportunities from people who were young and making brands that were starting to become successful. So I had an idea of what it took, why it was relevant, why it was important, and why people were into what they were seeing.
Like other things, it just started off with me asking friends if they wanted to photograph with me and we took it from there. While I have an eye for product, I feel like the subject is always super important. Casting someone who has talent or has a reason to be on camera I think is really important. I just love fashion. I love streetwear. I think all that shit has such a huge place within culture and if you're able to approach it well, it's just so sick.
You mentioned that you art directed campaigns. Is there any specific one you're particularly proud about?

I don't know if I have a favorite but I just photographed a campaign for Keds and they're an amazing client to work with. I have a long relationship with them and that was probably one of the biggest budgets I've worked on and one of the first campaigns I've ever directed. So that's currently one of my favorites because I was able to approach a project that was a lot bigger than the ones that I've approached previously. It was a challenge and I really bodied it. So, that was super affirming and very dope to just know that I can achieve something like that. But honestly, all the brand work I've done is still tied into my own interests. I'm starting to get hired to shoot artists and that's so sick to me. I'm going to do that anyway. If you want to pay me for it, please. 
Any brand you're vying to work with?

I want to start getting into luxury. Before Virgil Abloh passed I was in his DMs all the time and we chatted a few times about working on something. If I can do the stuff that I'm doing right now with a luxury brand, that would be really tight. Personally, I would love to do something with Loewe because I love their clothes.
Would love to hear the story behind those Met Gala photos.

I was not supposed to be there that night. I was with BadBadNotGood. I am very close with the band and I was on tour with them three times last year. Alex [Sowinski], the drummer, asked if I could photograph them during a sound check. I said sure and did it as a favor for them. It was a free gig and I just asked them to pay for the film. I pulled up to Carbone and I saw there was this crazy CDJ setup, "Modernism" balloons, and then everything started coming together in my head. This was not a normal party and I asked them what was up. They told me they were asked to play because it was Virgil's birthday party and the Met Gala after-party. I asked if I could come. They told me the whole reason they asked me to come photograph the soundcheck was because they didn't know if they could bring other people. I was like, "I'll come to your hotel room. I'll photograph you guys in the LV that Virgil gave you, then I'll come with you guys to get in. If they don't let me in, I'll just be on my way. It's chill." So I pulled up with them and walked right in.
I was sitting there for 20 minutes and had a few glasses of champagne. I talked to folks like Tremaine Emory and other big names I recognized super casually. I knew it was going to be a pretty interesting night for sure and then realized I was sitting there for way too long. I needed to get up. I started smelling a Backwood burning. "Who the fuck is smoking a blunt in Carbone right now? This is nuts." So, my pothead ass went to sniff out where the blunt was and it was Kid Cudi and Pete Davidson. Jack Harlow is also in there Facetiming Zack Bia telling him to pull up. It was just nuts and the night continuously got crazier. I was there until the early morning, got super drunk, and was just photographing the whole time. There were no other photographers there. They had disposable cameras lying around but I don't think there was a plan to develop them. I've only seen a few of those photos. But Russell Westbrook, Justin Bieber, every single celeb you could imagine, was there. 
I left so trashed with 12 rolls of film in my pocket and literally bumped face-to-face with Lil Baby. It was just crazy. That was just one of those nights where I was not supposed to be there and I capitalized on it. Even to this day, the people from the Off-White team that I met there have hired me for stuff. That night led to a lot of other opportunities and I've since been hired to shoot for so many parties and events. I feel like a lot of my career has been just being in the right place at the right time. I still can't believe that happened and then for Virgil to pass away just months later was incredibly tragic. For me to even have any connection to that dude and contribute at all before he passed was just really special.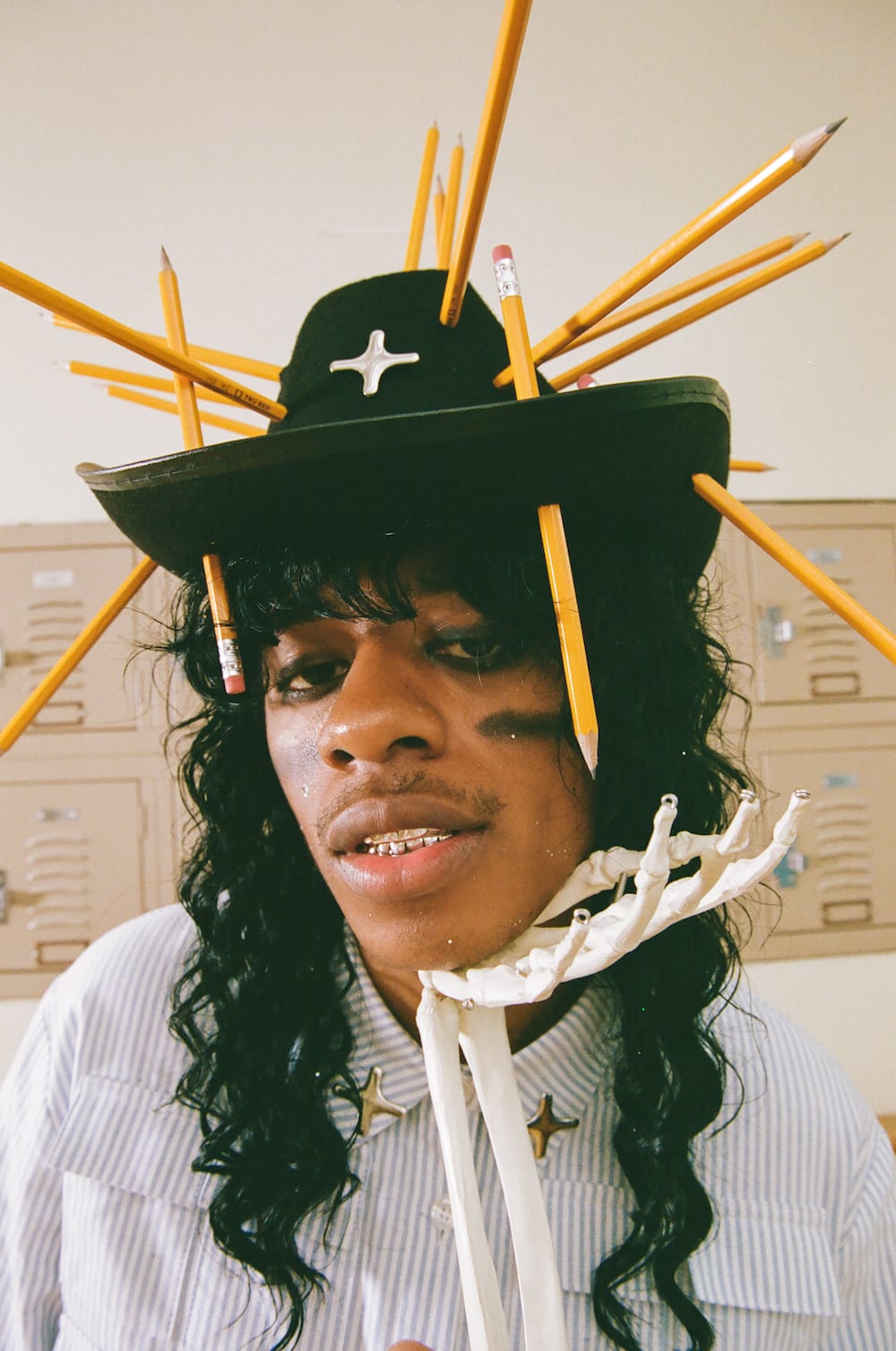 Aside from that, I feel like you made a really dope mark within the fashion world through that Tombogo show at LaGuardia High School last year. You literally took the final shot for his NYFW presentation that season. Can you speak a little bit about that day and how it all came together?

That was so fun and one of my favorite fashion shoots of all time. Tommy is a good friend of mine and we've worked together a bunch. I love contributing to what he has going on because he makes such great shit and is such a good dude. When he told me he was throwing something in LaGuardia I was like, "Fuck yes, that's so sick," because I went to high school down the block. He's super humble and didn't really tell me about how stacked the lineup was regarding models. So I was kind of surprised to see these incredibly famous artists that I listen to and know about there. The day before the shoot, I checked what rooms were available for me to photograph in. I ended up choosing the gym, the library, and a classroom. I then spent the entire day dressing the set. I was crumpling paper up paper balls, breaking pencils in half and throwing them on the ground, and rearranging seats.
Shout out to my man Allen [Jiang] who helped me with the lighting and has also been an incredible assistant in the past for helping me do that. I literally had sessions with each model individually after they were done getting their looks together. I went through like nine looks in like 20 minutes. All of those photos, like the ones with Teezo Touchdown and Joyce Wrice, I deadass had like a minute or two with them. So I was just pushing that shit out and the images came out better than I expected. Every single person that I met that day was so sweet and so nice. I'm really just happy I got to contribute to Tommy's vision and closing out the show was really funny for me. I'm in front of the camera here and there. But walking in front of a whole group of people for Fashion Week was definitely out of my comfort zone. But it was cool that he chose to do that.
I feel like those images are pretty representative of the work that I want to do more of where I work with these renowned artists and create interesting visuals. The setting had a story built into it already and I love that. That's the type of work I want to continue to do.
So what's next for you?

Album covers for artists is the main thing. I look at all of these really dope photographers that I'm obsessed with and a lot of them have shot album covers. I also want to get big editorial sessions with big artists. Also, just becoming a better fine artist. I'm a very good commercial artist. I also think the work that I make for documentary work is very substantive and really important. But I want to figure out how to tell the world why it's important. So, sharpening my skills, doing bigger projects. I want a million-dollar campaign, global campaigns. We are going for big shit this year, but I just want to be a better artist more than anything.