What is Fabrican? Meet The Inventor Behind Bella Hadid's Sprayed-on Dress
Manel Torres is the chemist behind Fabrican, the material used to create the dress worn by Bella Hadid at the Coperni SS23 show during Paris Fashion Week.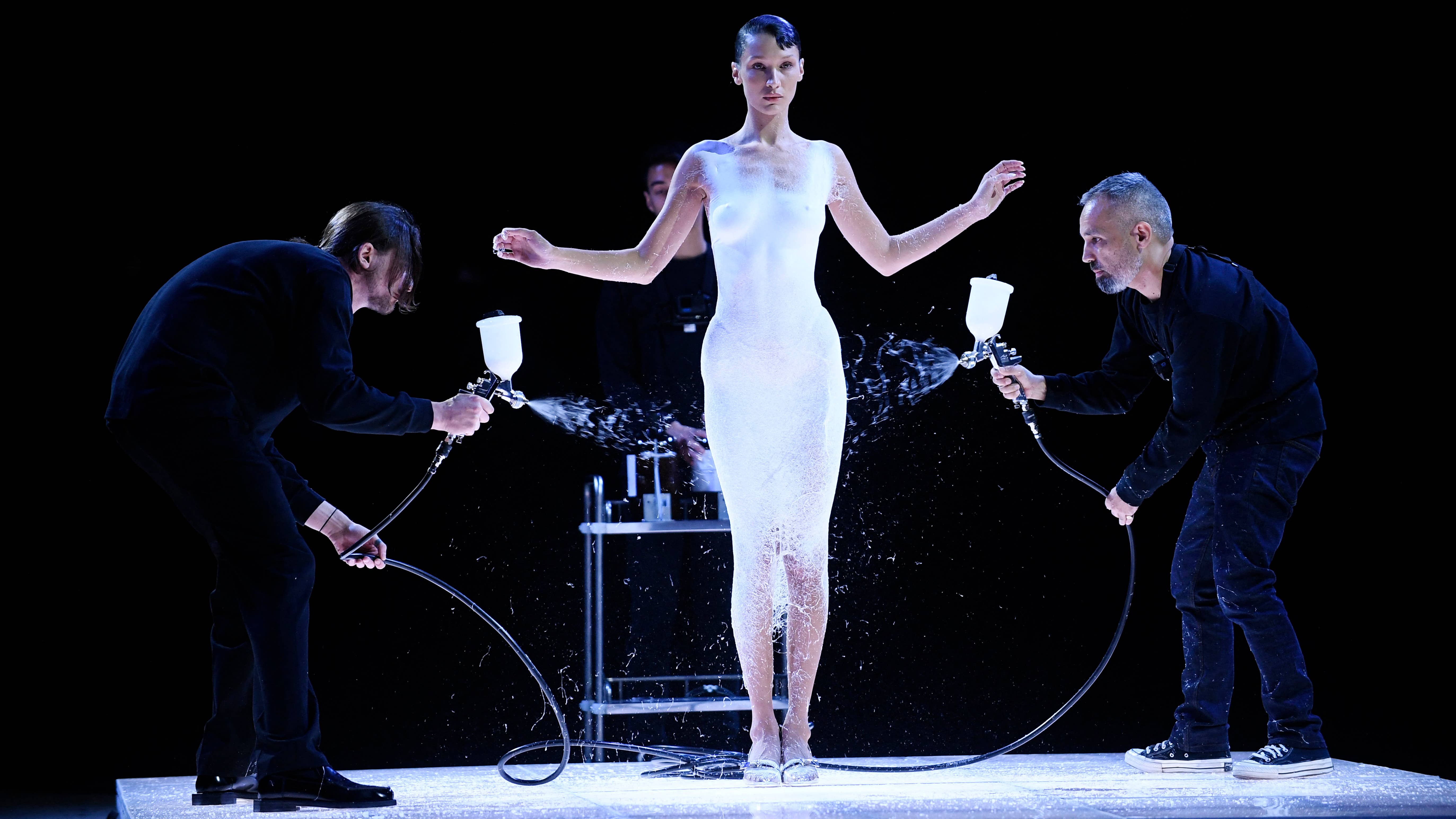 Getty
Image via Getty/JULIEN DE ROSA/AFP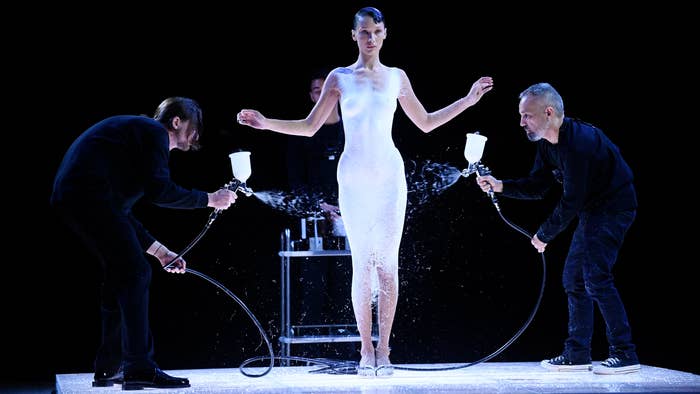 In a fashion scene where most brands constantly refer to the past, it's nice to see what the future of clothing looks like.  
Coperni, the Parisian ready-to-wear brand founded by Sébastien Meyer and Arnaud Vaillant, has always focused on tailored minimalism since it launched in 2013. Yet it also strives to take an innovative approach to design that connects its collections with the current fashion moment and pay homage to the past.  
The finale of their Spring/Summer 2023 presentation for Paris Fashion Week, where model Bella Hadid walked onto stage half-naked to get sprayed with a white substance, gave the brand a viral moment. At first glance, most of us thought it was a performance. But after a few minutes, the white shell that appeared on Bella's body looked like a dress solidified into a texture that almost resembled latex. It wasn't a body painting, but an actual dress. Charlotte Raymond, Coperni's Head of Design, even helped style the dress by cutting a slit into the garment and altering the straps to make it an off the shoulder silhouette. The rest is history. Videos of the dress blew up on social media and are now anchored in the digital ether.
The truth is that this magic behind the dress is not new. It has been around for almost two decades.
The innovative technology behind Hadid's Coperni dress was created by Manel Torres, a Spanish fashion designer turned scientist. Torres has been nicknamed "The Chemist Tailor" because of Fabrican, a liquid tissue made up of polymers, additives, and fiber that turns into a solid nonwoven material when it comes into contact with air. That's why Fabrican can come out of a spray can to instantly create something like Bella's Coperni dress. It can also be used to create protective covering for furniture or car interiors. Torres founded his business in 2003 and has been researching the possibility of creating clothes, chairs, and medical patches with just one spray for over 20 years and counting. 
"I was in Barcelona making dresses with my grandmother. Once I moved to London to study fashion, I couldn't take her with me so I had to think about making clothes in a different way," Torres tells Complex while jovially detailing when he discovered Fabrican, which was during a celebration where he saw someone use a ribbon spray. "What if I can create a T-shirt by just spraying it over my body?''  
His journey started first at the La Escuela de Artes y Técnicas de la Moda in Barcelona, where Torres studied arts with a specialty in fashion design. He then enrolled at the Royal College of Art in London where he graduated with an MA in womenswear. He went on to graduate with a PhD from the Royal College of Art in 2001 by publishing a thesis centered on spray-on fabrics from an aerosol can. It was a collaborative thesis between his school's fashion department and the chemical engineering department at the Imperial College of London. Torres then started creating his own collections with the first versions of Fabrican fabric. Before Coperni, he presented Fabrican at several runway shows like Science in Style in 2010 and during Moscow Fashion Week in 2011.  
Despite Torres' fashion background, he mostly works with clients within the automobile, medical, and sportswear industry. "I'm a fashion guy so my wish is that this industry starts to invest more in technology and not rely so much on branding," says Torres when sharing his views on the fashion industry a couple days after the Coperni moment.  
Many have inevitably compared Fabrican's appearance at Coperni's recent runway show to the finale of Alexander McQueen's Spring 1999 presentation, where the model Shalom Harlow contorted her body as she was spray-painted by two robotic arms that were originally used to paint cars. The only difference is that 24 years later those arms are now human and the "paint'' being used serves a practical purpose by creating a garment out of a spray can. Prior to Coperni, Torres says that he's never worked with any other high profile designers before and has not worked for any fashion labels post-graduation.
"Coperni contacted me over a month ago. They came during the holidays and we started working on the concept. I've spent most of my time formulating and working on this idea since then, says Torres. "Things went really smoothly. I hope that now, the world has seen the capabilities of this fabric in full effect and that more fashion brands will take the same route." 
Torres' drive to push Fabrican into the fashion business has also garnered the interest of other industries outside of apparel. He says it has made him realize that there are possibilities for new production models in all aspects of design. "This is completely a new idea so it requires a completely new approach. That in an industry like fashion, and in any industry in general, is going to take some time," says Torres. He is patient and persistent about achieving his number one goal, which is to make Fabrican available for everybody.  
Additionally, since Fabrican is plant-based and composed of natural fibers, it can be used as an alternative to animal-derived leathers. The fabric can also be washed and reused and sprayed on to again to extend the garment. Torres hopes to grow Fabrican to an industrial scale with the help of a robotic arm spray system that could quickly create complex forms in a very precise way and operate 24 hours a day, which could significantly reduce human labor and product costs associated with garment production. The durability of the fabric is also something that Torres assures to be "very similar to the clothes we use daily but needs to be improved." He reveals that he's currently working with the German government to apply Fabrican technology to produce uniforms.
In the meantime, Torres does what he knows best: work. 
Before we hang up he just wants to throw a message to the world: "Try to stick with an idea long enough and see what happens. I've been working on this project for over 20 years. Now, I'm starting to see some true results," says Torres. "As a creative, you are always looking for the light. So it is right for me to keep doing this until I can't anymore."