Colin Meredith's Streetwear Background Is Helping Arc'teryx Evolve
Colin Meredith has worked for JJJJound, Noah, and designed pieces worn by Drake. Now he's flexing his skills as a designer for Arc'teryx's System_A line.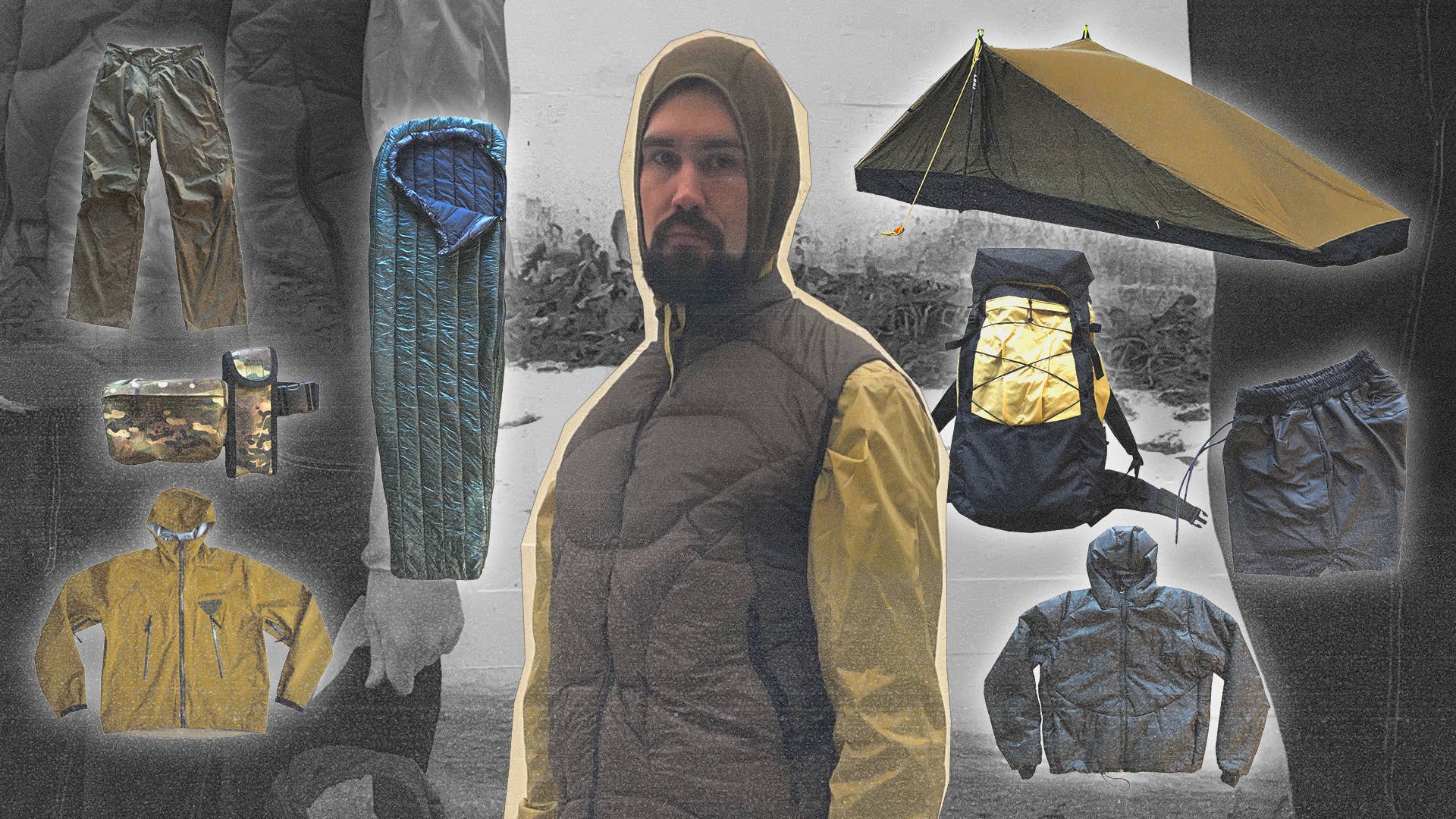 Complex Original
Image via Complex Original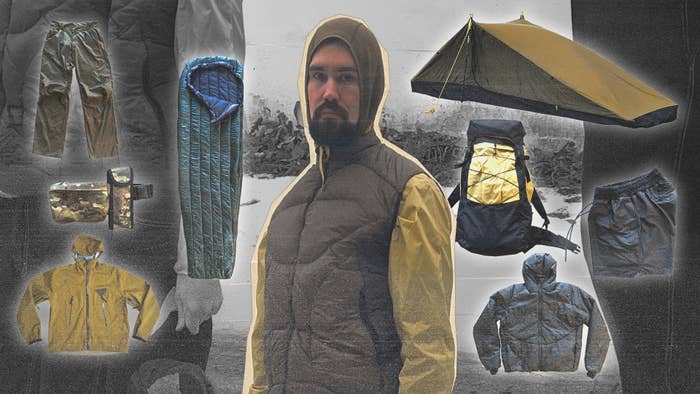 In the midst of another torrential rainfall in Vancouver, Canada, Colin Meredith welcomes me into his apartment. Even from inside, the rain is almost louder than the Young Thug track coming from his speakers. His living space––which he describes as his "all-in-one bedroom, dining room, kitchen, and work studio"––is packed with enough handmade Gore-Tex outerwear and Arc'teryx jackets to keep an entire sports team dry. 
At just 27 years old, Meredith has racked up an impressive résumé. Before joining the Arc'teryx team as a men's apparel designer in early 2021, he worked as an assistant for Justin Saunders, an apparel designer for CYC, completed internships at Noah NYC and WANT Les Essentiels, designed for Dime and Louis Vuitton, and created a variety of one-off pieces, often working with upcycled and repurposed materials. 
"It's important to me that things always have that side of practicality. I think it's for sure how I grew up. My dad is a maker," he explains, citing his father as a major influence in his work, and perhaps the inspiration behind items like backpacks made from warranty-returned Arc'teryx jackets, and a jacket made from a Canadian military sleeping bag. "He really instilled this mindset of like, 'it doesn't have to go in the garbage,' and 'we can probably figure out something to do with it.' I think lots of my stuff comes from that mindset. I'd drag shit home that was super bizarre and otherwise was at the end of its life cycle, and just be like, 'OK, how can we make something fun with this?'"
Though Meredith admits he was picky about what he wore even as a kid, he credits much of his early style inspiration to being an avid skateboarder in his teen years. "I would go to the skatepark at every opportunity. I was a full-on park rat," he says. "Having the influence of skateboarding and watching the dudes you admire, and noticing what they wear influences your style so much."
Knowing at a young age that he had an interest in fashion, he got his first job in the stockroom at American Apparel. Later, Meredith was hired as a sales associate at Still Life, a boutique down the street when he was still 16 years old. "All of a sudden, I was selling other things, like Brixton, and all the jean brands we had and stuff. Being in contact with like, smaller-label, nicer fashion shit," he says of the job. "I would spend my whole paycheck there. I was always gear-obsessed and wanted all the shit." He mentions admiring clothing from brands such as Engineered Garments and Our Legacy at Victoria's Four Horsemen Shop, but never being able to afford that sort of clothing as a teen. 
Instead, he decided to create his own. This passion for making clothing would eventually find him moving to Montreal at age 17. "Of course, there was the draw of fashion school, but there was also the draw of like, you can drink at 18, and it was the skateboarding mecca; the Dime boys were there, and I was like…this is the coolest place in the world." Though Meredith didn't end up finishing fashion school, he remained in Montreal until 2019.
In an industry where it's often difficult to stand out, Meredith stresses how important it was for him to get practical experience, no matter how many emails he might have had to send. "Eventually, they got back to me," he says, explaining the story behind his internship at Noah. With what little money he had, he took the train to New York City, where he crashed on his uncle's couch. "I think spending all that time in New York, I gained a lot of confidence, and figured a lot of shit out. I was the cool kid that everyone liked, but I was just packing boxes, sweeping floors, and doing random shit like setting up their warehouse sale, and whatever interns do. Learning valuable skills," said Meredith. Without American citizenship or a work visa, Meredith was unable to move onto employment at Noah after his internship concluded. Back in Canada, he took a one year technical program at a College in Montreal in order to become more attractive to employers.
It's Meredith's do-it-yourself attitude and persistence that have helped get him to where he is today. "If you wanna do anything that's interesting in the long run, you're gonna have to be more willing than the people next to you," he says, explaining that he often felt like he had no other choice and if he wanted to turn his passion into a career, he had to put everything into it. "I think that was a big realization for me. You don't get much out of sitting around and wishing you were doing something else." Rather than being discouraged after leaving fashion school, he caught the attention of Justin Saunders, and offered to work for him for free. Years later, this connection would eventually result in him flying to Paris to work with Saunders and Virgil Abloh, designing a piece for the Louis Vuitton Spring 2020 Precollection. 
Meredith compares the impressive list of men's brands he's worked with to a "kind of personal school of clothing" that helped him gain valuable knowledge and skills through everything he's done so far. "Learning from the old guys at Arc'teryx—hanging out with the dudes that have been there for 20 years—and picking their brains on why they made certain design decisions has been massive," he explains. "I've learned so much, it's crazy. I can't wait to try and put this knowledge into product down the line." Currently working on the new System_A line, Meredith is the youngest designer on the Arc'teryx team. "It was obviously a goal of mine when I was out here to work for Arc," he admits. Things are clearly going well for him. 
As for me, not so much. I'll soon have to head back out into the Vancouver weather, still wearing my soaked pants, shoes, and windbreaker. "Get your Gorp up," he says encouragingly, and laughs. 
Here, Meredith talks more about his journey as a young designer, Arc'teryx's current popularity, and how important it is to just make things. 
I first caught wind of your work back in 2017 when you made those stripe-sleeved hoodies, and then next thing I see, Drake is wearing one of them on his Instagram.

Yeah, that worked out pretty well. [Laughs] The photo, I had no part in. That was wild. I literally just woke up one day and my friend from Toronto was like "Hey, this looks like that hoodie you made––on Drake!" and I was like, "Oh shit!"
How did that come about?

I had a whole bunch of stuff going on at that time. I was just finishing an art program in Montreal in December of 2016, and in that program, I started using my sculpture projects to make clothing out of wild shit. I made a jacket out of Ikea bags, I made a parka out of debris from a construction site, I was starting to experiment with all this weird recycled/upcycled stuff. I did an art show called Dollar Wears, where I made a collection out of shit from Dollarama. I was working at this coffee shop, and this girl there was like, "You should really have a website, since you do all this clothing stuff." I had no website, so I was like, OK, maybe you're right. 
To get back to how Drake got my shit… I had this hype from putting out my website, but didn't have anything for sale. I got an email from this stylist in Toronto––my friend over there put me in contact with her actually––he was like, "Hey there's this cool stylist. She sometimes does shit for Drake. I don't wanna make any promises, but she wants to buy some shit from you and it might be for him." I was like, OK I should probably take this seriously. She asked me for nine things from my website. I sent them to this hotel in Toronto, hoping it might get on someone cool. A week later, Drake posted that selfie, with the funniest caption on it. He's just like, in his feelings. I felt pretty blessed to have him in that thing.
So you had just finished school at the time?

Yeah. I moved to Montreal when I was 17 to go to LaSalle College, for their fashion program. I lasted one semester, and hated it 'cause we were like, essentially prepping for runway fashion, which I was not stoked on. Now, I've come around, and I've come to respect the history of runway stuff; I'm into that stuff a lot more now. But me at 18, coming from my hometown skatepark, I just wanted to make coach jackets and cargo pants and cool shit to skateboard in. So when they were telling me, "Yeah, this is all working towards your runway show," I left that program and did a handful of things. I worked at boutiques, worked at a restaurant, worked with Justin as an assistant. I reached out to him because of his blog [JJJJound]. I didn't know about his affiliation with Kanye or anything like that.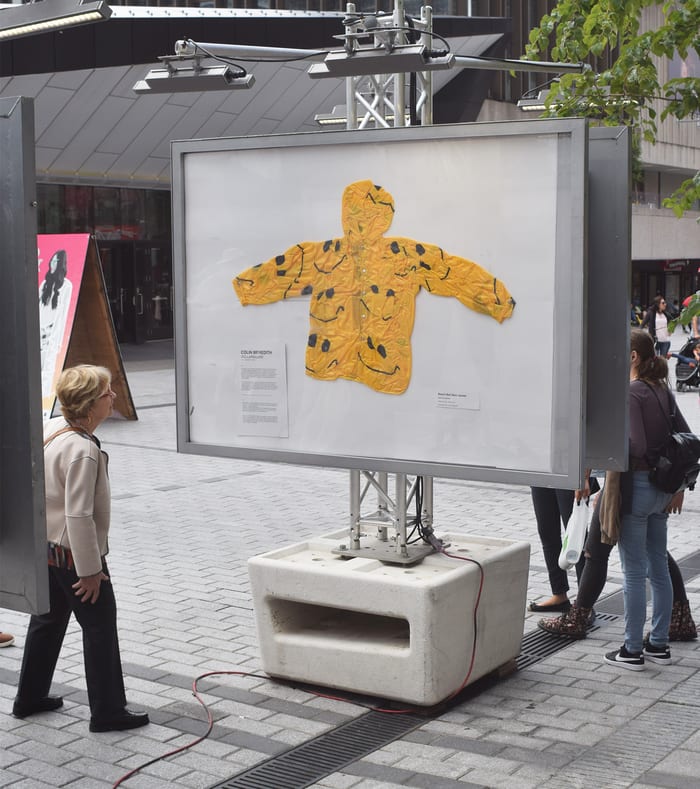 That was during the Been Trill days, yeah?

I started interning when I was 19, in 2013 I think. That was the year they started Been Trill. It was Heron [Preston], Matt Williams, Virgil, and Justin who were all part of Been Trill, and I was just the intern kid on the emails. They would make me do shit like upload all the mixtapes to Soundcloud, and like, put together lookbooks in InDesign. 
How did you end up getting that gig?

I was totally obsessed with JJJJound, and I remember seeing something on the blog that indicated he was in Montreal. So I was like "Oh shit, he's in the same city as me, I'm just gonna email him a whole bunch of times and see if like, I can hang out." 
So I hit him up, and he ignored me a whole bunch. Then I was working at this streetwear boutique and modeling on their website. He saw that, and he was like, "Hey I wanna use that kid for a photo shoot."
All of a sudden, I was modeling for some product he was doing. I was like, "Hey, I'm that kid who's been emailing you all the time."
And he said, "Alright, I guess you can come hang out." [Laughs] I was kinda just helping out with "Justin" projects, whether that was like, JJJJound, or Been Trill, or other general shit. Been Trill actually paid for me to go to school for InDesign. They needed some lookbook put together for a Travis Scott project, and I guess they didn't have anyone on the team who they knew could use InDesign. 
So they were like, "Fuck it, put the kid to school," and sent me to Dawson for night courses in InDesign. So I learned it, then put together one or two things for them. I was just helping out with basically whatever shit he had for me.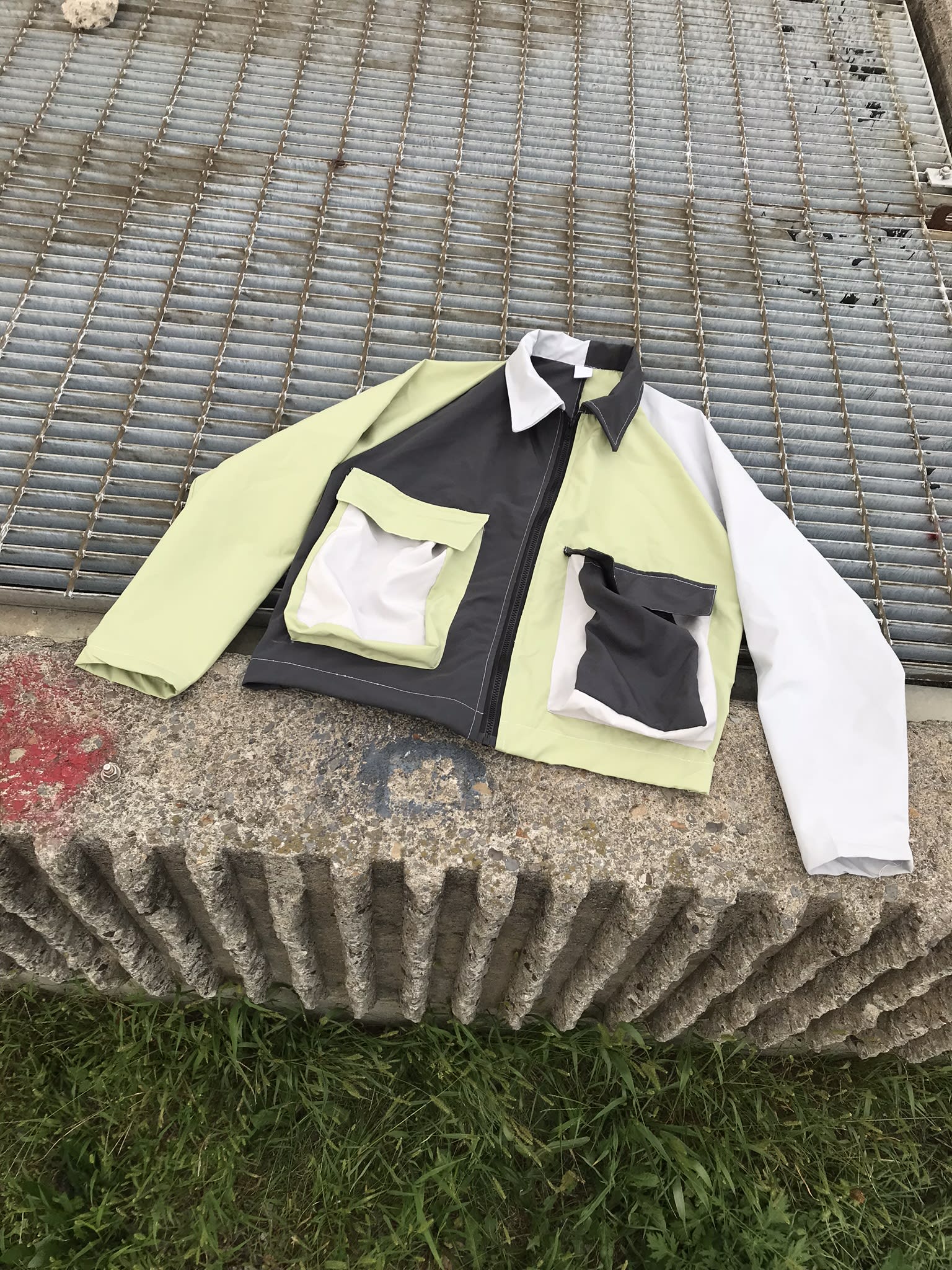 After dropping out of the fashion program, you eventually went back to school?

I went to art school, and I was kinda all over the place. I think when I was in that art program, I realized I wouldn't do my art homework––I would try to make shit––shirts and jackets and stuff. I was starting to realize that like, OK, maybe I'm actually stuck with this urge to make clothing. I wasn't even really choosing it so much, it just felt like I was naturally trying to figure this shit out. I couldn't stop doing it. 
Was there a point where you realized that this could actually become your full-time career?

That was hard. I remember feeling really stuck when I was in Montreal when I was 24, in 2018. I had done a handful of internships then, and I had worked with Justin for a long time, so I knew I could do stuff like that. I went down to New York just after I did the Drake thing, with whatever money I had from that. I wanted to try to further myself somehow. It didn't seem like going to school for clothing really gets you anywhere. At that first college I went to, it was all these rich kids there, who had no understanding of how to talk to people, or be normal. All the classes were like, "how to work at a fashion house in Paris." It's just really not transferable. It didn't seem applicable to Canadian clothing brands.
So you feel your time skating, partying, and just being a normal person helped you succeed in your industry?

Absolutely. I would attribute most of my success to just being part of the scene and the culture. Going to parties, going to the skatepark, and making shit on my own and posting it on Instagram. I think that's literally gotten me the whole way. I eventually did a one-year technical program, which got me the job that I have now. But outside of that, most of the experience that I've got––and the way I've networked around and been able to do all these cool projects with Dime and Louis Vuitton––has just been through me being a normal person and networking, and doing shit that I think is fun, instead of following the path of regular fashion school. The scenarios they were trying to prepare us for didn't seem at all like the real life of industry shit here, so I just was not really into it. So having seen that, having seen that school doesn't really get me to the place I wanna get to, I was like "okay fuck it I think I need to go intern for more people if nobodies gonna hire me as a designer right now," which made sense, I was 23, nobody is gonna hire you as a designer no matter how much shit you've made and posted on Instagram. I needed to prove my worth more and try to work with people.
How did you get the job at Arc'teryx?

After doing the technical program, I came out here and visited my parents, and I interviewed at CYC Design Corp, which is Reigning Champ and Wings And Horns, and at Arc'teryx for their statement team, which is now System_A. But because I had no corporate experience I was really a fish out of water at Arc'teryx. Rolling in to this big business complex and sitting down in a meeting room with all these really serious people, and I was like, 24 and I had no corporate experience. It was really scary and I didn't know the first thing about that world. I think it was kinda obvious that I was maybe not quite mature enough for that place. The guy who runs the whole men's team, he had kinda scouted me, and brought me in for this interview, even though I had no corporate experience. 
I ended up spending the end of 2019 and all of 2020 working at CYC as a junior designer. While I was there, I came on as another person on the men's team, but then the manager left, and also our design assistant left. So all of a sudden, it was just me doing the whole men's line. I think I had like 90 SKUs or something for Fall 21. I learned a whole bunch about how a brand like that works, and was able to get some corporate brand experience – going to the office every day, and living that life, which I think was super crucial in my development and I think it was kinda good that it wasn't Arc'teryx. You kinda have to be careful where you do your first job. Cause it meant when I made the switch to Arc'teryx where I am now, that they could hire me as a Designer 2, which is higher in the food chain. I have a real role, and they take me seriously cause I've had that experience already. I think if I went to Arc right away, if I wanted to stay there, I would have started at the bottom.